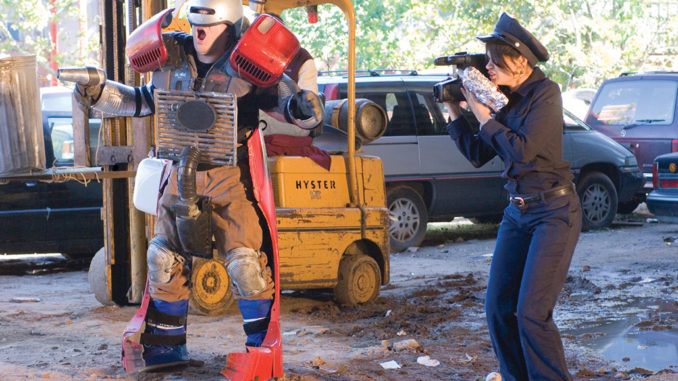 by Rob Feld • portraits by Kfir Ziv
Jeff Buchanan's path to editing his first feature film, director Michel Gondry's Be Kind Rewind (which premiered at the Sundance Film Festival in January and was scheduled for a February 22 theatrical release), as well as his current project, "Interior Design" (Gondry's segment from the collaborative film Tôkyô!), has been an unconventional one, skipping some of the usual stops along the way.
This may seem fitting, however, given Gondry's do-it-yourself mentality. It's also in keeping with the subject of Be Kind Rewind, about two guys (Mos Def and Jack Black) in a Passaic, New Jersey video store who accidentally erase every VHS tape in the place and set about refilling the tapes with their own, self-made, so-called "sweded"* versions of Ghostbusters, Driving Miss Daisy, Rush Hour 2, etc. Additionally, the film is an appropriate feature debut for Buchanan; virtually all of his previous credits were videos.
*Sweded, or sweding, is a phrase coined in Be Kind Rewind when the Jack Black and Mos Def characters tell impatient video store customers that the movies they are re-making from scratch are actually imported from Sweden. It has been extrapolated to mean anything handmade using whatever one can get one's hands on.
Before finding his way to Gondry, Buchanan went to film school at Georgia State, where he made a few shorts and taught himself how to edit. Enamored with documentaries like Hands on a Hardbody, and wanting to experiment, he accepted an invitation from two local Atlanta characters to shoot a documentary about their exploits. He edited the digital video doc on Final Cut and showed it around Atlanta before graduating in 2002. After graduation, he volunteered to drive the van of friends in a band, who were touring with comedian David Cross. Music video director Lance Bangs was making a documentary of the tour and Buchanan offered to shoot some footage, which is how his career got its start. All of his projects up to now have been documentaries.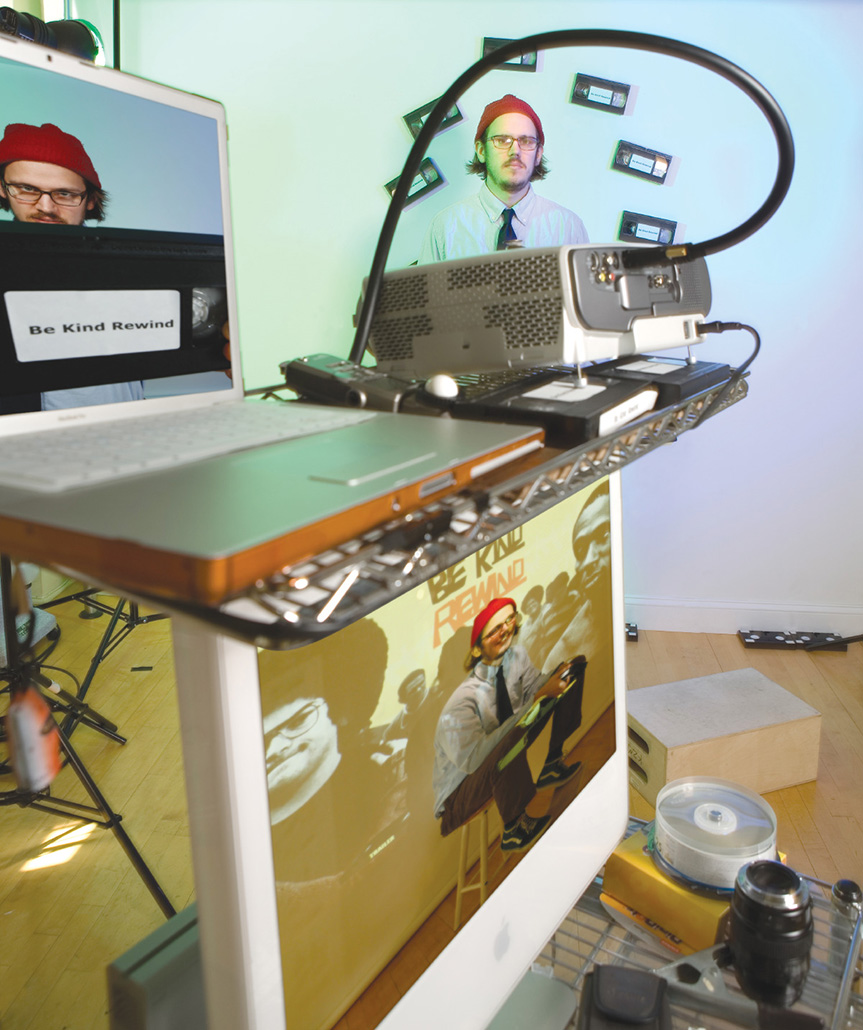 CineMontage: How did you know of Lance Bangs?
Jeff Buchanan: I'd seen Lance's work on the Being John Malkovich DVD. He lives in Portland, Oregon, which seemed like a really cool town. I kind of lied to Lance and said, "I'd always thought of moving there; if I did, could I help you with any work you're doing?" So, after the tour, I packed up and moved to Portland. One day he asked me to cut something for him and then said, "Well, why don't you edit the David Cross doc [David Cross: Let America Laugh?]"
I worked with him in Portland for four years. He started getting really busy with lots of concert films and small docs. I traveled all over with him, shooting all these bands like Slater-Kinney, Sonic Youth and the White Stripes. Then, Spike Jonze asked Lance to do the interviews and special features for his Palm Pictures' Directors Label DVD. We interviewed lots of people, which led Spike to mention Lance to Michel Gondry for his DVD. We made this documentary for it called I've Been Twelve Forever. We did the interviews and I started cutting all this material Michel was sending us in Portland from New York.
CM: That must have been difficult.
JB: We were sending QuickTime files back and forth until they said, "You've got to come to New York to do this." I came out with my computer and hard drives, and set up an editing suite in Michel's office at Pivotal Post, where they were editing Eternal Sunshine of the Spotless Mind. He'd go back and forth between editing the film and editing with me. That's when we started working together, day and night. It was a really personal project for Michel, with photos of his parents, his home growing up, films that he made when he was 16. I got to know a lot about him and his process just through that.
CM: What did you glean from Michel's working methods through all of that? His films and even the special effects are such handmade endeavors. Does that translate to Michel's thoughts about editing and how he works with you?
JB: Definitely. He likes chaos. Out of that weird chaos he creates comes stuff you think will never work. But, when you look back, not only did it work but it's so much better than it ever could have been. He shot 16mm for I've Been Twelve Forever, which we processed in the bathtub at Pivotal, then projected onto a wall as I shot it with my camera for the Telecine. I then digitized that Telecine and it became this crazy, dreamlike thing, so much better than if we'd sent it to a lab. There was a time crunch.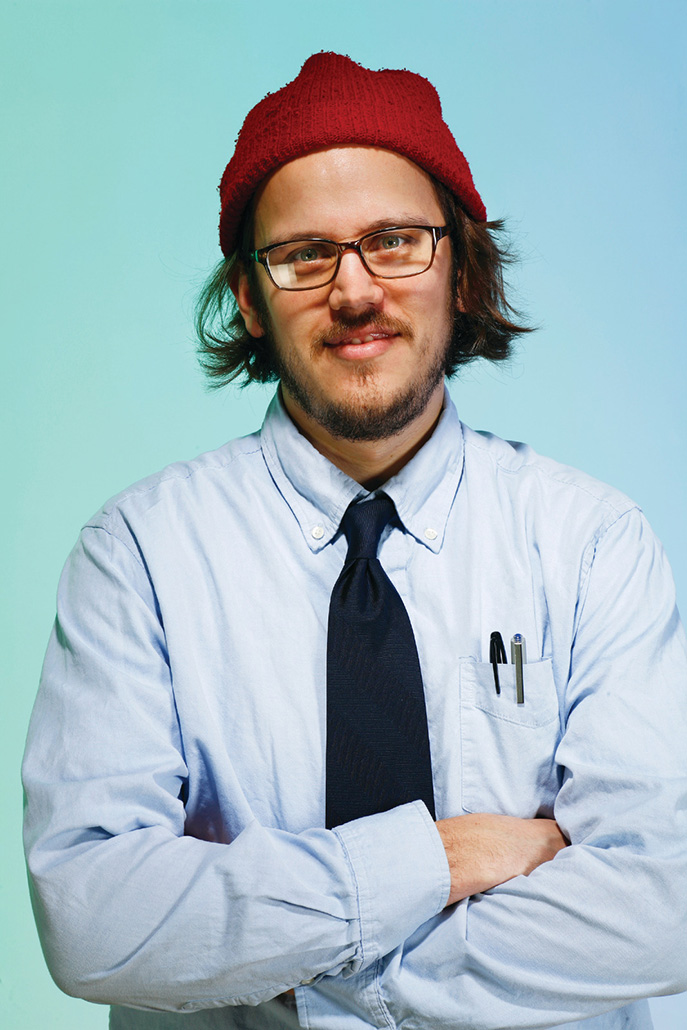 CM: You did that because of the time crunch?
JB: Well, I thought I did it because of a time crunch [laughter]. Certainly, we worked on it for a month after that so we could have sent it to a lab, but it worked. It was that much better. Michel loves the process and considers it one of the most important parts, I'm sure, because the way he works with his actors is just to keep the camera rolling. He's not saying, "Cut" or "Action." He's running in during takes saying, "Try this, try that." He then works with me finding all the best parts, and I think he loves that. He's not taking meticulous notes, doesn't have time code references, but remembers a take or moment.
CM: What was that process like with Be Kind Rewind?
JB: It was crazy while they were shooting. Michel shot all the sweded movies on VHS, which we then captured through a VCR via FireWire into our computers. He was having me cut the sweded movies so they could watch them on playback. Sometimes, he would shoot the scene in which Mos and Jack shoot Rush Hour 2 on a Wednesday, and on Thursday, shoot the scene where they watch it. Sometimes Jack would shoot the VHS, or Mos, Melonie Diaz, or the DP Ellen Kuras, or Michel. If it was Mos shooting Jack on VHS as Robocop, for example, our 35mm camera was shooting Mos shooting Jack. Then I'd get the VHS footage and have to make Robocop.
CM: Sounds like you were cutting it close.
JB: One day, they were shooting the sweded Boyz n the Hood video in the morning and were scheduled to shoot the actors watching it in the afternoon. I went on set, they shot the scene and handed me the tape. My first assistant, Alex Kopit, and my second, Nat Jencks, came with me to the 11-year-old boy's bedroom in the house in Passaic where we were shooting, with my Final Cut setup. We captured the tape, edited the sweded Boyz n the Hood, made a tape while the crew was striking and setting up for the next shot, and in the next scene they're watching the edited version.
That's 100 percent Michel. He wanted to stay away from the ability to make it slick. There was no time to get the editing right. We're to believe these sweded movies these guys are making are edited in camera. He didn't want to make the shooting or editing too stylish, and the way he could ensure that was not to give the editor any time to edit it! These characters are like Michel; super-creative and knowing exactly how they're going to do these things. Michel spends all his time trying to explain what his idea is, and he's always five steps ahead of everyone else. When he has an idea, he's like, "Oh, yeah, we'll just do it this way," and then moves on, leaving everyone else going, "How? Wha'?"
 "I almost approached the editing of Be Kind as if it were documentary. The way Michel shoots, it doesn't appear on the surface how it's supposed to be." – Jeff Buchanan
CM: Were you always in an 11-year-old boy's bedroom?
JB: The production basically turned Passaic, New Jersey into a lot. The offices were in this giant warehouse where we built this editing suite with a room for me, a room for my two assistants, three Final Cut stations and a gigantic media storage system. But I could walk down to the set when I had something.
CM: How did you start collaborating with Michel on this? Not storyboarding, I assume.
JB: I had a good advantage with those documentaries I made with Michel, essentially about how he makes movies. I also did those special features for the Eternal Sunshine DVD, on which producer Steve Golin says something like, "Michel doesn't like convention. They've been making movies a certain way for 100 years because it works. Michel doesn't want to do things that way. And you don't realize how smart those conventional ways are until you try to do it another way––but it's worth the trade-off because some of his ideas are fantastic."
My approach is to just be ready for what he's going to bring, because I know it's not going to be easy. It's never easy but always more interesting. On Be Kind, we'd edit during the day and he'd come by at lunch. We were making DVDs of dailies for everyone to take home. He'd immediately have notes and remember moments. If he knew something didn't work but they had to move on for time, he'd come in and we'd work on it, or try and grab insert shots.
CM: Did you have the ability to get them to grab things they missed?
JB: Much to the chagrin of everyone, yes.
[Michael Gondry] likes chaos. Out of that weird chaos he creates comes stuff you think will never work. But, when you look back, not only did it work but it's so much better than it ever could have been.
CM: You kind of leapfrogged over the apprenticeship thing. Did you feel ready for your first feature?
JB: It's funny; when we started, I remember telling our line producer, "I've never had an assistant before. I don't know if he's going to be that busy or have anything to do." And she just laughed. If I put in 80 hours a week, Alex put in 90. When you're working in that kind of chaos, you have to cut so many corners to get things done. Alex did tons of work redoing it so it was done properly.
CM: Did your past editing experience help?
JB: I had co-edited Dave Chappelle's Block Party with Sarah Flack, keeping in documentary stuff. But my concern was: How am I going to work with acting? Will I be able to tell what's a good take? However, that went away fast. I feel like you can tell when acting is right; it's just there. A flag goes up. My big concern was keeping my head above water. But since I was doing so much work on the production side, making these sweded films for playback, there weren't these questions of why scenes aren't cut yet. I didn't have to turn in the first cut after a month or something. My job wasn't a traditional thing, in that sense.
I knew I was ready to do it and that I could, but I was certainly nervous. I always worked out of fear. A lot of my fear came from the technical side; because I wasn't an assistant or apprentice editor I had this fear of keeping up with the technology. But I had great assistants who took care of that part, so I could focus on going with what I knew Michel would like. At the end of the day, I always knew that Michel wanted me to do the movie. He had shown me drafts of the script as he was writing it. So I trusted that what I liked, he liked.
CM: Did you start to delineate a difference between working in narrative and in documentary?
JB: I almost approached the editing of Be Kind as if it were documentary. The way Michel shoots, it doesn't appear on the surface how it's supposed to be; start with the wide, then the two, then the over-the-shoulder. I don't have a setup list or storyboard to go to. When I started taking notes on the footage it was like a documentary––remembering that mo-ment, or what could go where. When we started shaping the whole movie together is when I felt the shift.
CM: Does Be Kind Rewind represent a kind of a transition now for you, from the more indie way of doing things to a more institutionalized way? Does that change things for you?
JB: Yeah, it totally does. I'm not sure what changed, really––other than everything. The same way Block Party changed things, Be Kind is the first film with just my name on it [as editor]. Looking back, I think Michel having the faith that I could do it was incredible. I don't want to say that I don't work purely out of fear anymore, but maybe it's diminishing a bit.
CM: So what's next?
JB: After Interior Design, I'm cutting something for Spike Jonze and Lance Bangs…but I probably shouldn't say what it's about.