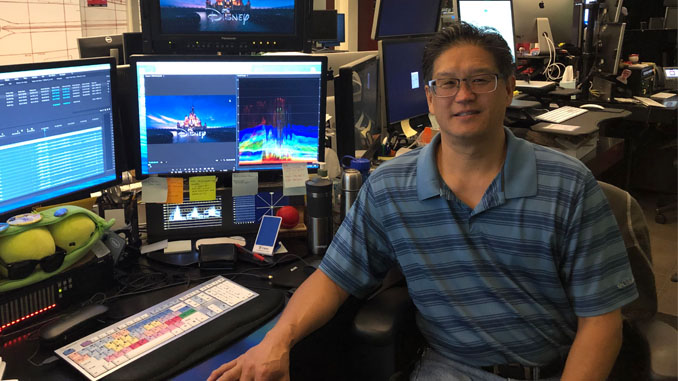 Where are you currently employed?
I work at the Walt Disney Studios in Burbank, with Disney Digital Studio Services.
Current Project?
I have an ongoing staff position in Media Distribution. 
Describe Your Job.
I prepare localization assets for worldwide digital distribution and streaming. That involves collecting and creating localized picture elements — including main titles, locators, end credit sequences for live action, actual scene or background changes with text or images that are in the local language for animation, and dubbing credits for the foreign voice actors — to insert into masters that will be distributed around the globe. The main titles, locators and end credit sequences are created by Disney's Title Graphics department in Burbank. For the animation pieces, Disney Animation and Pixar will create the identical scenes with the different languages for each market. 
How did you first become interested in this line of work?
I was a teenager when I took a behind-the-scenes tour of KNBC with a family friend who was the community relations director at the station. The control room with all the lights must have influenced me because I took a television production class at my high school. The rest is history.
Who gave you your first break?
Falcon Cable TV's local origination hired me while I was still in college. Later on, a co-worker went on to Wold International, a Los Angeles-based satellite communication service, and I followed him there. A few years later, another co-worker went to Compact Video, a Burbank video post-production firm; I followed her and started my post-production career there. 
What was your first union job?
Videotape duplication operator at Compact Video Services.
Which of your credits or projects have made you the most proud and why?
I was the telecine assistant and later the editorial assistant at 4MC/Ascent Media working on ER from Episode One in 1994 to the very last episode in 2009. Over this same time, I also worked on shows like The Drew Carey Show in 1996 and 1997, Just Shoot Me! from 1997 through 2003, Third Watch from 1999 to 2005, The West Wing, 1999 through 2006, Without a Trace, 2002 to 2009, and Studio 60 on the Sunset Strip in 2006 and 2007. Plus and a few others that I can't remember. ER overlapped all of these shows and it was the longest run on a single show that I have ever worked on. The producers we worked with on the show genuinely valued our contributions.
What was your biggest challenge in your job (or on a particular project) and how did you overcome/solve it?
The biggest challenge has been keeping up with the constantly changing technology and the new workflows that incorporate the new technologies. 
What was the most fun you've had at work? 
The work itself is most often tedious and long. The fun comes from when you have good co-workers, because you spend so much time together that you become more like a family, and you know what kind of mischief you can get into with your siblings.
Jobwise, what do you hope to be doing five years from now? 
Still working… I say that with a laugh because in five years I should be very close to 30 years in the union and possibly retirement.
What are your outside activities, hobbies, passions?
I enjoy playing basketball, softball and sometimes golf. I also like cooking and gardening.
Favorite movie(s)? Why?
My favorites are Blazing Saddles for its satire of stereotypes, Crouching Tiger, Hidden Dragon for its action combined with imagery, and Kill Bill for the action. 
Favorite TV program(s)?  Why?
Jeopardy; Fox NFL Sunday, which is the most entertaining of all the pre-game shows; Man, Fire, Food — BBQ, do I have to say more?. Also Anthony Bourdain: No Reservations and the Huell Howser reruns on KCET. 
Do you have an industry mentor?
I have learned something from almost everyone with whom I have worked. Some of them have taught me a lot and some have taught me something small, but all of it combined makes a lifetime of experience that I have been able to use to keep viable in this industry. 
What advice would you offer to someone interested in pursuing your line of work?
Keep on learning and embrace change because it is inevitable. The tools you use will change — and nowadays they change often — so don't be afraid of something new. Be the one that others ask, "How do you do this?" And be nice to people on your way up because you want them to be nice to you on your way down.
Is there anything you'd like to say to your fellow Guild members, some words of encouragement. 
Remember a cut is still a cut; it's just that the blade changes.
Compiled by Edward Landler      
Editor's Note: To recommend a member (including yourself) to be featured on CineMontage.org, and the home page of the Editors Guild website, please contact edlandler@roadrunner.com.