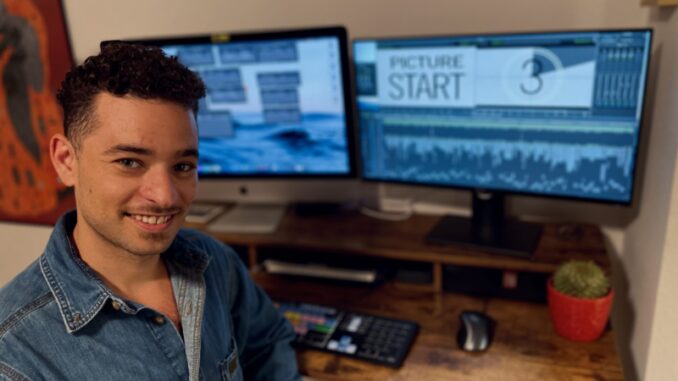 Where are you currently employed?
I'm a freelance editor. Like many of us these days, I work remotely from home. My employer, Stone Village Films, is best known for "The Lincoln Lawyer," "Chef," and "Empire Falls."
Current projects?
I'm working on a feature documentary called "Understanding Autism." I'm excited about this project because not only is it an emotional journey into autism education and awareness, but it's also directed and produced by people who are on the spectrum and have firsthand experience with the topic.
Describe your job.
I've edited both narrative and documentary, and in some ways, they are vastly different animals. With documentary work, you aren't just editing the material; you're also a writer. Since there's no script, it becomes a really intricate editing puzzle of seeing how the pieces fit together.
With narrative, I'm typically given a script very early on, which then becomes my "guide" as dailies begin to roll in. Inevitably, a lot of things change during production, and my job then becomes to creatively find ways to best present the material.
At the same time, there's also a ton of overlapping between working with fiction and nonfiction material. Both are highly collaborative, whether it's with directors, producers, or executives. This is my favorite thing about editing: I often get to learn from top-notch creatives in the field and then get an opportunity to apply my craft to their vision. We work closely with composers, sound designers and re-recording mixers, colorists, and pretty much everyone involved in post. And there is a constant flow and communication between the editor and the assistant editor. We can't survive without our assistant editors!
How did you first become interested in this line of work?
When I was about three or four, my mom took me to see the movie "Free Willy." When the film finished and the credits started to roll, my mom pointed out that her longtime friend from college, Lauren Shuler Donner, had produced the movie. My eyes grew wide and I exclaimed, "You can make these?" That's when the fire was ignited.
When I was a teenager, I started filming little skits, short films, and documentaries on a Digital Video (DV) camera. I was fortunate enough to have access to a video production class in high school and made a short documentary about the United Farm Workers. The film got accepted into a few film festivals and helped me get into film school at Chapman University.
I had always gravitated towards post-production, but during film school, I got an internship on the Fox lot where I had an opportunity to learn from some terrific people. They placed me in the editing room for the film "X-Men: Days of Future Past" where I had a chance to meet and absorb knowledge from editor/composer John Ottman, editor Mike Hill, and assistant editors Steve Bobertz, Erik Jessen, and Pearce Roemer. It was a fantastic experience that I'll never take for granted, and it motivated me to continue to grow as an editor.
Who gave you your first break?
Early in my career, I was struggling to get assistant editor jobs. I was called in to interview with Spencer Averick (editor on "Selma," "When They See Us"), who was hiring an assistant for the Ava DuVernay documentary "13th." I instantly knew it would be a special project. My excitement must have been evident in the interview, because although I was totally underqualified, Spencer later called me and said, "Alex, let's do this." It was a career-altering moment. Two years later, the documentary was nominated for an Oscar.
My second big break came years later when I made the jump from assistant editor to the editor chair. After "13th," I worked as an assistant editor for Spencer on several projects directed by Ava. I had been hired to work on another documentary she was directing. and we were in the early stages of gathering archival footage when the project was canceled. When Ava asked me to come to her office, I thought for sure I would be out of a job. Instead, she told me about her new show on the Oprah Winfrey Network (OWN) called "Cherish the Day" and asked if I wanted to be a picture editor on it. I was floored. I had edited several indie features and shorts between my assistant editor gigs, but I didn't expect to get an opportunity to edit on a major network show so early in my career. I still can't believe just how much of a gamble this was on Ava's part, and I know she has elevated the careers of so many other people like me. I had the opportunity to work on "Queen Sugar" for two seasons and "Cherish the Day" for two seasons.
I'm still so grateful for these two influential and talented people in my career. They saw my work ethic and dedication and decided to trust me and take me under their wing. I definitely wouldn't be where I am today without the effect they've had on my professional life.
What was your first union job?
When Ava asked me to work on "Cherish the Day," not only was it a major shift in my career, but it also was my first union job. I had been working my hours and always figured I would join the union as an assistant editor, but when I was hired on "Cherish the Day," I had the incredible opportunity to join the union as a picture editor.
What credits or projects are you proudest of, and why?
There are several, but it was definitely special to be a part of "13th." It was such a small team, but we poured every bit of our hearts into that documentary, so it's been extremely gratifying to see what a profound impact it's had.
I'm also proud to be a small part of the great legacy that Ava created on "Queen Sugar." She hired 42 female directors across seven seasons of the show, which is a huge (and unheard of) step forward in Hollywood. I'm honored to have been a part of that moment in history.
Lastly, I have a 30-minute documentary that was recently released called "ifine (beauty)" which I'm really excited about. It's being very well received at festivals and was just accepted into the Cannes Short Film Corner. I was not just the editor on this documentary but also a producer, so I'm proud to add that credit for this meaningful work.
What was your biggest challenge in your job (or on a particular project) and how did you overcome/solve it?
Each project has its own set of challenges. The film "ifine (beauty)" was shot on location in Sierra Leone, where they speak a language called Krio (which is a dialect of English, but very different from American English). Though I worked with a translator, I picked up the language on my own very quickly, so I was able to cut the film together and add subtitles. I hope to improve my Spanish so that I'll be ready to edit a film or show in Spanish when the opportunity arises.
What was the most fun you've had at work?
Collaborating with fellow creatives is always the most fun in what I do. I've met some really fantastic people, and I just love to talk craft with them. When I work in episodic, I always look forward to "director's cut" days. On "Queen Sugar" and "Cherish the Day," there were typically different directors on each episode, and I had a chance to work with so many of them.
Of course, maybe the most fun I've ever had was getting a chance to attend the Oscars when "13th" was nominated in the Documentary Feature category.
Jobwise, what do you hope to be doing five years from now?
I'd love to work on effective, meaningful stories, not just as an editor but also as a producer and creator. From "13th" to "Queen Sugar" to my current project ("Understanding Autism"), most of the projects I've worked on have been socially influential, and I'd like to continue that career trend. Now that I've achieved my goal of becoming a union editor, one of my next goals is the honor to have ACE (American Cinema Editors) after my name.
What are your outside activities, hobbies, passions?
I love anything and everything to do with art. Living in LA, we have access to a rich variety of arts and culture, so I'm often going to concerts, theatre, dance performances, and museums. I'm also a huge baseball fan, so I love going to baseball games, and I play in a recreational softball league. I also love to travel.
Favorite movie(s)? Why?
"City of God" for its amazing editing. I love its documentary style, the handheld coverage and angles. Another favorite is "Whiplash," also for its meticulously planned editing. My favorite movies of the past year are "Bardo" for the brilliant writing and "Everything Everywhere All At Once" for its imaginative editing and effects.
Favorite TV program(s)? Why?
My favorite show of all time is "Breaking Bad." It's iconic and some of the most brilliant storytelling in TV history. "Euphoria" is superb and inventive. I enjoy a lot of the dark comedy series of the past few years like "Atlanta," "Reservation Dogs," "Master of None," "Dave," and "Insecure." Also, "What We Do in the Shadows" is always hilarious. I would love to work on shows like these. I edited on seasons 5 and 6 of "Queen Sugar" and was a fan of the show even before I worked on it.
Do you have an industry mentor?
Yes! Spencer Averick is a super-talented editor and a great person. We've been close ever since he hired me to be his assistant editor on "13th." I was his assistant for several projects, and he was an enormous help as I navigated my transition from assistant editor to picture editor. I'm also extremely grateful to Alexander Aquino-Kaljakin who was a fellow editor on "Cherish the Day" and "Queen Sugar." He made the jump from assistant to picture editor a few years before I did, and he gave me a lot of valuable support and advice.
What advice would you offer to someone interested in pursuing your line of work?
Ask questions as much as possible. Find a few solid people who are more experienced than you and pick their brains. Not only will it give you useful tools and advice, but it also shows them how dedicated you are to learning, which makes it more likely that they'll want to bring you onto a project or recommend you for one.
Also, be ready to take rejection. This is an inevitable fact of being an artist. Continue to work hard, educate yourself, and stay humble.
Was there ever a circumstance when you had to rely on the Guild for help or assistance?
Actually, the Guild is helping me now! The show I'm currently working on started as nonunion but is in the process of switching to union. It feels amazing to have an entire union on your side, working for your rights.
Is there anything you'd like to say to your fellow Guild members, some words of encouragement?
As MPEG members, we are an important part of the industry and how it functions. Be proud of that, and also be proud of being a part of a union. My mom and uncle were union members when they worked in New York, and I'm proud to carry on the tradition here in LA with the IA and Local 700.
Compiled by David Bruskin.