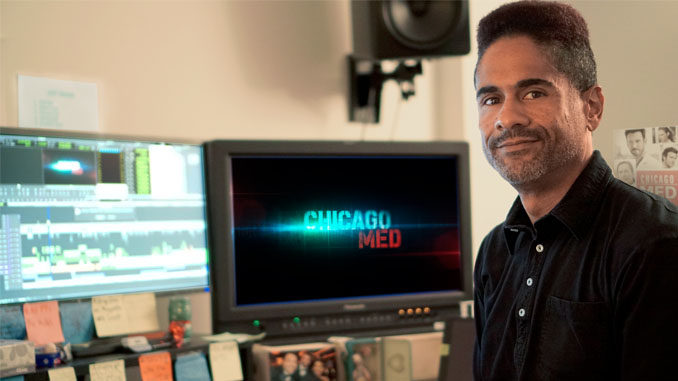 Where are you currently employed?
Wolf Films.
Current Project?   
Since 2016, I have been assistant editor on Chicago Med, which airs on NBC.
Describe Your Job.  
As assistant editor on the show, my primary responsibility is to support the editors in whatever manner necessary. Specifically, I prep dailies (group cameras, organize and mark takes), add sound effects and music to all cuts, output and distribute cuts to producers and studio and network executives, and turn over shots to visual effects, "locked" cuts to online for final color, and the sound department for final mix and the composer for final music. I also get lots of opportunities to practice cutting scenes and address notes from the editors.
How did you first become interested in this line of work?   
I've been interested in film since I was a teenager. I come from a family of avid movie watchers. I grew up watching Westerns with my uncles, vampire movies with my aunts, and sci-fi with my mom. I decided to pursue it as a potential career in my senior year of college.
Who gave you your first break?  
My first break in television was from an executive producer named James DuBose. We were connected through a family friend. I initially met with him to discuss what it was like working in the TV industry and how I could possibly transition from working as an associate producer in the advertising industry in New York City to the TV industry in LA. Unexpectedly, on the spot, he offered me a job as a post-production coordinator on a couple of shows he was staffing up at the time. I accepted without hesitation and found myself working for him in LA about six weeks later on House of Boateng for the Sundance Channel and Keyshia Cole: The Way It Is for BET.
What was your first union job? 
The Sing-Off, an NBC series featuring a cappella singing groups competing for a recording contract.
Which of your credits or projects have made you the most proud and why?   
House of Boateng was the first TV project I worked on and detailed the trials and tribulations of a very talented and successful fashion designer named Ozwald Boateng. It really captured the struggles of an up-and-coming minority artist trying to take his business to the next level in the very competitive world of fashion. I'm also proud of my current show, Chicago Med, because it is my first opportunity to work on a scripted TV show after working in reality TV for many years. It's amazing that my first opportunity to work on a scripted show is for Wolf Films since I've always been a huge fan of all their Law and Order shows.
What was your biggest challenge in your job (or on a particular project) and how did you overcome/solve it?  
The most challenging show I've ever worked on was Season 2 of Wipeout because of the sheer volume of work the assistant editors were responsible for on a daily basis. Working with 20 or more cameras with 20 contestants each episode was an absolute monster, especially since it was only the third show of my assisting career and I was on the night shift, which I've always found very challenging.
I was able to overcome it because I worked with a strong crew of assistants. We figured out how to divide the work up and grind it out every night, usually until after the sun came up in the morning. After Wipeout, every job afterward seemed far less daunting in comparison. It really set me up for success in the future.
What was the most fun you've had at work?
Working on Chicago Med has been the most fun experience of my career because everyone at Wolf Films has a really great attitude, which makes a huge difference coming to work every day. I've also been lucky enough to work with editors who have given me lots of opportunities to develop and sharpen my editing skills. It really makes you more excited to come to work every day knowing that you'll get to learn from experienced editors.
Jobwise, what do you hope to be doing five years from now?  
I hope to be an editor on a scripted TV series.
What are your outside activities, hobbies, passions?   
I like watching movies and TV shows. I'm an avid cyclist and I also like going to concerts.
Favorite movie(s)? Why?  
Do The Right Thing. I love Spike Lee's innovative filmmaking in this movie. From the vibrant color palette and unusual camerawork to the incredible performances he got from the amazing cast. It was a very important social critique of many problems facing the black community in the inner city that had never been brought to light in such an artistic way. It really inspired me to pursue a career in film and TV.
Favorite TV program(s)?  Why?   
That's a tough one. Probably the first five seasons of The X Files because I've always been into science fiction and it's rarely been done better on TV than The X Files.
Do you have an industry mentor?   
My new-found industry mentor is Lillian Benson, with whom I currently work on Chicago Med. She's really helped me with my transition from reality TV into the scripted TV world, as well as teaching me a lot about editing.
What advice would you offer to someone interested in pursuing your line of work?  
Make the most of every opportunity you get because you never know where they can lead.
Was there ever a circumstance when you had to rely on the Guild for help or assistance?   
I've received a lot of assistance navigating the complexities of the health care system and I've also enjoyed many of the seminars addressing transitioning from reality to scripted and diversity in the industry.
Is there anything you'd like to say to your fellow Guild members, some words of encouragement?   
I feel like we're in the midst of a television renaissance with so much amazing programming on the air and streaming. Let's do everything we can to keep it going so that we can all keep working and watching.
Compiled by Edward Landler
Editor's Note: To recommend a member (including yourself) to be featured on CineMontage.org and the home page of the Editors Guild website, please contact edlandler@roadrunner.com.