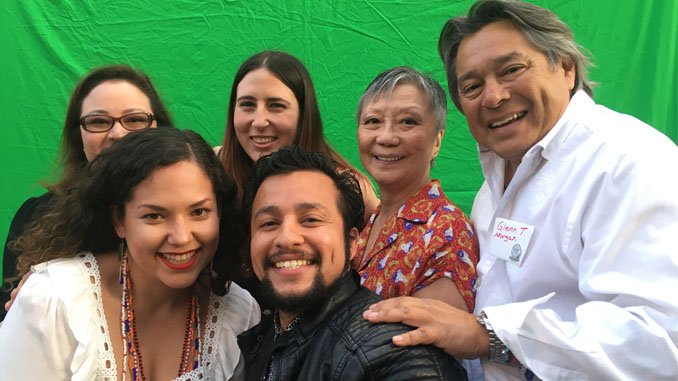 story and photos by Edward Landler
The Guild's Dede Allen Seminar Room was transformed into "Dede's Disco" on Saturday night, April 21, as members experienced an exciting evening of salsa dancing, Cuban food and socializing at Salsa Night Fever, the first special event presented by the Diversity Committee's Latin Steering Committee. They almost literally got to see themselves in Havana, as well, thanks to a 3D photo booth with a backdrop of an actual Havana street.
Signing in for the event in the Guild's parking lot, guests grabbed a freshly mixed authentic rum-filled Island Punch and walked in front of a green screen to be photographed by Not Flat Photos' unique software process. Moments later, they were given as souvenirs an easily foldable stereoscopic viewer with a stereoscopic photo of themselves standing in a real "Havana."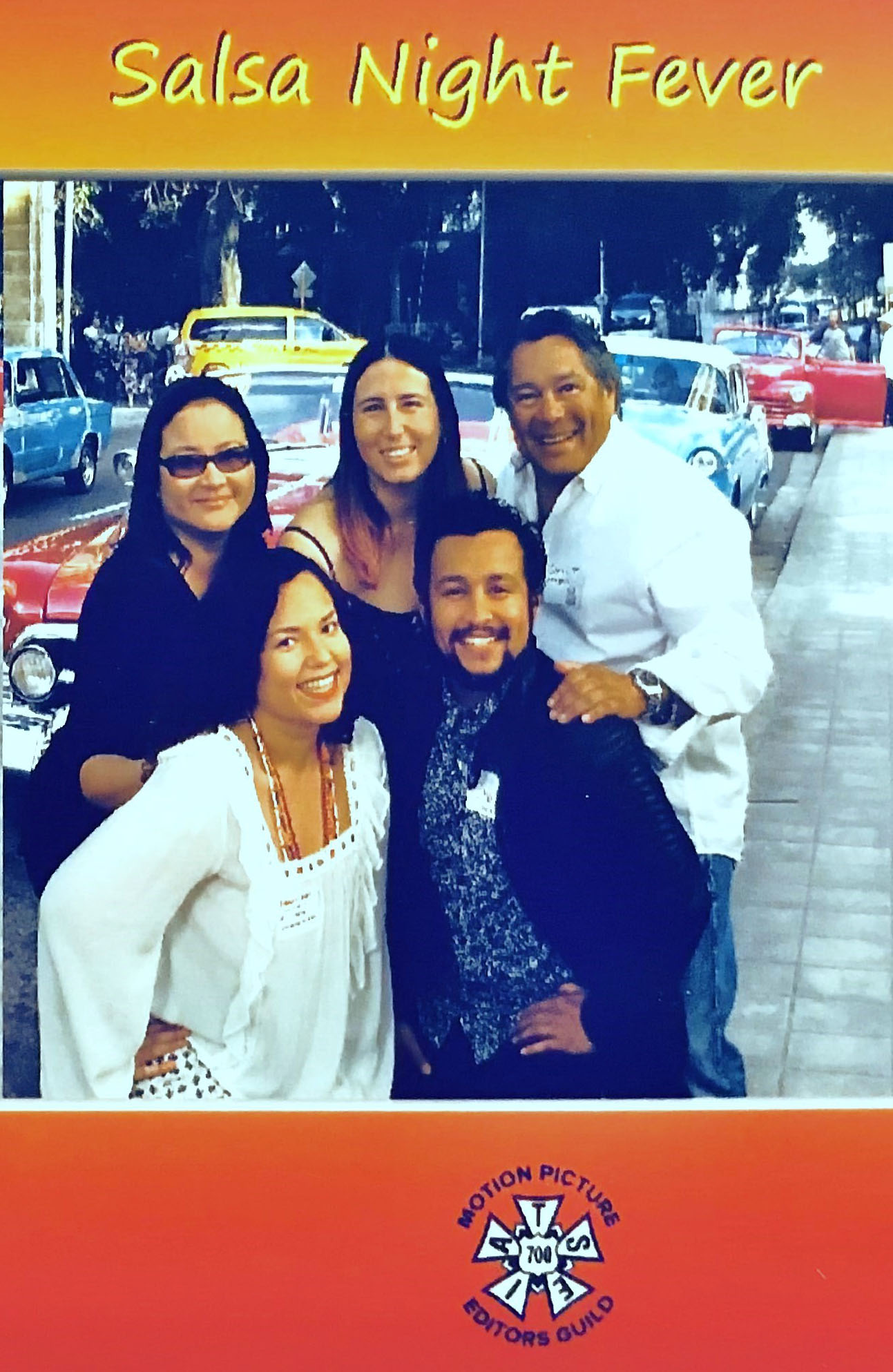 "Salsa Night is an introduction to our committee and a come-together moment for the Guild," said sound editor and Latin committee chair Glenn T. Morgan, MPSE, who is of Spanish descent. "We've created a fun zone where members can observe a positive side of our union and see that Latinos in the Guild are representative of a global presence."
Assistant editor and fellow steering committee member Richard Sanchez's family was also originally from Spain; his family lived for generations in New Mexico and his grandmother's family house is a historic landmark in Santa Fe. Sanchez's mother's family is from Guatemala. With this perspective, he told CineMontage, "There are many cultures and backgrounds in our Guild, and this event shows a fun side of the Latino cultures. In the union, we are all one in the workforce, and diversity in our union is about starting a conversation in the industry."
"I believe we can be a voice for Latinos working below the line in the industry," affirmed committee member Waldemar Centeno. A picture editor, he belongs to the first generation of a Puerto Rican family born on the US mainland.
For picture editor and Diversity Committee chair Maysie Hoy, ACE, the night's event was proof that the umbrella committee was really hitting its stride. "This is great…a completely different event…learning something new," she commented. "Salsa dancing is something we need to do because editors sit in dark rooms by ourselves all the time."
Observing the crowd arriving for the hour-long salsa lesson that kicked off the full evening of dancing and Cuban cuisine, Hoy pointed out, "Half the people here are not Hispanic. They wanted to learn to dance a new way and, look, everybody's talking to everybody."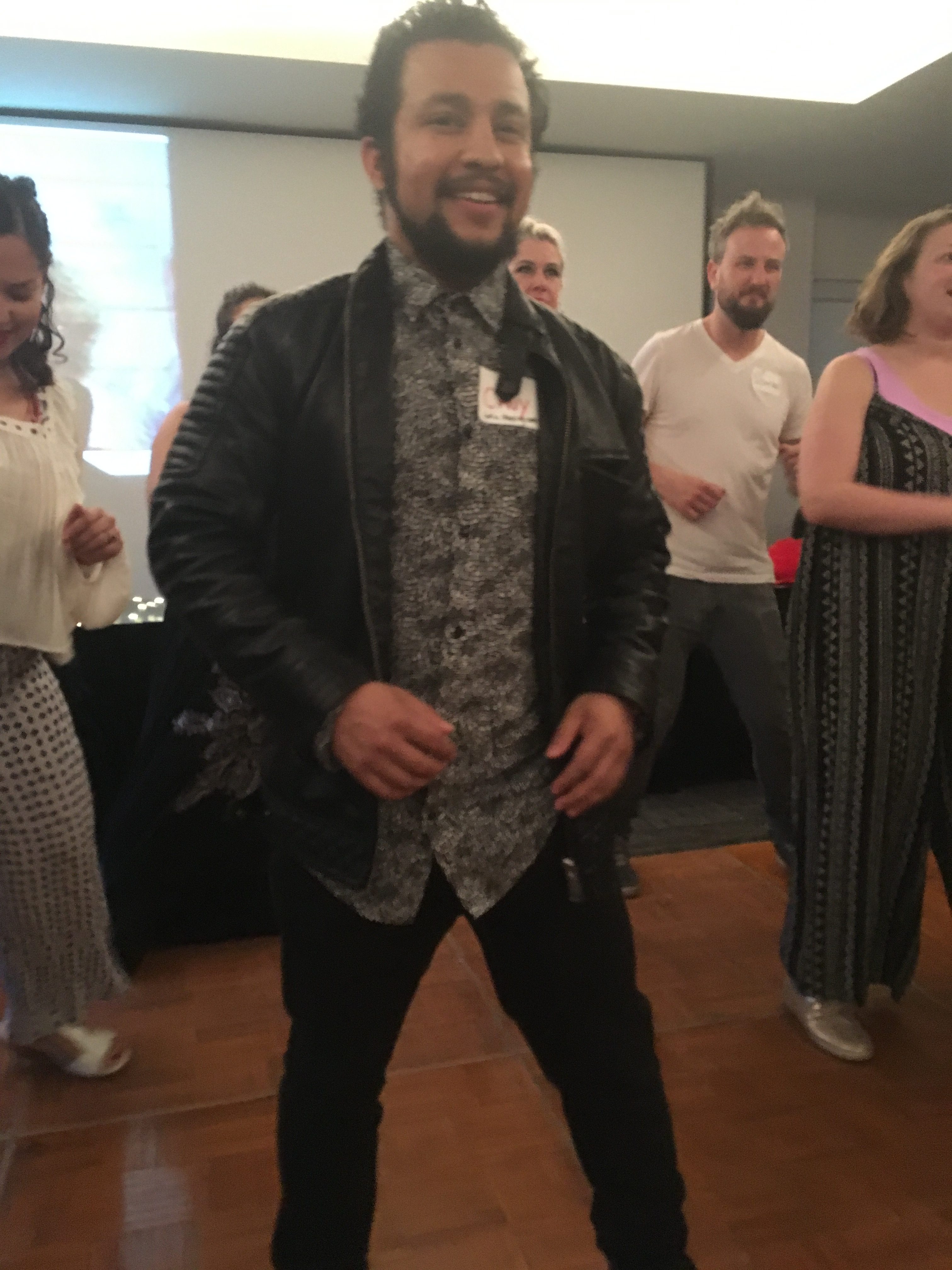 Latin committee member Jesus "Chuy" Rosales was responsible for bringing the night's salsa teacher to the Guild. With Guatemalan and Mexican parents, assistant editor Rosales started working in the industry as a post-production assistant after graduating from UC Santa Cruz in 2011.
"It was hard work, and I needed some balance in my life, when I found Sergio's dance school online," he explained. "I became part of the dance community and could forget about working when I danced." Rosales joined a dance team called the Island Touch and, at the trials for the teams, met his girlfriend, Liz Amezcua, who was with him at Salsa Night.
The night's dance master, Sergio Leal, was born in Los Angeles to a Mexican family and was already doing break dancing on the streets of East LA and at the Lincoln Park Rec Center while he was growing up. He took a salsa class with teacher Francisco Martinez at Pasadena Community College and, when he asked him how he could learn more, Martinez made him his assistant at the teacher's Dance Family Studio.
"I mastered every dance he taught — swing, tango, merengue, rumba, waltz and more — and then he gave me my own salsa class to teach," recalled Leal. "And in a short time, up to 50 people were taking my class." Graduating from Cal Poly Pomona in 1999 with a degree in Pure Mathematics, he decided to become a professional dance teacher and started his own school, Latin Dance Pro.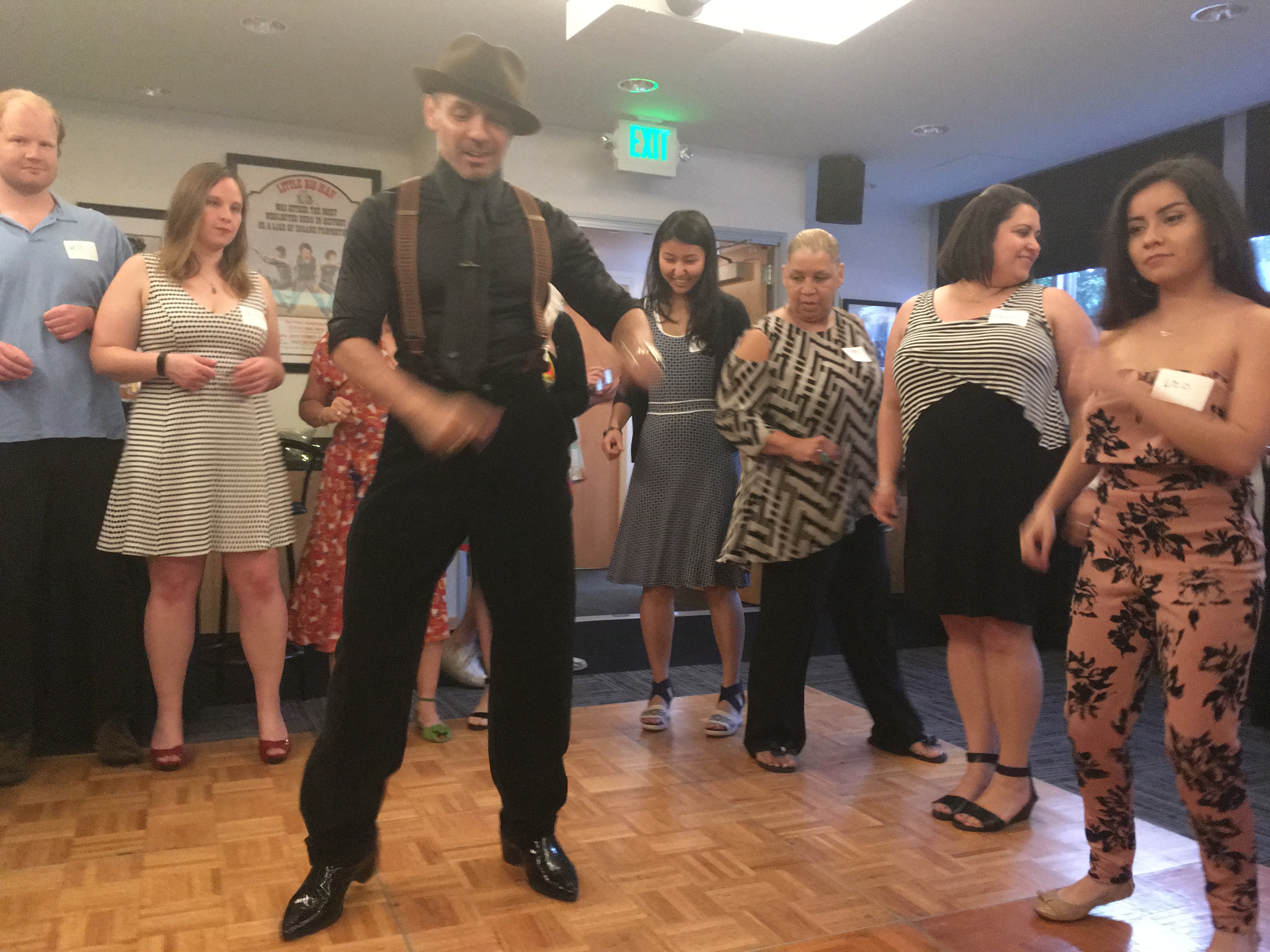 He continued: "My mom discouraged me at first. Then she took one of my classes and she supported me all the way." His school now has facilities in Pasadena, Glendale and Hollywood, with five teachers working for him. Leal also has his own online Latin dance wear store, Latin Dance Fashions, and rents and sells dance floors; one of his parquet floors was installed over the carpeting of the Guild's seminar room for Salsa Night.
Leal also told CineMontage, "When I walked in here tonight, I was surprised to see a good number of people here I've taught salsa to."
Projected on the seminar room's screen throughout the evening (even during Leal's salsa lesson) was a video reel of famous movie dance scenes, cut together by steering committee member Monica Salazar. Born and raised in Monterrey, Mexico, where her family runs a restaurant, the assistant editor strongly supported the event because, as she said, "Dancing is our language and that's how I see people connecting with us."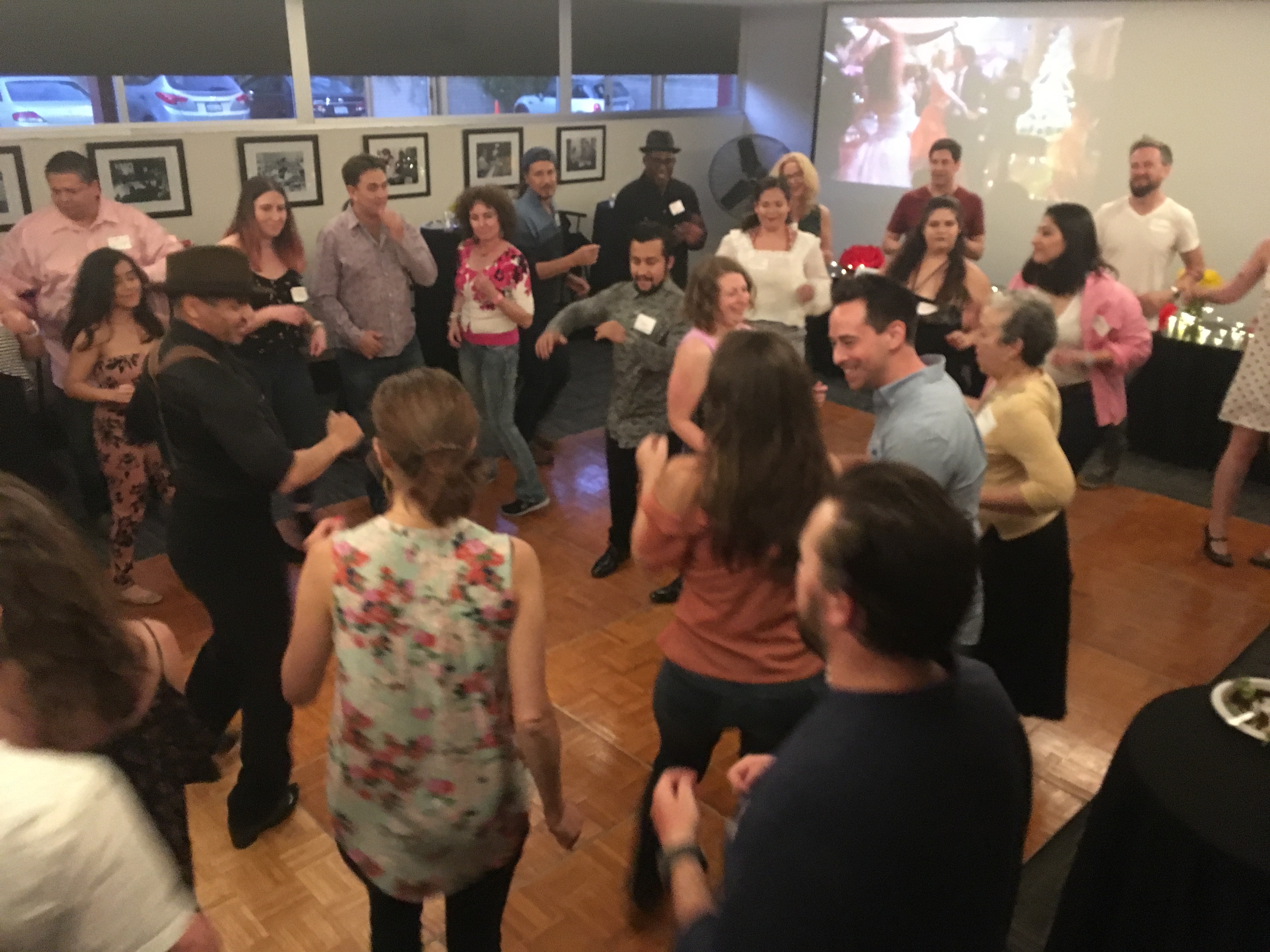 Among the scenes on the reel were Tom Hanks on the giant keyboard in Big (1988), Patrick Swayze and Jennifer Grey doing Dirty Dancing (1987), Anjelica Huston and Raul Julia's tango from The Addams Family (1991), the ladies of Chicago (2002), John Travolta disco dancing in Saturday Night Fever (1977) and the tenement roof party from West Side Story (1961). The salsa beat of the night's music seemed to fit every dance on the screen — even Dick Van Dyke dancing with animated penguins in Mary Poppins (1964).
Although she was unable to be at Salsa Night, Salazar later said, "The dance reel makes me feel that a little bit of me could be there."
Indeed, her contribution along with the food and drink, as well as Leal's skill in making everyone feel at ease dancing salsa, all combined to create a festive atmosphere to which the entire gathering enthusiastically responded. Picture editor Diana Fishman, dancing with her husband Ryan Adams, declared, "I love this. This is fun. I'm going to try to get to more Guild events."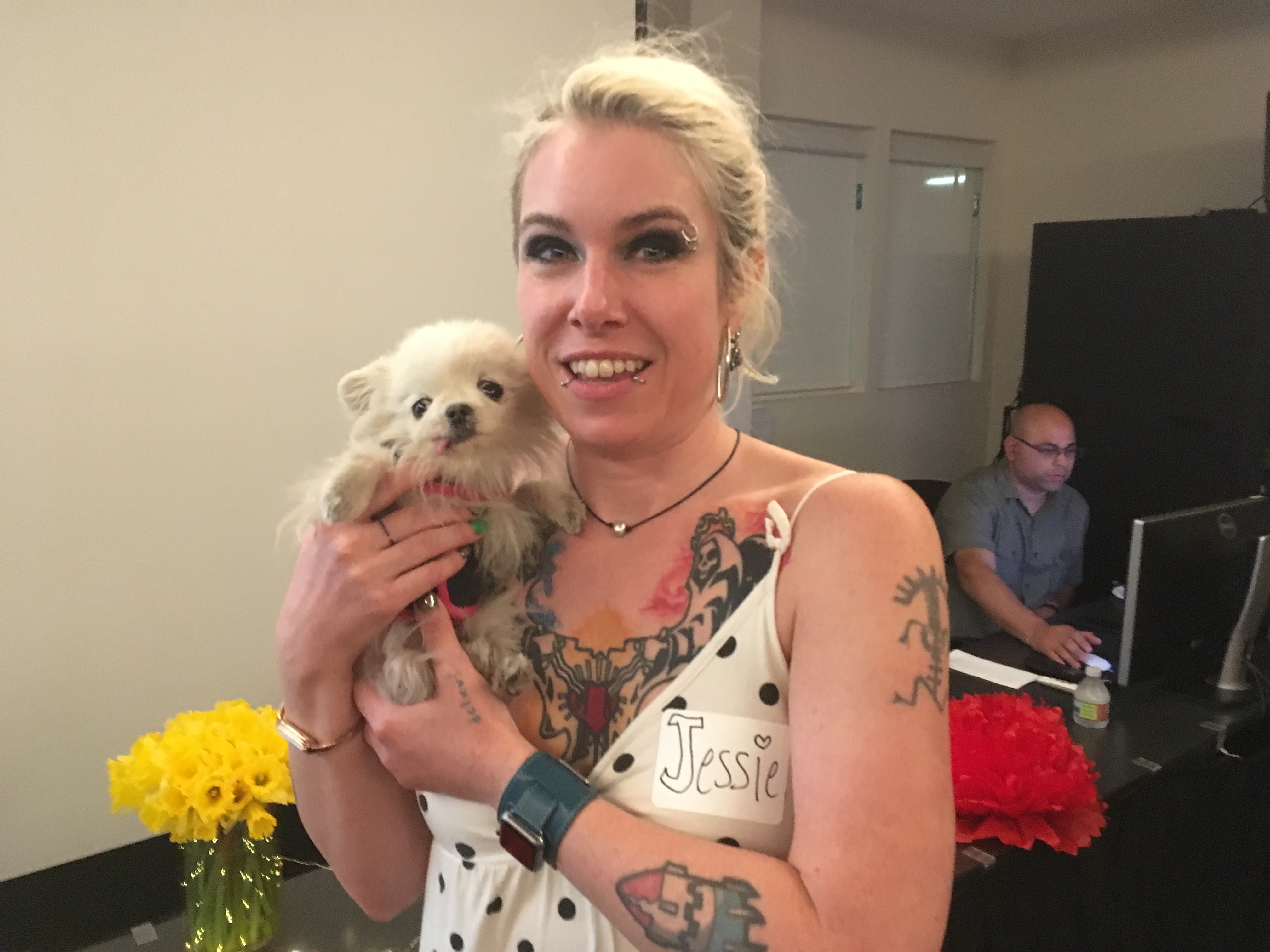 Holding a Long-haired Chihuahua in one arm, Jessie Spence said, "I am enjoying meeting all these new people and learning the basic steps, and we wanted to show our dog more culture." Spence's life partner, sound editor Jonathan Greasley (originally from England) added, "We can all do with learning how to be a little less white. We love this kind of stuff."
Some members were dressed to the nines for dancing, like assistant editor Brad Obie who came with wife Qi Cai. In stylish black, with white-banded black fedora to match his two-toned dancing shoes, Obie said, "We usually do swing dancing, but tonight we came to learn salsa. Then we got here late so we learned by watching — and danced. Tonight was all about dancing!"
Picture editor Nona Khodai, of Iranian descent, came in time for the lesson and said, "I loved learning how to do salsa in the big circle and changing partners again and again. I also love hanging out with other editors and Guild members and seeing friends I haven't seen in a while."
One of the friends with whom she was hanging was picture editor Shoshanah Tanzer, who "just wanted to dance." Tanzer noted that her editing mentor, Jennifer Barbot, was a very accomplished salsa dancer and had taught her the dance. Praising the event, she went on, "All the work that the different diversity committees are doing is awesome, bringing people together. I'm meeting people tonight I've never met."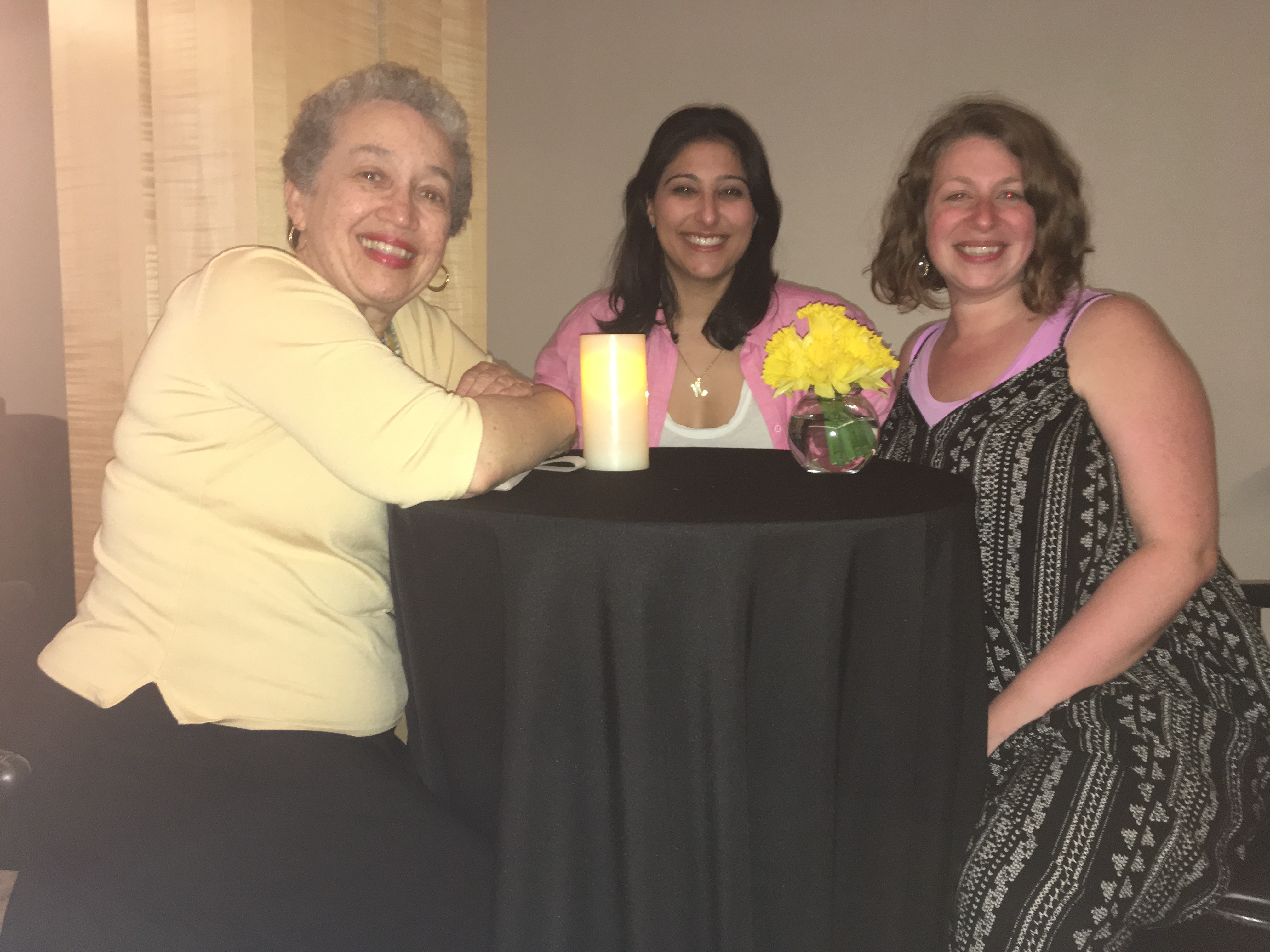 As a member of the African-American Steering Committee, Lillian Benson, ACE, said, "I came to support the other committees and I love Latin music. I don't think we have enough fun in our lives. It frees us."
As the party started winding down, Latin committee member and assistant editor Susana Benaim (born in Venezuela of Jewish parents) looked around and said, "We did really well. It's really rare to have a dance floor in the Dede Allen Seminar Room."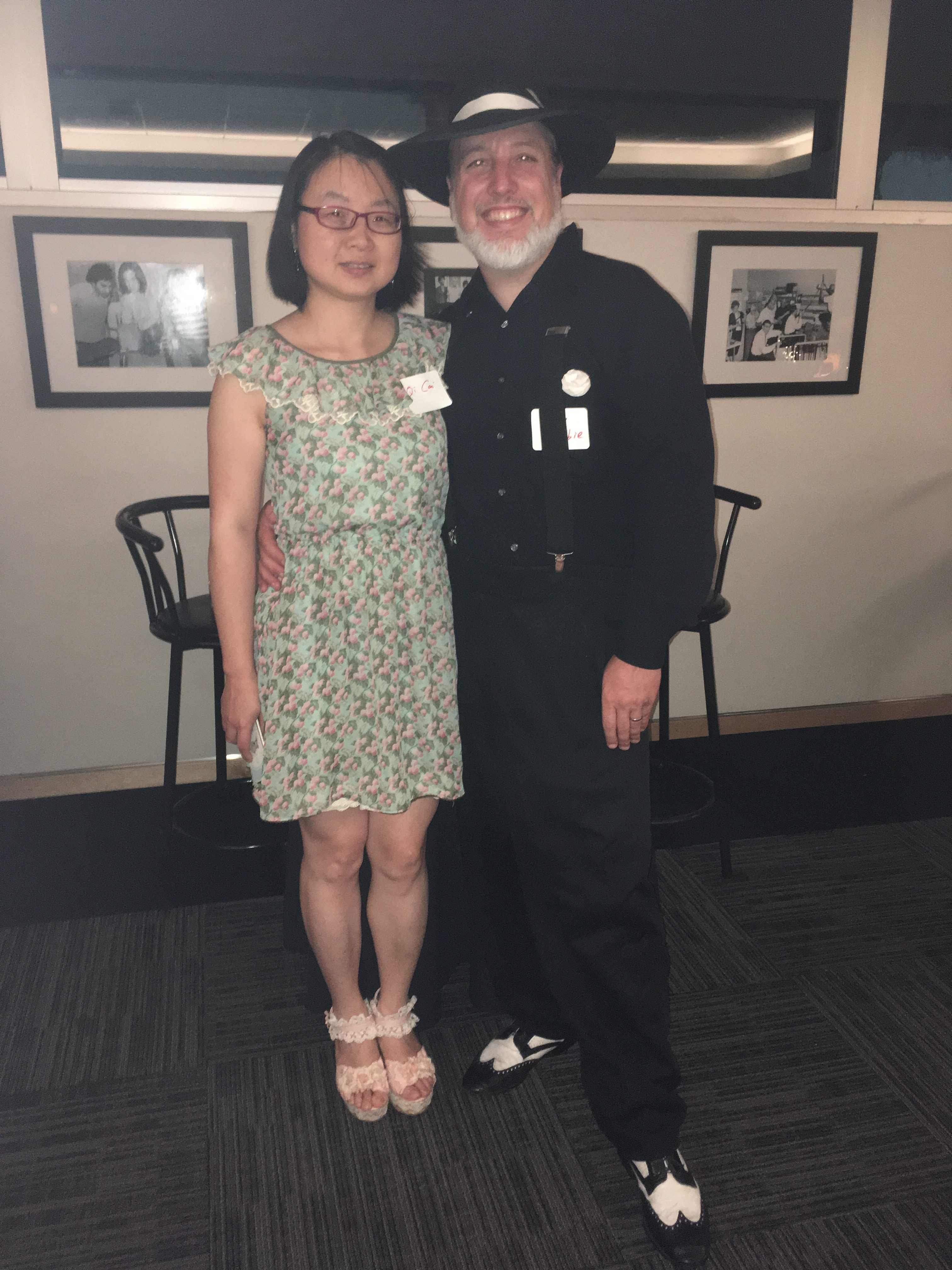 Assistant editor and salsa dancer Rosales summed it up this way: "I like this. It feels good to see people laughing and seeing smiles on their faces. What's happening is people getting to know each other."
At that moment, union membership assistant Tracy Pacio walked out on the dance floor holding a small cake with a candle brightly burning on top. With her was the event's caterer, Gwen Kenneally. As if in confirmation of Rosales' words, Pacio announced it was Kenneally's birthday and everyone in the room stopped their dancing and talking to sing "Happy Birthday."
The members of the Latin Steering Committee are Morgan, Salazar, Luzon, Rosales, Sanchez, Benaim, Centeno and Nena Erb, ACE (who is not Hispanic). Those interested in joining the Committee should contact Diversity@EditorsGuild.com.