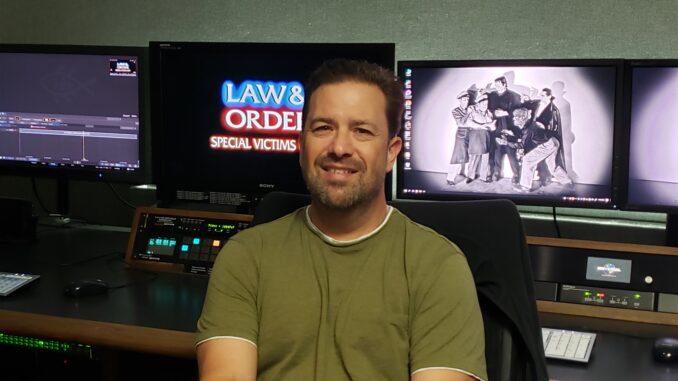 Where are you currently employed?
NBC Universal StudioPost.
Current projects?
"The Office: Superfan Episodes"; "Law & Order," "Law & Order: Special Victims Unit," and "Law & Order: Organized Crime"; "Chicago Fire," "Chicago P.D.," and "Chicago Med"; "FBI," "FBI: Most Wanted," and "FBI: International."
Describe your job.
As you can tell from my current project titles, I work mostly in television. I'm the finishing editor on all nine of those Dick Wolf shows. StudioPost is responsible for editing the final cut together in high resolution and then also incorporating visual effects shots that we work on in-house, as well as the ones that arrive from external vendors. After the show goes through the color-correction process, it comes back to me. I insert the opening titles and end credits, then I create the final file that is used to create the air file that goes to the network for broadcast.
I also work on in-house projects such as preservation and restoration, and on dual-language masters for feature films, both current and past, that need to be supplied to various countries.
How did you first become interested in this line of work?
As a kid, I used to go to work with my dad who was a technical director for ABC for 46 years. I thought it was really cool that he contributed to content that millions of people watched, so I knew I wanted to be a part of that industry.
Who gave you your first break?
I got a job working as a quality control operator for a place called MediaTech West. Then I moved on to Pacific Video as the graveyard dubber, which was my first job at a post-production facility. (The graveyard dubber was responsible for making the final air files for the networks.) I moved up at Pacific Video, then went to The Post Group where I worked 14 ½ years. In 2007, I accepted a position at NBCUniversal StudioPost, and that's where I've been for the past 16 ½ years. That was my first union job.
What credits or projects are you proudest of, and why?
Being nominated for an Emmy for working on the 2000 Academy Awards was a highlight. It was even more special because I worked directly with my father as we supplied all the videotape elements for the trucks, such as the nominations packages that we edited together. And, he was the technical director for the award show that year. It was such a great honor to work on a high profile show like that with my Dad.
I'm also proud to have been working with the Dick Wolf company for over 15 years, and I've created some wonderful friendships and work relationships.
What was your biggest challenge in your job (or on a particular project) and how did you overcome/solve it?
The biggest challenge is probably the crossover episodes for all the Dick Wolf shows. Crossover episodes are basically three episodes tied together to make a single three-hour story. (For example, "Chicago Fire," "Chicago P.D.," and "Chicago Med.") Not only do we have to create the crossover episode, but we also have to create an individual episode for each, and they all have to be delivered at the same time. For example, if it is a three-hour crossover, we create the three-hour version and then a version of the three individual episodes to be delivered for repeats/syndication. There could be additional material needed for these versions , so the turnaround is sometimes pretty tight.
Also, for the 2000 Academy Awards, we logged 123 hours in one week to get everything ready for the live show, so that was a pretty intense challenge.
What was the most fun you've had at work?
The most fun I've had in a work-related setting was when I attended the Emmy Awards as a nominee. Being in that room, with all of those amazing industry people, only deepened my gratification for the privilege of working for and with such incredibly skilled and talented people.
Jobwise, what do you hope to be doing five years from now?
I enjoy what I do, so if this is what I am doing in five years, I would be very content. I would also like to do more VFX work.
What are your outside activities, hobbies, passions?
I enjoy traveling with my wife and family. I love to play golf with my three boys. I'm a huge sports junkie — a Rams fan and a Yankees fan. I also love going to the horse races.
Favorite movie(s)? Why?
"Gladiator" because of all the action and great cinematography. "The Godfather" is just a classic. "Men of Honor" is a great story of the trials and tribulations of a man who is determined to succeed regardless of the circumstances. And all the Marvel movies. I love the Marvel Universe because I used to read the comics as a kid.
Favorite TV program(s)? Why?
"The Office" is hilarious and often so politically incorrect that sometimes it's hard to believe it aired with that content. I worked on the original air episodes from seasons 4-9, and now I'm working as the finishing editor on the Superfan episodes. These include never-seen footage that didn't make it into the original broadcast versions, usually because of time restrictions.
I also like "Survivor" and "Special Forces" because they seem like fun and something I would be interested in doing. And finally, my wife and I love to cook, so we watch "MasterChef" (and all the cooking shows).
Do you have an industry mentor?
My industry mentor is Mike Polito. When I first started at Pacific Video and worked my way up to being an assistant videotape editor, he gave me the opportunity to be his assistant. He taught me how to use the edit equipment and how to interact with clients. Our work partnership grew from there, as well as a wonderful friendship. Our families have remained great friends to this day!
What advice would you offer to someone interested in pursuing your line of work?
I attended Pasadena City College for my television engineering certificate, so I would recommend going to school and getting an education and/or attending a trade school like Moviola, which I have also attended for editing classes. Sometimes the hours can be long and tedious, but in the long run, the satisfaction is worth it.
Is there anything you'd like to say to your fellow Guild members, some words of encouragement?
Being a member of the Guild offers us a great work experience and livelihood. As my father likes to say, "It beats working for a living!"