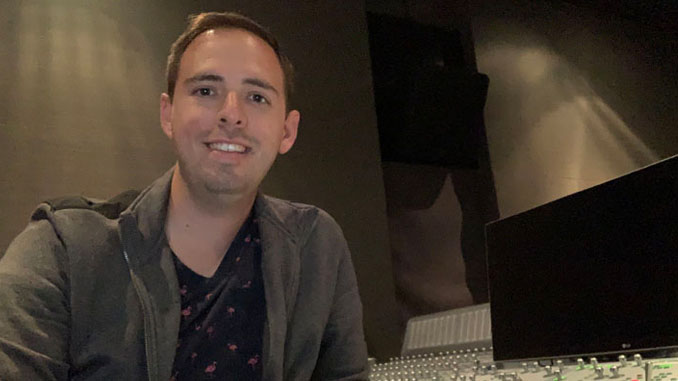 Where are you currently employed?
Warner Bros. Post Production.
Current Project?
Recently, I worked on Annabelle Comes Home, doing the Dolby Atmos Nearfield mix and the Foreign Atmos mixes for theatrical release, and now I am doing the Nearfield mixes for Joker, starring Robert De Niro and Joaquin Phoenix, set for release in October.
Describe Your Job.
I am known as a Mix Technician. I am responsible for getting a project's audio sources onto the playback machine and set them up for the mixer, and for setting up the recorder machine to create the necessary deliverables required by the client. With the expansion of Dolby Atmos, the Mix Tech has become vital to the mixing stage staying operational. The mix tech handles the Atmos technical process and allows the mixer to focus completely on the creative aspect.
How did you first become interested in this line of work?
I was originally curious about music recording, but during my time in college I started learning more about audio post-production and the creative audio work that goes into TV and film. I took a course that taught me the basics of sound design, which I found very interesting, challenging, and creative. After that, I have set my foot down the audio post path and haven't turned back.
Who gave you your first break?
My first job in the audio industry was cleaning audio magnetic tape and optical sound track at Chace Audio in Burbank. Thanks to my start at Chace Audio I was able to learn the history of audio during the old "Mag and Optical" days.
What was your first union job?
My first union job was as mix tech for the last print master for The Front Runner last year.
Which of your credits or projects have made you the most proud and why?
While I was still building my hours to join the union, I worked with a great team on an indie feature called Dead Bullet and was both supervising sound editor and re-recording mixer. And I am super-proud that I was the re-recording mix tech for Alfonso Cuarón's Roma. The sound, the cinematography and the set design made it special, and I was super-happy to be part of a well-established team and see the working process of a great visionary director.
What was your biggest challenge in your job (or on a particular project) and how did you overcome/solve it?
I had an issue on a mix stage where we were not ready to roll first thing in the morning. With the mixing and engineering teams and the clients all involved, there was high tension to get things started. I had to stay calm and collected to keep everything at peace with the clients. We rescheduled the work for the next day with my own guarantee that we would roll the next day and on time. After the clients left for the day, I worked into the night with engineering to resolve the issues and, the following day, we were able to roll smoothly with everyone happy. My boss appreciated how I handled the situation.
What was the most fun you've had at work?
The most fun at work was during the last day of mixing Roma. Everyone on the mix stage started making jokes, and other film references. It was great time, as the director started clowning with me and I was able to throw in a good joke or two back at him.
Jobwise, what do you hope to be doing five years from now?
I hope to move up into being a re-recording mixer.
What are your outside activities, hobbies, passions?
 Hiking, going to watch movies, and attending live concerts
Favorite movie(s)? Why?
My most recent favorite movie is La La Land. I have become more and more a fan of long one-take shots. What an incredible feat it must be to rehearse the whole shot, get every production department involved and go for the best take.
Favorite TV program(s)?  Why?
Lost. I became fascinated with the great scope of this show — being shot on the beach, the incredible acting and the story. Watching Lost was one of the reasons I wanted to get into audio post production. The incredible sound design and mix that went into this show was what really sparked my curiosity to learn about all the roles in audio post.
Do you have an industry mentor?
In each year of my career I have been fortunate to have someone I could rely on to speak with for advice and guidance — from teachers at school and bosses at work to great leaders that make up the Motion Picture Sound Editors organization like Frank Morrone and Tommy McCarthy.
What advice would you offer to someone interested in pursuing your line of work?
A mix tech should learn about the technical and creative side of Pro Tools, the mixing console, and old and new plug ins. I would highly recommend, if you have the chance, to learn the workflow for Dolby Atmos; more and more mix techs are starting to become in demand if they have experience dealing with Dolby Atmos.
Was there ever a circumstance when you had to rely on the Guild for help or assistance?
Not yet.
Is there anything you'd like to say to your fellow Guild members, some words of encouragement?
It's a pleasure to be a part of Local 700. I look forward to meeting you if we ever cross paths.
Compiled by Edward Landler      
Editor's Note: To recommend a member (including yourself) to be featured on CineMontage.org, and the home page of the Editors Guild website, please contact edlandler@roadrunner.com