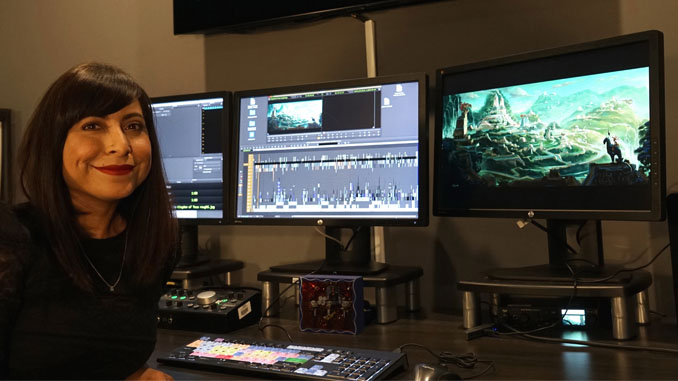 Where are you currently employed?
Netflix Animation Studios.
 Current Project?
Maya and the Three, a Netflix original animated mini-series set in Mesoamerica, which is currently set to premiere in 2020.
Describe Your Job.
I am currently the lead editor on Maya and the Three. I oversee the editorial team for animatics through post-production. I work creatively side by side with the show's writer and director, Jorge Gutierrez. Together we work on everything from pacing and timing for dramatic and comedic impact to experimenting with music and sound effect styles. Additional duties include working closely with production to develop a harmonious workflow between editorial, the story team, audio departments and our overseas animation studio.
How did you first become interested in this line of work?
I have always loved animation. I studied animation and illustration at Cal State University Fullerton where I received my Bachelor in Fine Arts. During my senior year in college I did an internship at Nickelodeon Animation Studios and after graduation I was hired as a production assistant at Nickelodeon. A few months into the job, the post-production team at the studio needed assistance and I transferred into the post-production department. I remained there for 3½ years doing post on various Nickelodeon series. I was a post-production assistant, post-production coordinator and even supervised a few shorts and pilots. It was during this time that I became interested in editing and decided to go back to school part-time to become an editor.
Who gave you your first break?
I was about 3 months into my editing courses when one of the line producers I was working with, Miken Wong, offered me an editing job. I would have to work full-time as an editor and go part-time to school on nights and weekends. It was challenging and exhausting but she knew I could do it. Miken took a huge chance on me, for which I am forever grateful.
What was your first union job?
My first union job was at DreamWorks Animation Television on The Adventures of Puss in Boots.
Which of your credits or projects have made you the most proud and why?
Nickelodeon's Teenage Mutant Ninja Turtles — I was one of the editors for Seasons 1 and 2. This series was the first action series I edited. I learned a lot from the series show runner about story and cutting action. The knowledge I gained from working on this project has been essential in my career and I've been able to apply it to other projects. I was also able to cut the first few Comic-Con trailers for the series as well, which was new and exciting for me and a lot of fun.
Maya and the Three — the mini-series I'm currently working on. Growing up, I always dreamt of seeing a Latina heroine on TV or in the movies and now I'm working on a mini-series where the main character is a Mesoamerican heroine. Although it'll be a year or so before its release, I feel incredibly proud and lucky to be involved in this project and I'm excited for everyone to see it.
What was your biggest challenge in your job (or on a particular project) and how did you overcome/solve it?
There is so much footage and audio coming in almost daily that at times it is difficult to keep track of where everything is. Something that has been helpful is keeping a work diary. Every day I jot down what the editorial team worked on and what still needs to get done. This way there is little room for anything to get missed.
What was the most fun you've had at work?
I was hired as an editor at DreamWorks Animation TV a few months after it had been established. Those first few months at the company were slow for the editors as productions ramped up. All of editorial had offices in the same hallway and this meant we all went on adventures together. We enjoyed many long lunches, daily tea times, food challenges, lots of birthday celebrations and many YouTube videos. It was awesome; if only it lasted forever.
Jobwise, what do you hope to be doing five years from now?
I hope to be editing animated features.
What are your outside activities, hobbies, passions?
I enjoy photography, playing my accordion and watching tons of Turner Classic Movies. I feel that I am constantly learning something new with all of these activities.
Favorite movie(s)? Why?
The Nightmare Before Christmas and Sunset Boulevard are my favorites. The Nightmare Before Christmas is visually stunning and was a huge inspiration for wanting to study animation. Sunset Boulevard was one of the first classic films I watched that started me on a path watching and studying more classic films.
Favorite TV program(s)?  Why?
There are so many I love. A few that stand out to me are Animaniacs, Tiny Toon Adventures, The Office, Mad Men, Breaking Bad, The Handmaid's Tale and The Leftovers. Animaniacs and Tiny Toon Adventures were cartoon series I watched as a kid that inspired me to want to draw and learn the art of animation. The Office, Mad Men, Breaking Bad, The Handmaid's Tale and The Leftovers follow some complicated characters that I always find myself rooting for.
Do you have an industry mentor?
When I started my career in editing at Nickelodeon Animation Studios, I worked with Jeff Adams. He was my industry mentor.
What advice would you offer to someone interested in pursuing your line of work?
Take into consideration what you are making: Is it an action show? Is it a comedy or drama series? And watch television shows or films that relate to what you are working on so that you can learn about pacing and timing. Sound is important as well. In animatics we use temp sound effects and music and it's important to have the right sounds to help convey the story. Studying all these things will make you a better editor.
Was there ever a circumstance when you had to rely on the Guild for help or assistance?
When I started working at DreamWorks Animation Television, the content I was working on was for streaming and I was not able to join the roster. The 'New Media' roster was formed instead and I was placed on that. None of the hours I accumulated at Nickelodeon working as an editor could be counted towards joining the normal roster because my title at Nickelodeon was "Supervising Picture Editor" and my title at DreamWorks was "Avid Editor." I contacted the Guild and they negotiated for the editors at DreamWorks Animation Television to join the normal roster after 6 months of employment there.
Is there anything you'd like to say to your fellow Guild members, some words of encouragement?
If you are in a position where you feel you are not growing, do something about it. Make your own path. There are tons of opportunities out there in this constantly evolving industry where you can make a place for yourself.
Compiled by Edward Landler      
Editor's Note: To recommend a member (including yourself) to be featured on CineMontage.org, and the home page of the Editors Guild website, please contact edlandler@roadrunner.com.