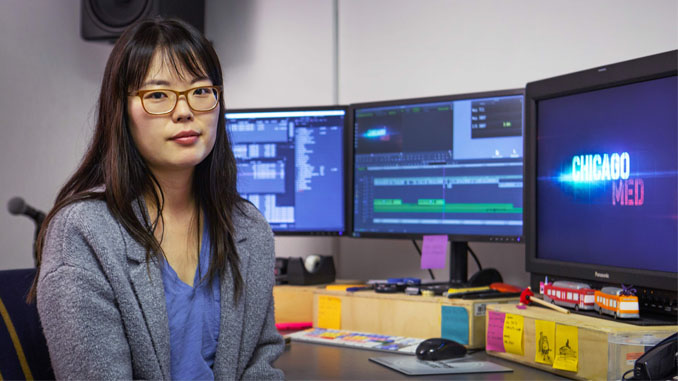 Where are you currently employed?
Wolf Films.   
Current Project?
Season Four of Chicago Med.
Describe Your Job.
I prep dailies, organize paperwork and add temp sound and sometimes music. I also export cuts throughout the various stages of the episode and do temp VFX work. Toward the end of the offline process, I prep sound and picture turnovers and VFX turnovers if needed. A lot of organization is involved, and I try my best to maintain order throughout the season. All of the editors on Chicago Med are incredibly generous and often give the assistants scenes to practice cutting.
How did you first become interested in this line of work?
I was a film and visual arts major in college but it was all theory, no production or post-production. During the last year of college, I went to Paris for a semester abroad and on a whim signed up for a video production class. We wrote, directed and edited our own projects — and that's when I discovered I had a passion for post-production.
Who gave you your first break?
Through a friend's father, I met Mark Woollen of Mark Woollen & Associates, a movie trailer company. His company had an internship program and I was hired as an intern in January 2009. Five months later, I was offered a job as a receptionist/office assistant. I learned about movie advertising but, most importantly, I learned that editing was the right path for me.
What was your first union job?
The Voice. Interestingly, the opportunity came about during an orientation meeting at the Guild. This was the second break in my career and I thank post supervisor Jim Sterling for taking a chance on me, even though I had very little experience in reality competition.
Which of your credits or projects have made you the most proud and why?
I am incredibly proud to be part of the Chicago Med family. They also took a chance on me because I had no scripted experience, but I had a couple of friends there who vouched for me. Chicago Med is the best team with whom I've had the pleasure to work, and it's the most nurturing environment I have been in. We have a lot of love and support for each other.
What was your biggest challenge in your job (or on a particular project) and how did you overcome/solve it?
The Voice was my biggest show and most challenging project so far. To survive a show this size, I wrote as many notes as possible and referred to them when needed. It was overwhelming at first — there were so many little things to remember that I created a check list for specific tasks. I made several lists for myself over the years and shared them with other assistant editors.
What was the most fun you've had at work?
The most fun has been working on Chicago Med. It doesn't feel like work when you're surrounded by great people and no task is too mundane. I love watching a scene come alive adding sound effects and music. I also get to practice cutting some scenes, which is a pleasure and a great privilege.
I also enjoyed working as an online editor on The Voice and I particularly loved using the paint tool in Avid to hide crewmembers on stage. It's an invaluable skill for an assistant editor because more and more shows demand VFX skills. I was able to transition from reality to scripted more easily because of my online skills.
Jobwise, what do you hope to be doing five years from now?
I hope to be editing TV shows five years from now, but I'm also interested in working in features, specifically as a VFX editor. I would love to be part of a VFX-heavy show or feature.
What are your outside activities, hobbies, passions?
I love to bake, especially pies, and I'm looking into learning how to make Danish and Scandinavian food and desserts. My husband is half-Danish and I would love to incorporate more Danish culture into our everyday life.
Favorite movie(s)? Why?
The Matrix inspired me to pursue a career in entertainment; I was 14 years old when it came out. I always loved movies and TV shows, but it was then that I felt the yearning to be part of something that big. It was so many things in one — innovative, thought-provoking and just fun to watch. In college I discovered Elevator to the Gallows, 8 1/2, The 400 Blows, etc. One of my recent favorites is Jim Jarmusch's Paterson because it's about a poet who is not bitter about making a living as a bus driver. It was refreshing to see an artist portrayed that way. I'm a huge fan of public transit, so I loved the premise.
Favorite TV program(s)?  Why?
I love The Americans; it may be about Russian spies in the US but it's really about marriage. I love anything by Amy Sherman-Palladino and The Marvelous Mrs. Maisel may be her best yet. The beauty in Better Call Saul is that we know it's really about the journey Jimmy is on to becoming Saul. The End of the F*cking World was a huge surprise because it was an homage to American road trip movies but set in England. It's dark, funny and heart-breaking. Barry is original, but we can all relate to wanting to start fresh in a new city and perhaps a new identity. Henry Winkler is just amazing!
Do you have an industry mentor?
Editor Lillian Benson, ACE, has inspired me to get out there and participate more within our industry. She is a pioneer and I am eternally grateful for her kindness and advice. It's a joy working with her every day.
What advice would you offer to someone interested in pursuing your line of work?
No one cares as much as you do about your career. Don't say no to an experience because it's not quite what you hoped for. Be kind and respectful, especially toward those who may be below your rank. Show people that you care about your work no matter how small it may seem. There will be days when you feel unnoticed or under-appreciated, but people notice. A positive attitude goes a long way — and gratitude takes you further.
Was there ever a circumstance when you had to rely on the Guild for help or assistance?
Some years ago, I left an advertising company (not Woollen & Associates) to work in non-union reality TV. During the exit interview, I requested a written letter stating that I had worked as an assistant editor there because my pay stubs did not list my job title. The company denied my request. I was extremely upset and reached out to the Guild for guidance. It was a place to air my grievances, and the Guild gave me hope for a better future. I realized how important it was to have the Guild behind me. (By the way, that advertising company recently closed up shop.)
Is there anything you'd like to say to your fellow Guild members, some words of encouragement?
I want to thank my fellow Guild members for showing their support over the summer during contract negotiations. We showed everybody what a mighty group we are, and I'm proud to be a member. No one makes it on her or his own. I wouldn't be where I am without the help of fellow assistant editors and editors. Let's continue to support one another at work and outside of work.
Compiled by Edward Landler      
Editor's Note: To recommend a member (including yourself) to be featured on CineMontage.org, and the home page of the Editors Guild website, please contact edlandler@roadrunner.com.