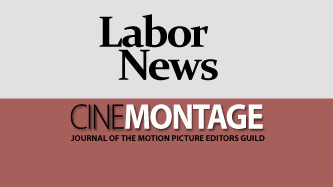 Reprinted from The Hollywood Reporter by Jonathan Handel on July 8, 2020.
The WGA, with WGA West executive director David Young as chief negotiator, reached a June 30 agreement on a three-year TV/theatrical deal with the Alliance of Motion Picture and Television Producers, topping off a triennial negotiating cycle like none in recent memory — even though ultimately the guild's wage, benefit and residuals improvements followed the pattern set by the Directors Guild and mirrored those of SAG-AFTRA.
The DGA usually reaches an agreement in December in advance of a June 30 expiration, but this time the directors' pact didn't arrive until March 4. This signaled that achieving a deal on streaming residuals had been difficult as the industry pivots to platforms like Disney+ and HBO Max.
And it heightened fears that the WGA — under the leadership of Young and president David Goodman — or SAG-AFTRA, or both, might strike. But what people plan, viruses discard, and just days after the DGA closed its deal, the economy shut down.
After some uncertainty, SAG-AFTRA and the AMPTP, led by president Carol Lombardini, negotiated a deal by videoconference. A source close to the performers' union said it would have initiated a strike "were it not for the pandemic." That June 10 agreement is out for expected ratification, with ballots due July 22. …