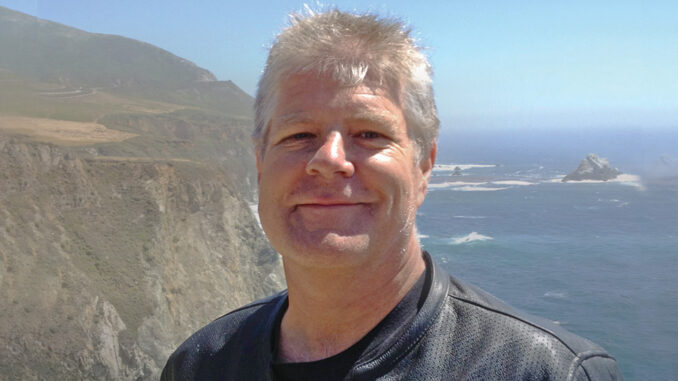 John Marshall Fuller
Picture Editor
January 21, 1955 –
February 16, 2016
by Stephan Gunsaulus
John Marshall Fuller, Sr. passed away on February 16, 2016 at the age of 61. John was raised in the small town of Greenlawn, New York, located on the North Shore of Long Island. He attended Harborfields High School where he achieved recognition for his scholastic, athletic and musical prowess.
His late father Jack, an RCA Records executive and weekend jazz saxophone sideman, had a profound musical influence on the Fuller family. John was active in high school as an accomplished oboe and bassoon player, as well as in the local garage band scene on guitar and bass. His love of music would remain a driving force for the rest of his life; in the past five years he learned the alto saxophone.
After high school, John attended NYU and earned a BA in the venerated Film and Television program. After graduation, he landed a position as a videotape operator at ABC Television Center West in Los Angeles. In 1988, while working for NBC at the Summer Olympic Games in Seoul, South Korea, John won two national Emmy Awards as senior editor. He also won local Emmys and a CINI award. His early years at ABC and NBC coincided with the technical revolution in nonlinear editing; he learned the craft and additionally developed production skills on magazine shows such as Eye on L.A. and Entertainment Tonight.
John spent the majority of his professional career editing sitcoms and excelled on the Drew Carey Show (1995-2004) and, most recently, Anger Management (2012-2014). He would go on to direct several sitcom episodes and was an active Directors Guild of America member. When the popularity of programming shifted to reality shows, John edited countless programs for a wide variety of production companies. He also worked on movie trailers, TV documentaries and community videos, as well as his own projects.
In the 1990s, John — along with three other working directors — formed the Alan Smithee Band as a musical project just for fun. They hired professional musicians and developed a repertoire of obscure R&B cover tunes. The band was so accomplished that it garnered the attention of some record company A&R scouts.
John had many passions that he would share with his friends and family. He was an accomplished coastal sailor, an avid classic British motorcycle rider, a youth music counselor and an alto sax player in the Los Angeles Police Department Band.
A true renaissance man, talented editor and director, caring friend, and fully engaged father, John is survived by his loving partner Sally Hallada, his daughter Emily and his son Jake, He was also a devoted brother to sister Kathy Solomowitz and brother Dave. He will surely be missed by many.
In lieu of flowers, the family requests that you patronize John's recently opened coffee shop, the Coffee Source, at 11400 Ventura Boulevard in Studio City, California.