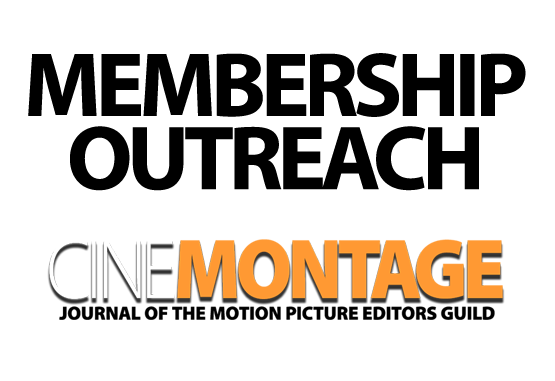 by Stephanie Brown and John Vitale
The Membership Outreach Committee has been focusing on the importance of mentorship and how to bring it back into the workplace. For the last year, a number of members have reached out to the committee after reading our regular articles in CineMontage, explaining how they have made mentoring in their workplace a priority.
Historically, one of the successes of a union has been achieved through the training of its members by other members. It is our duty not only to pass on the techniques and skills from one generation to another and to preserve what has made us the best in our crafts, but also to instill the values of what being a good union member is about.
This year, we are inaugurating our Mentorship Campaign. As part of our campaign launch, CineMontage reached out to Guild members in various disciplines and discussed their personal views and experiences in regards to mentorship (see "Gurus of the Guild," page 28). The committee will follow up by hosting panel discussions with members from various classifications to talk about mentoring and provide advice to those who seek to mentor and those who want to be mentored. These discussions will expand upon the concept of this issue's cover story and make it more interactive.
In past issues, we also discussed our desire to create a mentorship program at the Guild for those members who are — for whatever reason — not in a position to be mentored on the job, and for those who want to mentor and assist in teaching the next generation of members. In the coming months, the Membership Outreach and Training Committees will launch this mentorship program for all classifications — a master class of sorts.
We will be asking editors (picture, sound, music and animation) and mixers to teach those who want to learn from experienced members. The Guild will be looking for members willing to conduct a two-day class over a weekend to teach the skills needed to excel at the next level, as well as learn how to navigate the politics of the environment in which we work.
The basic structure will be as follows, using picture editing as an example: Mentors will be asked to bring in footage (the Guild can supply if unavailable) into the class so that they are already well versed and familiar with the material. That material will then be loaded onto machines with the appropriate software for up to five-to-ten "mentees." On Saturday afternoons, the mentees will begin working on that material. The mentor will spend class and individual time to offer notes, help and experience where needed. Sunday will focus on addressing notes and changes, delivering a final presentation of each student's scene, and a group discussion. Each mentor will have the opportunity to tailor the class as he or she sees fit. Food will be provided.
THE IMPORTANCE OF STEWARDSHIP
The union isn't just an office in Hollywood or Tribeca. The union is the membership, and it can be found wherever our members work. Building a stronger union means insuring that we members have a regular, strong connection to our organization — not just the occasional contact with a union representative or at a union event. Colleagues coming together to support one another on the job constitute the soul of our union.
Many of the fixed facilities in which our members work have a shop steward, a member who serves as the workplace's point person for disseminating union-related information or addressing concerns. But, because so many of us work in an exclusively freelance environment, a lot of us seldom see a shop steward.
As part of the Membership Outreach Committee's commitment to internal organizing efforts, we will be working in the months to come with the Guild's organizing and field representative staff to revitalize and expand our stewardship. Strengthening our steward structure includes recruiting and developing leadership in the post-production community outside of fixed facilities.
If you would like to be involved in the effort to expand and improve our system of mentorship and stewardship, please reach out to the Membership Outreach Committee at outreach@editorsguild.com to discuss how you can take part.