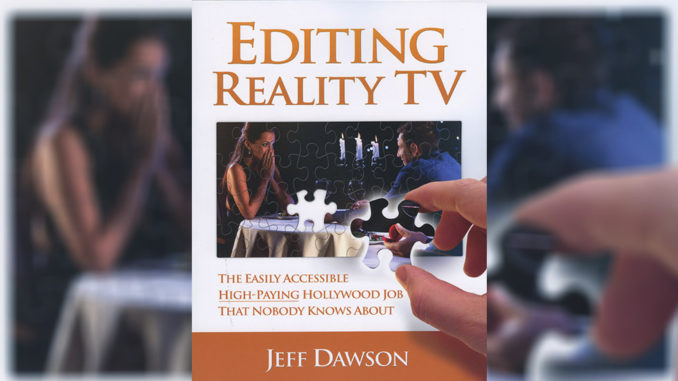 by Pamela Malouf, A.C.E.
Perchance an editing job on one of the lower-rent reality shows is "easily accessible," but chances are that any accomplished reality editors who've spent time honing their skills will find this book's subhead offensive. As for the "job that nobody knows about," the Academy of Television Arts and Sciences added reality to its award categories in 2003. That same year, IATSE and picture editors fought to unionize unscripted television and scored a huge victory with the series Big Brother. Some eight years ago, the forerunner to this publication published an in-depth article on editing reality TV ("Confession of a 'Preditor': What Goes on Behind Reality TV's Cutting Room Door," Editors Guild Magazine MAR-APR 05). While it's true that a book should not be judged by its cover, the very title of this tome makes its basic premise dubious.
Author Jeff Dawson graduated from NYU film school in 1999 with a youthful delusion that fantastic opportunities of money and power in the motion picture industry would be his overnight. He tells about trying his hand at writing, directing and even acting, but the powers-that-be in Hollywood didn't recognize him as the newest wunderkind he imagined himself to be. His "last desperate attempt at living the dream" was when he got his first decent-paying job — as an assistant editor on a reality show.
By his own account, the author had limited entry-level exposure to scripted shows, yet he quickly surmised that all scripted people "posture and patronize with self-obsessed Hollywood arrogance." Dawson's partiality bobs to the surface in the book, with pronouncements such as that all the people working in reality TV are nice compared to the "superficial, self-important" old-school Hollywood types. As a veteran editor with reasonable success in both realms, I can tell you that the scripted medium does not have exclusivity on unpleasant people, nor does unscripted have only likeable employers.
Other declarations may give pause: Dawson claims that the introduction of nonlinear video editing was in the mid-1990s. The very first nonlinear system, the CMX600, was introduced in 1971! In 1983, Herb Dow, A.C.E., cut Still the Beaver on the nonlinear Ediflex system and the following year, the editors of Knots Landing, Falcon Crest and Dallas followed suit. The Montage Picture Processor and EditDroid debuted in 1984. In fact, Ediflex (Cinedco) won the 1985 Technical Emmy for the Design and Implementation of Nonlinear Editing for Filmed Programs.
Like its scripted predecessors, reality has continued booming while simultaneously signing union contracts on some of the biggest and highest-rated reality programs.
Broad generalizations aside, there is some useful information about reality for a scripted editor who wants a lay of the land or an assistant seeking an editing break. Common reality terms such as "radio cut," "bites" and "frankenbites" are described in detail. There are quizzes at the end of each chapter and "watch and learn" assignments (some may find these annoying). Much of the picture and music editing tips — such as don't take music and just "slap it under some picture" or "use the best stuff" — are standard fare for any editor worth his or her salt. But if all you're looking for are the fundamentals of editing a reality show from start to finish, then this book will deliver some insight.
To become successful in unscripted editing, Dawson professes that you don't need to go to film school, get an agent or "serve coffee to self-obsessed Hollywood jerks." He also suggests that becoming proficient on an editing system isn't necessary because you can do that on-the-job. He ignores the fact that in any complex organization or craft, there are entry-level positions and a process for learning the trade with time, experience and mentoring. By oversimplifying this, Dawson has done a disservice to the reader.
In the second part of the book, the author starts to redeem himself. It could be its own book: How to Break into Hollywood Without Knowing Anything, and if high school or college graduates do as Dawson instructs, their odds at breaking in will greatly improve. He nails the steps succinctly and even explains how to learn the basics of the Avid while working in a position such as a production assistant.
Dawson asserts that the reality genre is here to stay but, alas, he disappoints by pretentiously citing the non-union aspect as a reason, and infers that it's a positive factor. Sure, the industry always seeks the cheapest way to get the highest return, but non-union labor is not a huge part of that. One should keep in mind that motion pictures and television were both non-union at their inception, yet both exploded in popularity while becoming unionized.
Like its scripted predecessors, reality has continued booming while simultaneously signing union contracts on some of the biggest and highest-rated reality programs: The Voice, Dancing with the Stars, America's Got Talent, etc. Companies like ShineAmerica, Endemol and Freemantle have all recently become union signatories and the list is constantly growing. As this trend continues, forward-thinking reality editors are looking beyond just the "easily accessible" jobs. We're creating the possibility for sustainable, long-term careers editing unscripted TV, with safeguards for our working conditions, our health and our future retirement.