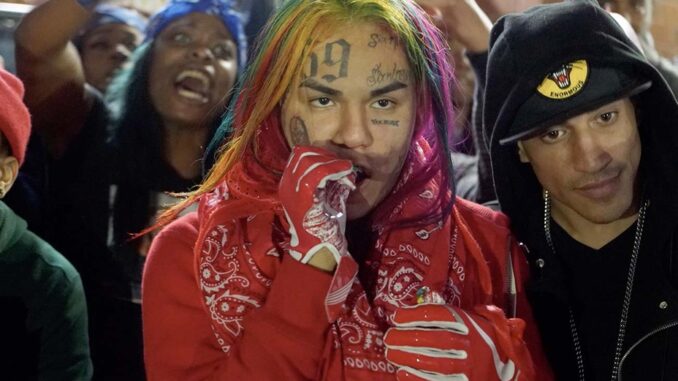 by Rob Feld
Cameron Dennis, ACE, is a DIY kind of guy, which positioned him well to cut Vikram Gandhi's scrappy documentary, "69: The Saga of Danny Hernandez."
The film, which is now on Hulu, follows the unique rise to stardom and criminal activities of Brooklyn rapper Tekashi69 (Daniel Hernandez). Hernandez created an unusually profane persona for himself on Instagram, releasing music videos and befriending gang members, leveraging the image to become a platinum-selling rapper. On the way, he used and discarded friends and racked up a number of felony counts including conspiracy to commit murder, armed robbery, and the use of a child in a sexual performance. Hernandez's local story interested Gandhi, a Brooklyn filmmaker who approached Dennis to edit.
Dennis originally intended to work in the music industry and found editing as an intern in the video department of XXL Magazine. His first job was at BET Networks as a camera operator and editor. "I was given a ton of freedom to learn, make mistakes, and then rise through the ranks through hard work," he recalled. "Whatever I didn't know, I taught myself by using YouTube and by befriending pros I met along the way."
HBO's "Vice News Tonight" was what Dennis considers his first serious editing job, however. Though they did not know each other, Gandhi had worked there as a correspondent. There, Dennis averaged 100 edited segments per year, many of them crashes for air that evening. The freedom and intense environment seemed to have prepared him for the trials of bringing to life the story of Daniel Hernandez, which faced challenges at every turn.
CineMontage: "Vice News Tonight" must have been a particular experience. What skills did you develop there and how?
 Dennis: Working on "Vice News Tonight" was one of the greatest privileges of my life. We all worked in a basement bullpen that had a control room in the center and edit bays surrounding it. There was an electric feeling walking into the newsroom. Looking back at it now with a little distance, it seems like some kind of social experiment. It could have easily been the premise of a reality competition show. What happens if we put two hundred of the smartest people from all walks of life into a bubble in Brooklyn, give them a huge budget, and let them make shit together? Josh Tyrangiel and Madeleine Haeringer actually did that, and it was really special to be a part of. On most days, it felt like we were collectively trying to defuse a bomb that would kill us all if we didn't make air by 7:30PM. It also felt like you were a part of a special forces unit where everybody had a specialized craft that helped us accomplish the mission every day. The skill I learned was speed and how to cope with an intense amount of stress. There were days, like with the Charlottesville special, where I didn't have the chance to playback my edit until the executives and legal team came in to review. Instances like that force you to be organized, trust your gut, and build edits the right way the first time out. Most of the time your rough cut had to be a fine cut and it needed to have an organized track layout so the edit could be finished quickly by our color and mix teams. If you were sloppy, it made the job of our finishing teams extraordinarily difficult and you were considered an asshole at the bar after work. I've carried those skills with me all the way to this project.
How do you survive a meatgrinder like that?
I was really lucky to work with Jonah Kapan, Beverly Chase, Ryo Ikegami, Kimmy Gorden, and Greg Wright, who are badass editors and also really incredible people. They all showed me through action that it was possible to be passionate about the craft but also have a real personal life. As editors, we all have obsessive personalities because that's the secret sauce, but that can also lead to burnout, stress, lower back problems, and maybe a few too many drinks after work. These people—these mentors—taught me that dedicated self-care is really the only way to have longevity in the edit bay.
Did your process with Gandhi resemble your process at Vice in any way?
I think our shared experience working at Vice gave us a shorthand for how to work together. Working in news also prepared us to edit quickly under aggressive deadlines. All told, production of this film happened in a year, end to end. I started in March and we handed off final deliverables in November, just eight months after I signed on. We had maybe 40% of the film shot before the pandemic happened. This meant that the bulk of the documentary was shot while the edit was in progress. Many of our main interviews that created the spine of the film were captured two or three months out from delivery to Hulu.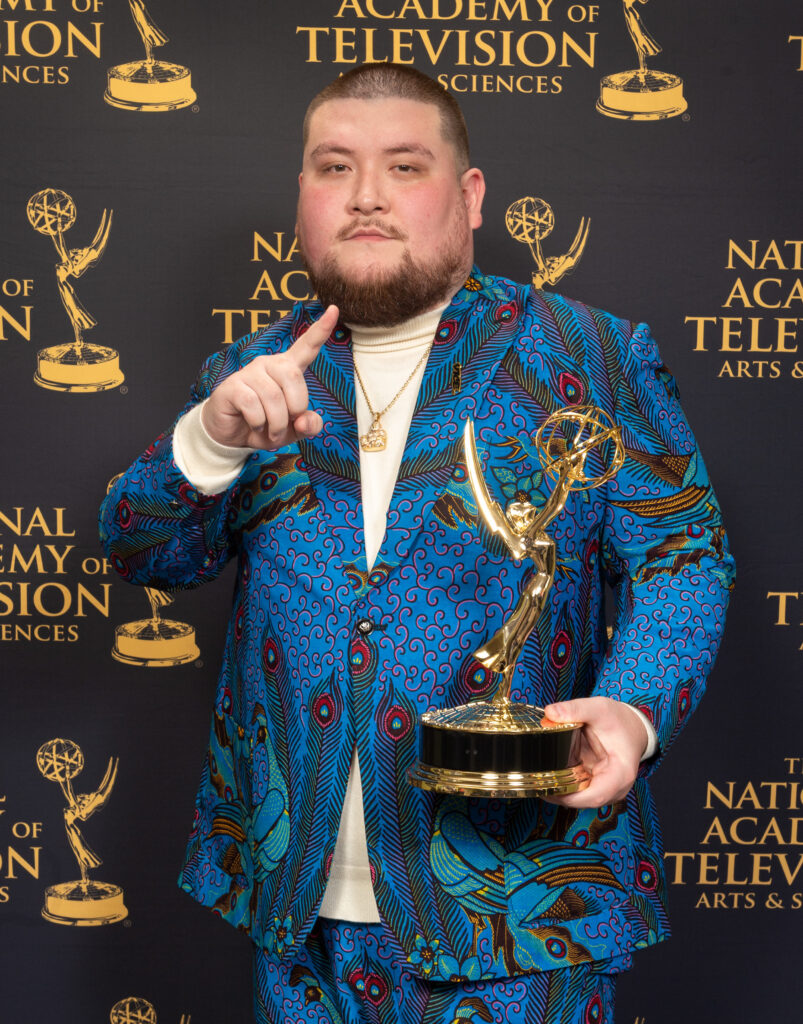 Vikram also did an insane juggling act for months on end. He shot the bulk of the film himself and then sat with me in the edit every day. There was a great synergy in that dynamic because ideas we discussed in the edit directly flowed out to our shoots. Looking back now, this was the only way this film could have been made. As we were learning about Tekashi69's life and career, we were helping identify interviewees and crafting questions. During the interviews we learned new information that would then shift our story and help us redirect for subsequent shoots.
The documentary is an investigation. How did you find the story and identify narrative arcs?
Our post team spent the first few months building a timeline of Daniel Hernandez's personal life, music career, and criminal history. Initially, since we were lacking key interviews, we pulled this all together from existing interviews, podcasts, internet folklore, and court documents. We did this on paper first, and then used a shared workspace collaboration tool called Mural to create scene cards and arrange the story.
One of the first big breakthroughs was using his leaked court testimony as narration to signpost the timeline of the story. Only about twenty minutes of it was leaked, but it was enough to start figuring out his early personal history and music origins. What we realized early on was that this was a story that needed to be told chronologically. Not only because of Tekashi69's physical transformation with hair color and tattoos, but also because of the evolution of his personal relationships and how he leap-frogged from crew to crew after they ran out of value to him. We also did a very thorough collection of social media posts from fans and detractors at specific milestones in his career. It was important for us to track the perception of Tekashi69 at different points in time, to gauge how much clout he was building as his career progressed. I think through our collection of social media, memes, archival, and metrics you get a real glimpse into how Tekashi69 rose from obscurity to internet stardom.
I think staying true to the chronology helped viewers get a roller coaster-ride feeling watching the film. You get the immense highs and lows that happened in real time. Vikram did much of the heavy lifting, figuring out the larger narrative arcs of the film. Once we had the chronology all laid out, we started organizing it into a three-act hero's journey on Mural. From there, we started refining our main arcs, which were his search for family, shock value, the pursuit of clout, and then then transition from Daniel to Tekashi69.
Collecting the footage from the internet and social media must have been painful.
It was an extraordinarily difficult project to shoot for Vikram and our producer Jeremy Falson. It was complicated because of Tekashi69's strained personal relationships and the fact that there were pending legal proceedings, and sentencing hadn't played out yet. Vikram and Jeremy had to do a ton of work behind the scenes just to get anyone to appear on camera for this story.
In the end, we had to scrap plenty of ideas because people refused to talk about him, but in a way that just forced us to dig deeper, which ended up being far more valuable. It was also very difficult to find people who knew him prior to his persona. We spent a ton of time researching and hunting on Instagram to find anyone close to him.
There were a few moments where we randomly stumbled upon a forgotten Tumblr, Facebook page, or Twitter post and hit paydirt. We found early photos of Tekashi69 and ScumGang in the bodega through a Tumblr page of a Bushwick photographer, who happened to shoot a lookbook for a streetwear clothing line that used them as models. And I remember almost falling over when we found photos of Daniel as an adolescent on the Green Point Youth Court Facebook page, which we figured out by reading court transcripts from his testimony. We also found Shadow the Great after an Instagram fan page posted a cameo of Daniel from one of the early Loaf Muzik videos. We had no idea Shadow had introduced him to hip-hop until Vikram sat him down for the interview, after which he quickly became one of our most significant characters.
The internet can be a tremendous resource but also ephemeral, no?
Our Assistant Editor Josh Henderson-Cox spent a year collecting social media posts from Tekashi69. The biggest challenge was that so much of it had been deleted. Early on in his career, Tekashi69 had been banned from Instagram multiple times for violating their community guidelines by posting sexually explicit content, and his early music videos were deleted by his Scumgang collaborators.
In the heights of his fame, many of his most notable social media appearances were on livestreams that were never saved. And after he was arrested, his people scrubbed his Instagram clean. Luckily for us, nothing is ever really deleted on the Internet. We spent an enormous amount of time looking through a 6ix9ine subreddit, Instagram fan accounts, Russian Youtube pages, and even Discord channels to find deleted content collected by dedicated fans. Josh even posted in some, disguised as a regular user, so we could get higher resolution or unwatermarked photos and videos from his fans.
Then how do you handle it all, organizationally and technically?
It was a massive amount of material, and it took a lot of work to wrap our heads around it all. Josh organized the content into bins by different themes, like flaunting jewelry, throwing cash, firearms, beef with other rappers, and telling various people to "suck my dick." Yes, that bin actually existed. He further organized them into sequences that were laid out chronologically, especially when they pertained to a specific crime.
The phenomenon of Tekashi69 happened primarily through Instagram, so we tried to get as much of it in the film as possible without overwhelming the narrative. After ripping thousands of low-resolution photos and videos from social media, we needed a way to get them into a premium documentary delivering in UHD. Our team used AI upscaling software to enlarge the bulk of the material at 4x/6x the native resolution. This effectively made a low resolution 800×800 Instagram photo into something that could be resized and scaled in a UHD timeline.
Would you say that was the greatest challenge making the film?
The greatest challenge of making the film was the accelerated schedule to deliver before a competing project beat us. The other project has Hollywood heavyweights attached to it, whereas we were a core crew of about four in Brooklyn.
Most days in the edit, Josh and I felt like we were living in a David vs. Goliath story. The entire film was cut in the living room of my one-bedroom apartment in Williamsburg, less than two miles away from where Daniel Hernandez grew up in Bushwick, which obviously added its own level of stress. The only space for Josh to have a desk was in the corner next to my stove, which made for some pretty comical situations when I cooked meals for us. We built our own shared storage NAS to house our 100TB of RED Raw, and Vikram screened the edit on my couch.
We were a very DIY project in that sense, but it worked partly because of all the experience I already had working in small teams doing multiple roles. Despite all of the challenges and fear of losing to the other production, we crafted a wild story that could have only happened in New York, and I couldn't be prouder of what we did together.