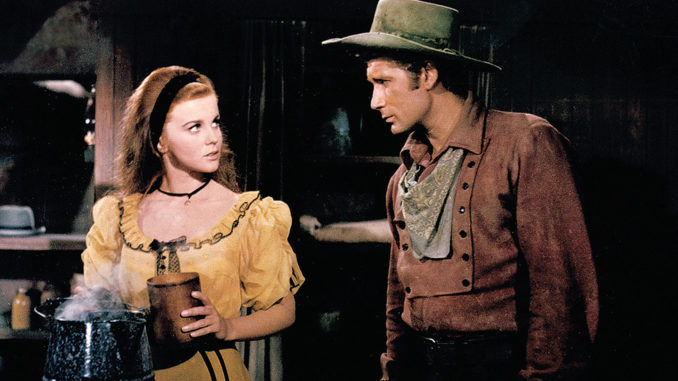 by Kim S. Ketelsen
In 1966, there were worse places to grow up than Iowa. My hometown, Marion, was a ten-minute bus ride from Cedar Rapids with its department stores, book and record shops, and three movie houses. The sweetest theatre was the Paramount, a fading 1928 vaudeville palace fashioned after the Palace of Versailles. The screen was big. The sound was big. And the movies were immense, sweeping you away to adventures in exotic places.
One summer day, family friends were visiting from Nevada. The parents dropped us kids at the Paramount to see the Stagecoach remake with Ann-Margret, Bing Crosby and other stars. We watched it once, ate our popcorn, sat through previews and the cartoon again, then re-watched it. You could stay all day.
In one big action sequence, hostile natives on horseback chased the stagecoach for miles. The second time, I noted 16 Native Americans in pursuit, yet counted 48 killed. I didn't know it then, but that hooked me on film. Instead of feeling cheated, I was intrigued by the storytelling sleight of hand. A curtain had parted, showing me that moviemaking was a thing done by working people, not celestial beings.
In light of today's historical sensitivities, that Western was fraught with issues. But the kid I was didn't see those actors onscreen as actual villains or heroes. To me, they all were cool people play-acting in a costume drama. I felt part of the action, even though I knew it wasn't real. I loved that about movies, just as I loved the same thing about books.
We weren't a hardcore filmgoing family, but we often saw them, sometimes after eating at Bishop's Buffeteria on First Avenue near the tracks. And my sister and I had a tradition of seeing a movie every Christmas day. Greats from Charade to Dr. Zhivago to Bonnie and Clyde filled my head. But I also reveled in B-movies and even cheesy, old black-and-white serials. 
Later, I admired the original Stagecoach (1939) in a film history class at the University of Iowa. I was drawn to classics and European films as much as to the wild creativity in 1970s American cinema. At the same time, I pursued my love of writing and felt duty-bound to write the Great American Novel. With its Writers Workshop, UI was the spearhead of the college fiction-writing world, long before the tsunami of screenwriting majors arrived. 
I chewed through writing classes. John Irving and John Cheever roamed the English-Philosophy Building. Budding novelist T.C. Boyle critiqued my stuff. Poet Larry Levis cautioned me to find steady work because creative writing was no sure thing.
Heeding his advice, I veered off my creative course and did two semesters of law school in Oklahoma, then nose-dived into more personal drama and tragedy than you'd need for one great novel. I worked for an artsy theatre magazine in San Francisco, managed a laid-back restaurant in Marin, tried acting, crewed on a boat delivery through the Panama Canal — whatever was interesting. Then I veered again and became an advertising writer-producer in Iowa. A few years later, I headed to LA to write the Great American Screenplay; the novel was still on my to-do list as well.
En route to California, I re-read On the Road. Its author Jack Kerouac once made money for rent and wine by writing synopses for a publishing house. Hmmm… When I got to LA, I obsessed over screenwriting. But thinking I'd need a day job for a year, I took a story analyst class from an industry veteran who became my screenwriting partner for a while. She steered me to a reader job at Weintraub Entertainment Group in West LA, which segued into reading for other companies. 
In 1989, my Weintraub story editor moved to Disney's new Hollywood Pictures and hired me as a story analyst. After working there 30 days, I joined the Story Analysts Local of IATSE. Steady pay, insurance, pension — the whole schmear. I had my day job and vowed to read a thousand scripts in my quest to write that screenplay. And I did write screenplays, some even for money. Agents, pitches, contracts, WGA… But thankfully, I kept reading.
Time passed. I didn't get younger. As Norma Desmond and Larry Levis cautioned us, the glow is ephemeral. The Great American Screenplay and Novel haven't happened…yet. But I've read 10,000 scripts. I'll have 30 years in IATSE next spring, all at Disney. I've done development work on Sweet Home Alabama, The Count of Monte Cristo, Cinderella, Christopher Robin and many others. I've made a living in show biz.
And I'm proud to be in the Editors Guild, pre-production stepchildren though we story analysts may be. Thank you, Stagecoach editor Hugh S. Fowler — and all the editors and readers who helped shape my life.