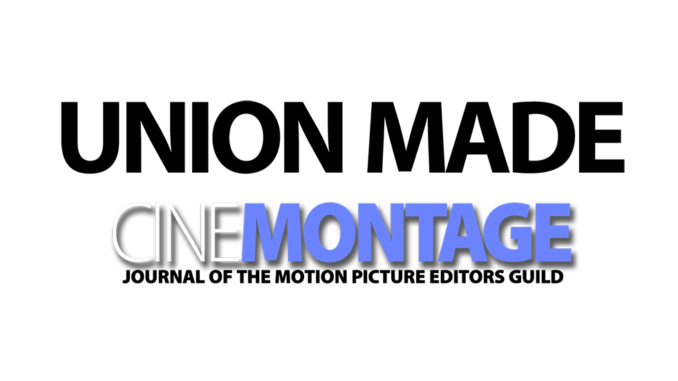 by Jason Rosenfield, ACE
My editing career began in New York, and it came as a surprise. I'd painted as a kid, flirted with architecture, and then fallen in love with dance and theatre watching West Side Story. Forced to leave college to help support my family, I gave corporate life a try, but eventually struck out on my own––an artist in search of a canvas. Landing in Greenwich Village, I stayed busy as a performer, choreographer and director. But while I enjoyed my bohemian life, like most artists, I supported myself driving cabs and waiting tables––and it was getting old.
As fate would have it, a friend told me of a job working as an assistant to a retired soundman named Bob Van Dyke. Bob had worked with legendary documentary filmmakers like DA Pennebaker, Bob Drew and the Maysles brothers, but he had tired of the road, bought a bunch of film editing tables and converted the bottom floor of a brownstone into editing suites.
I worked for Bob for $90 a week, caring for his office, his Bassett Hound and his equipment––while continuing to direct off-off-Broadway plays at night. But the world he opened up to me proved irresistible. He taught me sound recording and let me freelance, so I got experience on a set and my first introduction to a union––for a while I was a card-carrying NABET member.
Editors are generous to a fault; it's in the DNA of our craft.
But it was editing that seduced me. To me, it was choreography, and I knew I had the instinct for it. I lingered in editing rooms, watching editors work. At night, I would practice, using discarded work prints. I shot a short documentary of an injured dancer taking a private class, and created a cinematic ballet about struggle and triumph. It became clear that no matter what might happen on a set, the only reality that counted was up on the screen––and I was in control of it.
My course was set. I began freelancing as an assistant editor, on documentaries, indie features and industrials, then spent a year at a commercial editing house. I let my enthusiasm show, got chances to cut, and then was recommended for a job at Time-Life Films. I assisted three editors, and that gig changed my life. One sponsored me into the IATSE. I also got my first screen credit as editor and a lifelong lesson. These opportunities came about through the generosity and support of the editors I was assisting. They were not exceptions; they were and are the norm. Editors are generous to a fault; it's in the DNA of our craft. Looking back, I too take pride in the accomplishments of assistants of mine who have gone on to successful careers.
Of equal importance to my own career, I was working at 1619 Broadway (the Brill Building), which was the Manhattan equivalent of a major studio post facility, and I got to rub elbows with world-class editors like Evan Lottman, Jerry Greenberg, A.C.E.; and Alan Heim, A.C.E. I determined to emulate their passion, discipline and skills. A few years later, when Robert Altman took a chance and hired me to cut Come Back to the Five and Dime, Jimmy Dean, Jimmy Dean (1982), it was Alan who helped keep my nerves under control and my eye on the story.
I worked for Bob [Van Dyke] for $90 a week, caring for his office, his Bassett Hound and his equipment… But the world he opened up to me proved irresistible.
Local 771, the Editors Guild in New York, was a reflection of the eclectic nature of the New York industry. An active membership drew from news, documentaries, features and the occasional primetime television show. Meetings were well attended and a good place to network. There was no roster, and since job opportunities were limited, it was not unusual for editors to cross genres.
When work slowed in the late '80s, I left a wife and baby to seek work in Los Angeles. I had $1,500, a futon to sleep on and a fierce desire to reunite my family. I accomplished that when Oscar and Emmy winner Arnold Shapiro hired me on a show called The American Dream Contest. One year later, a film I cut for Cinemax led to an introduction to Half Court Pictures partners Vince DiPersio and Bill Guttentag. That led to one Oscar nomination and three Emmys over five films for National Geographic and HBO, and my career changed forever. Those relationships continue to this day. Getting to work with world-class storytellers like these, as well as Bob Altman, Dick Wolf and others, is beyond my wildest fantasies.
A proud member of Local 700, I still enjoy challenging my skills in fiction and documentaries. I keep learning because I get to work around most of the best editors in the world. I have also taken opportunities to give back through volunteer work with the American Cinema Editors and as a Governor at the Academy of Television Arts and Sciences. And best of all, I love what I do.