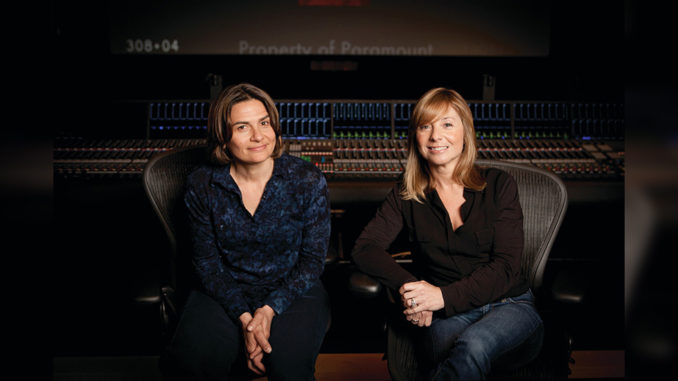 by Laura Almo • portraits by Benjamin Ealovega
With over 200 credits between them, re-recording mixers Anna Behlmer and Lora Hirschberg are at the top of their game. Mixing anywhere from four-to-six films a year, Behlmer and Hirschberg knew of each other but had never worked together. And then came World War Z, director Marc Forster's zombie movie with soul, which opened June 21 through Paramount Pictures. Not only was this Behlmer and Hirschberg's initial outing working with each other as a team, but this unprecedented pairing marks the first time two women have mixed a major Hollywood motion picture — not really a surprise given that there are relatively few females among the ranks of re-recording mixers.
Behlmer began her career as a machine room operator, threading mag in the pre-digital world for eight years. After completing the Mixer Training Program at Todd-AO (formerly Glen Glenn sound), Behlmer "bounced around a bit" until she began working with the legendary re-recording mixer Richard Portman (The Godfather, 1972; Star Wars, 1977), who told her she should "stick around." That she did. Now based at Technicolor on the Paramount Studios lot in Los Angeles, Behlmer's career spans nearly three decades. A fan of action films, and a ten-time Oscar nominee, her credits include Braveheart (1995) (Behlmer's first Oscar nomination for Sound), LA Confidential (1997), Mission: Impossible II (2000), Mission: Impossible III (2006), Star Trek (2009), Super 8 (2011) and Jack Reacher (2012).
Hirschberg had a different career trajectory. Attending NYU film school, she gravitated toward sound post-production to fuse her love of music (she is a musician and accordion enthusiast) with storytelling and creative collaboration. Working out of Skywalker Sound in Marin County, Hirschberg's 20 years of credits consist of both documentary and narrative films, including Into the Wild (2007), Inception (2010) — for which she became the first woman to win an Oscar for Best Sound Mixing — Tarnation (2003), The Dark Knight (2008), The Avengers (2012), the 2012 Oscar-nominated doc How to Survive a Plague and the recent Epic. World War Z is her sixth film with Forster.
Based on the 2007 novel World War Z: An Oral History of the Zombie War by Max Brooks, the film's story spans the continents. Set in North America, Europe, the Middle East and Asia, it confronts global calamity of epic proportions. The film is about a retired United Nations peacekeeper (Brad Pitt) who is called back to work to help find the cause of a rabies-like pandemic that turns people into zombies. A fast-paced, action-packed film infused with moments of quiet, WWZ tells a very human tale bound neither by locale nor culture.
In keeping with the international flavor of the film, post-production took place in England with a crew assembled from both sides of the pond. CineMontage caught up with the two sound mixers as they were finishing work on WWZ at Twickenham Studios in London.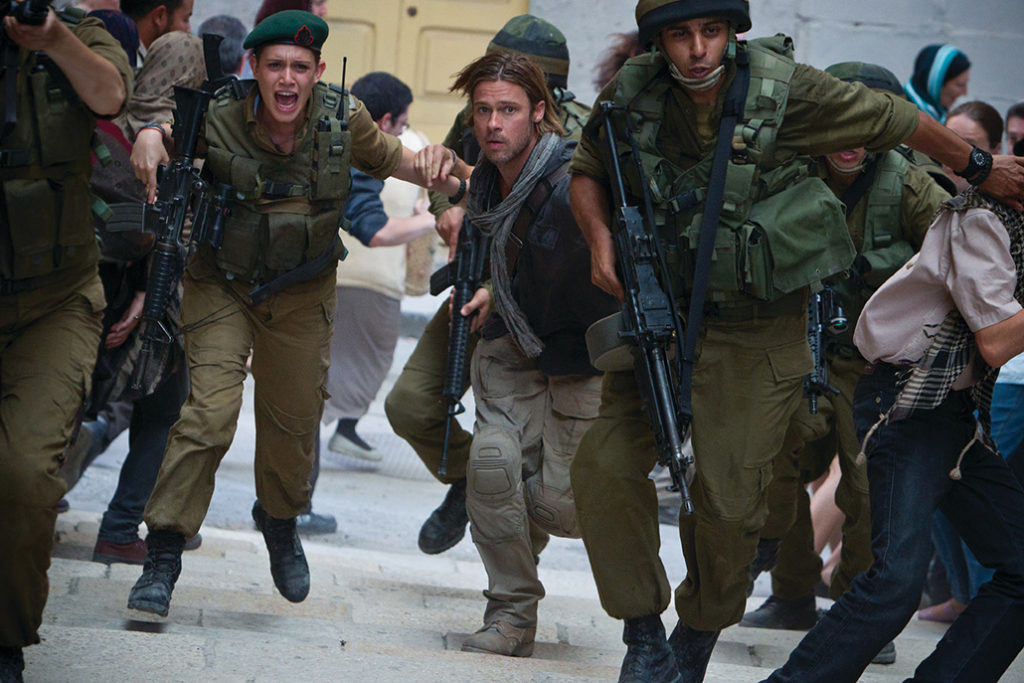 CineMontage: What did the two of you bring to the project, and how did you complement each other?
Anna Behlmer: We had a good time, and we both brought different things. What I brought was the fact that I knew the film so well, as I'd done the temp dubs and we were able to use all those things that we had established in the temps as a guide. Lora brought fresh eyes and ideas, which was great.
Lora Hirschberg: I mixed the dialogue and music, and Anna mixed the sound effects, Foley and sound design. She's an incredibly talented mixer, so it's been a pleasure and a dream come true for me to be able to work with her.
AB: Ideally, you always have the mixing crew that is going to finish the film do the temp dub, but it's not always possible because of post-production schedules and a mixer's availability. Lora was attached to this project all along because she had worked with Marc Forster before, and Terry Porter [Behlmer's partner at Technicolor, who worked with her on the temp dubs] was going to be working on something else. In fact, I didn't find out until the last minute that I was going to England to mix the film!
CM: Can you talk about the temp mix process?
AB: As a mixer, you get to sit down and take a first crack at the mix. You've got a lot of material in front of you, so you want to get it into some kind of shape before everyone starts giving you input. You get that first crack and, usually, most directors will say, "Let me know when you want me to listen."
CM: So what was that first crack of  World War Z like for you?
AB: That first pass was hectic and crazy because, of course, we had a time crunch and so it was just like, Go! That can be pretty fun because it's almost just reactionary. It's like throwing paint at the wall and it's not so manicured. You're not careful and sometimes it comes out really great. World War Z is a busy track and has a lot of action in it. But there are also moments of slo-mo, where sound can really carry the film. With that in mind, we really mapped out areas and established moments that we maintained into the final mix.
"In my job, that emotional language is what I prefer the filmmakers use. Some directors might want to talk about decibels, frequencies, subwoofers and surrounds, but I want to know how it impacts the viewer." – Lora Hirschberg
CM: World War Z is a loud film. How do you balance content with lots of sound at high levels to create the mood and tone you are trying to achieve?
LH: What's interesting in mixing is trying to find the places in the story where you can use the sound in a way to give the audience moments of calm. This makes the bigger moments even bigger, and that contrast is what you're trying to find — and control. When it's all the same level, it doesn't have as strong of an effect as when you can actually punctuate things. The job of mixing is to try to find the beats that are important. We work a lot to make the big sounds impressive and feel visceral, but not push the listener out of the movie.
AB: The best way to balance loud sounds with content is to treat the sounds differently. You don't just play things literally. You can use reverb or equalization — or even the lack of sound. In a loud film, you find opportunities to keep it interesting and different. Usually the film will tell you what it needs. You watch the picture and if it goes into slo-mo, or if the shot is holding on your lead character, the film is telling you what's going on in the character's head. You take your cues from the screen.
CM: Anna, can you talk about the scene that takes place near the beginning of the film, when Brad Pitt's character and his family are involved in a car wreck.
AB: The idea of the car wreck was that they had lost their hearing. There was the impact of the accident, and then a high-pitched tone played indicating that they had lost their hearing, as if they had tinnitus. And then everything went silent.  We, the audience, were being put in the car with the characters so that we could experience what they were experiencing. Slowly the sound returned. At first, Brad Pitt and the other characters' voices are muffled, then they become clearer and clearer, and then Bang — you're outside and reality hits. That is one of the areas that we sorted out on the temp dub. It was a collaborative effort. Some of that was Marc, some was the US-based supervising sound editor Ethan Van der Ryn, and some was the UK-based supervising sound editor Nigel Stone. Picture editor Roger Barton also contributed to the concept.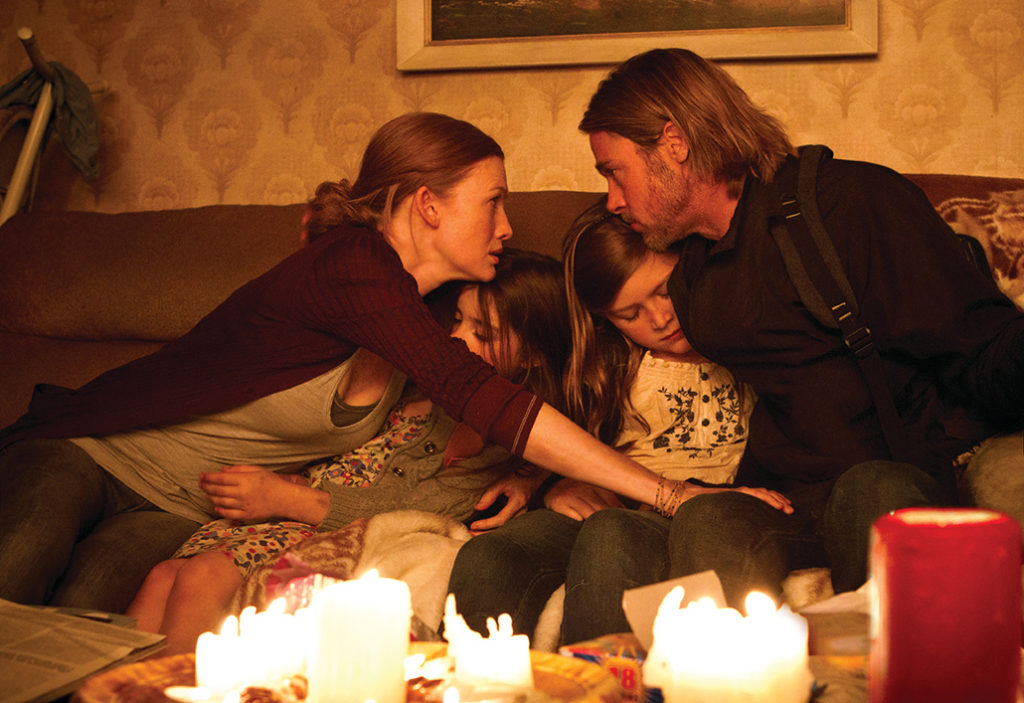 CM: What were some of the challenges of mixing this film?
LH: Our main music challenges were the busy action sequences. Our music editor John Finklea was key in helping guide me through those moments. But really, the challenges are always the same on any movie: How do you use sound to make it clear for the audience so that they can follow the dramatic lines of the movie?
For me, sound leads you through the story — it pulls you — and if it's done right, you get the important information and feel the emotions at the right times. So the challenge is to make sure you're simplifying it so that it's still exciting but doesn't lose the audience in too much information or confusion. It's like sculpting; you start with a block and then take away the stuff you don't want in order to discover the thing that works.
AB: The biggest challenge on WWZ was mixing in a room that I was unfamiliar with. We had Dolby come out and EQ the room, and then spent time playing material we knew, trying to access the sound of the room. I wasn't really confident in the room until we finished our first reel. We sent it to LA and it translated very well to my room at Technicolor.  It was at that point I felt an incredible sense of relief, and knew we would be able to deliver a good-sounding track. I am grateful to everyone at Twickenham Studios for their contribution to this project.
CM: Lora, talk about your collaboration with Marc Forster.
LH: This is the sixth movie that I've worked on for him. I did Finding Neverland, Stay, Stranger Than Fiction, Kite Runner, Machine Gun Preacher and now World War Z. I'm always excited about any movie Marc wants to do because every one is completely different from the last. From my experience, one of the big things that he likes about filmmaking is trying out different genres. In this particular movie, I think he's interested in big action — not horror so much, but suspense and tension.
As far as mixing, Marc is my favorite kind of director because he talks to us in dramatic, emotional terms. World War Z is no different than any other movie I've worked on with him. He lets us work out the reel and then comes in and watches it with his fresh perspective. He'll say, "I like that scene," "I feel scared in this scene, and I never felt that way before" or "I used to like that moment and now something is different; it's not as effective." He gives his emotional response to the mix, and that is most helpful to me in doing a better mix for the film.
In my job, that emotional language is what I prefer the filmmakers use. Some directors might want to talk about decibels, frequencies, subwoofers and surrounds, but I want to know how it impacts the viewer. So it's great to work with Marc, to have his fresh perspective when you've been struggling with the minutiae of details. He knows the story and his expectations of how he wants the film to make you feel.
CM: Do you ladies have a philosophy of mixing?
AB: The most important thing I ever learned from Richard Portman was to watch the film and it will tell you what it needs. He used to say, "Up when they kiss and down when they talk" when it comes to music. Basically, he was saying to mix what's on the screen; sounds should always aid the storytelling.
LH: A lot of what we do is just to try things out to see if they work. There's a lot of experimentation.You know, "failure is the key to success" — not being afraid to make mistakes or take wrong turns. You might discover something better. Or at least learn why something doesn't work.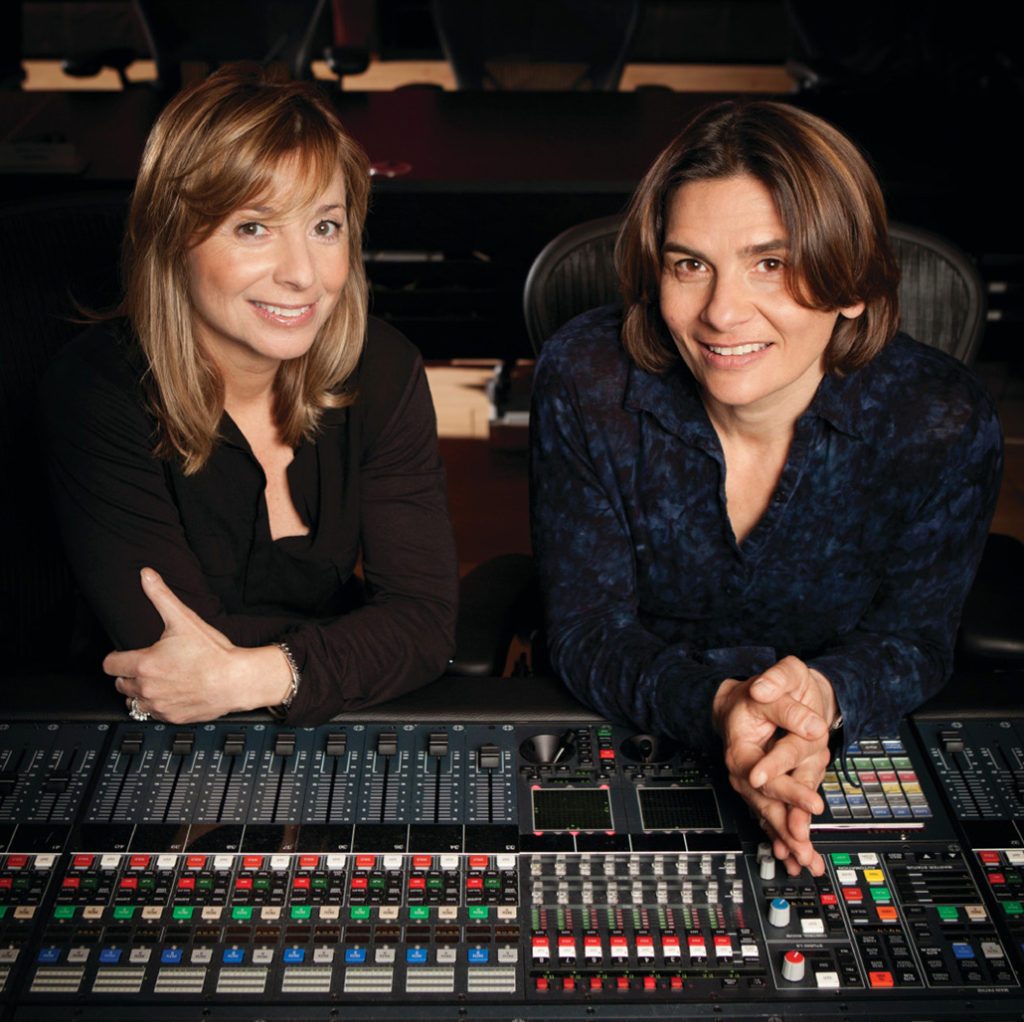 CM: Can you elaborate on that need for experimentation?
LH: There's always a lot of experimenting, but it's not calculated in a way that there's some grand plan behind it. I don't completely trust anyone who comes into a mix and knows exactly what they want to hear. I think it's always more interesting when you throw something out there and see if you get a reaction from yourself that's not expected.
You have to fight your own base expectations. For example, if you expect to hear music or breathing or wind or whatever, take it out and see what happens. Try the opposite of what you think should be there and sometimes some other idea will come to the surface. It's the magic of subtraction; some effect might be gained by taking something away.
CM: Speaking of the magic of subtraction, it seems like World War Z is not heavy on music; is this the case?
LH: Our score was composed by Marco Beltrami. He did a great job of creating a tense, action score with a traditional orchestra, but additionally incorporating synthesizers and electronic loops. He also helped us by not relying too much on percussion, which is the thing that everyone expects to hear in an action film. But when you get rid of it, your own heartbeat fills that in. You shouldn't need to have someone or some beat telling you, "This is exciting."
Marco and the scoring mixer John Kurlander did a really smart thing: They recorded a large orchestra at Abbey Road and a small chamber orchestra at British Grove Studios. The large orchestra had 84 pieces. At British Grove, there was a string section of 28, some brass and a small female choir. In any cue, I had the big, widescreen version or the really tight chamber orchestra version of the same music. It was really interesting to just turn off the big orchestra and use the little one, or vice versa. Or cross between the two. That small orchestra was very clean, intense, rhythmic and precise, so I could get the intensity and the rhythm of the cue without having to rely on a percussion beat to drive it. And that made more room for Anna to add sound effects into the action.
CM: What was it like working together? 
AB: We really didn't spend a lot of time talking things out. Lora would roll her chair over to me and make suggestions, and I would do the same to her. We respect each other, which made the process easy.
LH: Anna had worked on the temp mixes so she was key to helping me understand some of the broader choices and concepts that had been thought out already. And although she handled all the sound effects, I really appreciated having her input and perspective. I have done plenty of sound effects mixing too, so it was great for me to be able to make suggestions or give ideas and see how she would work out a problem. To me, that is the best mixing experience — when both mixers are thinking about all the sounds in the movie and working together to make everything fit.