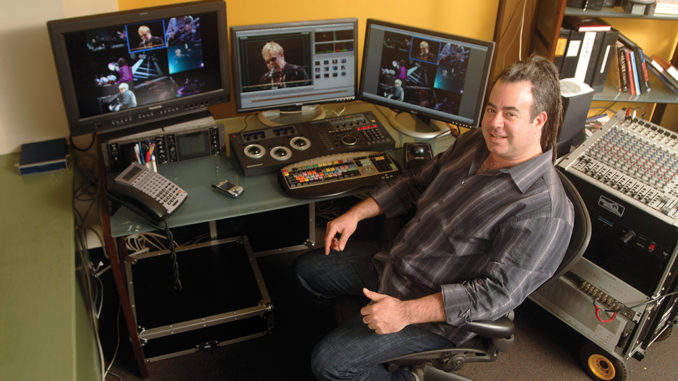 by Rob Feld • photos by John Clifford
Mitch Jacobson is a renowned multi-camera editor who has cut concert videos for the likes of the Rolling Stones, Aerosmith and Paul McCartney, and produced and directed concert shows for Barenaked Ladies and others.  His hands-on involvement with music began with playing guitar in high school garage bands, and soon grew to encompass the technical side of recording as well.
When MTV began broadcasting in 1981, he started making videos for his band, which eventually led him to the film program at the University of South Florida, and a job at a public access station in Tampa, and then to a career in television.  Jacobson worked as a freelance director/cameraman shooting for ten years, until he discovered the Avid in 1994.  That's when he began editing.  When Jacobson moved to New York, however, and reconnected with producer Mark Haefeli, with whom he had worked in Florida, his career in big-event, multi-camera editing really took form.
CineMontage talked to Jacobson about his multi-cam concert film- and video-cutting career.
CineMontage: Talk about Mark Haefeli and how you got started working for him.
Mitch Jacobson: Mark is a maverick rock 'n' roll video producer/director, who specializes in feature-length concert documentaries for legacy acts like Aerosmith and Paul McCartney.  I worked on the last two of the four concert docs he did for McCartney.  It was great timing when I hit New York—I called him the day he was looking for another editor for his film Aerosmith: You Gotta Move.  It evolved into a seven-month multi-cam job, which became my specialty in music.
CM: What did the work entail?
MJ: Mark likes to have his editors on location during the shoot to better recreate the excitement of the live show in the edit, to coordinate all the assets for post, and to deal with any unforeseen complications.  I had a great time on the road for the concert shoot, and field produced b-roll and interviews back stage.  In post, I began working with Emmy Award-winning editor Zoran Jevromov, and we became a team.  We used a pair of Avids.  He cut the documentary segments and handled program structure, while I cut all the concert multi-cam music tracks.  I'd feed him songs and he'd weave them into the show.  After we locked picture, I did the color correction and online conforming of the deliverable masters.  Working with Mark and Zoran launched me into doing concerts with the big stars.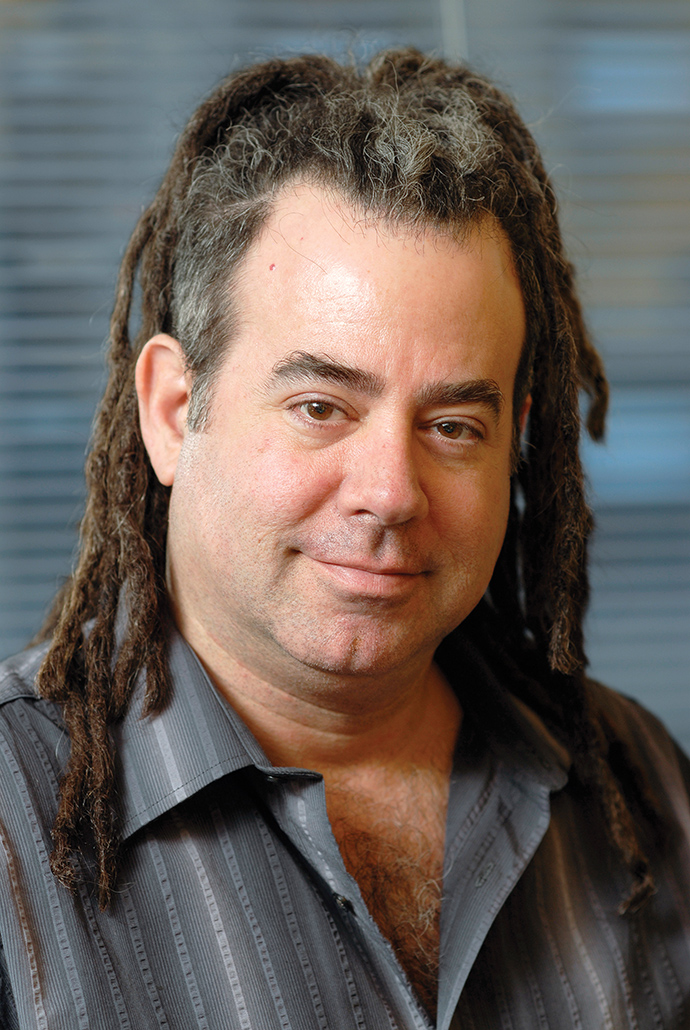 CM: What kind of productions are we talking about?
MJ: Paul McCartney: The Space Within US show was the biggest multi-cam show I've done so far, with 26 unique HD camera angles.  We used a multi-platform workflow with Avid Symphony for the documentary segments, and Final Cut Pro for multi-cam, HD color correction and the master conform.
CM: Functionally speaking, how does that work?
MJ: You group the angles together into one multi-clip—Final Cut can do up to 128 streams of multi-cam in one clip.  Then I prioritize the top 16 angles and arrange them in the viewer with the hero cameras in the middle––and jibs, dollies, hand-helds and hard cameras around the outside––to recreate the camera plan from the live show. The rest of the angles are available by scrolling down the multi-clip.  Then I cut the tracks.
It's can be overwhelming having so many choices, but when you have a superstar like McCartney, just about anything you pick is going to be great.  Add incredible lights and sound, stage show, first-class camera team––it's hard to go wrong when you're working with such pros.  I just feel the music and cut from there.
CM: You've been championing Telestream's new Pipeline system of multi-cam editing.  How did that come to you?
MJ: I met Kevin Louden from Telestream at a trade show and so we arranged to do a multi-camera test with Elton John.  It's basically quick turnaround, multi-cam ingest while editing; live, real time capturing of all the multi-cam angles––or isos, as we call them––with the ability to edit them at the same time on a SAN (storage area network).  For Elton, we had six streams, five cameras and a line-cut; they would all get captured at the same time on one Mac, through two four-channel Pipelines ganged together and jam-synched for matching time code.  While those streams are being captured to a RAID, I could start editing the concert on another Mac attached to a SAN.
CM: What exactly is the Pipeline system?
MJ: It's a hardware/software solution that works with serial digital video feeds, either standard or high definition.  It ingests multiple video streams through one computer and it records in a variety of different codecs––DV, IMX, ProRes, DNxHD or DVCPRO HD––on the fly.  The SD version gives you up to four feeds on one box, and the HD is set for two channels, but you can run them in serial set up with each other, ganging as many Pipelines as you need.  If you had four SD Pipelines, you'd have 16 feeds; you just jam synch all the time code together so everything has matching time code.  It all goes through an ethernet cable to the Mac, where software controls the whole thing.
So, say the show starts at 8:00 p.m.  You would schedule the cameras to start recording in a calendar-like interface about 20 minutes early to set up the project, and it begins to roll-record at the scheduled time.  Pre-built QuickTime "shells" let you set up your Final Cut or Avid project when the clips start to roll.  You actually import empty QuickTime clips, name them, pre-group the multi-clip and throw it into your timeline sequence.  When your Pipeline schedule starts recording, it fills in or "grows" your QuickTime clips in your project, giving you media that you can work with during the show, live.  You're a couple of frames behind the show, but basically it's real time.
CM: What other projects can it be used for?
MJ: The SAN solution allows multiple computers and editors to collaborate at the same time.  That gives you the ability to do really quick turnaround editing jobs––which is great for sports, entertainment publicity and live events.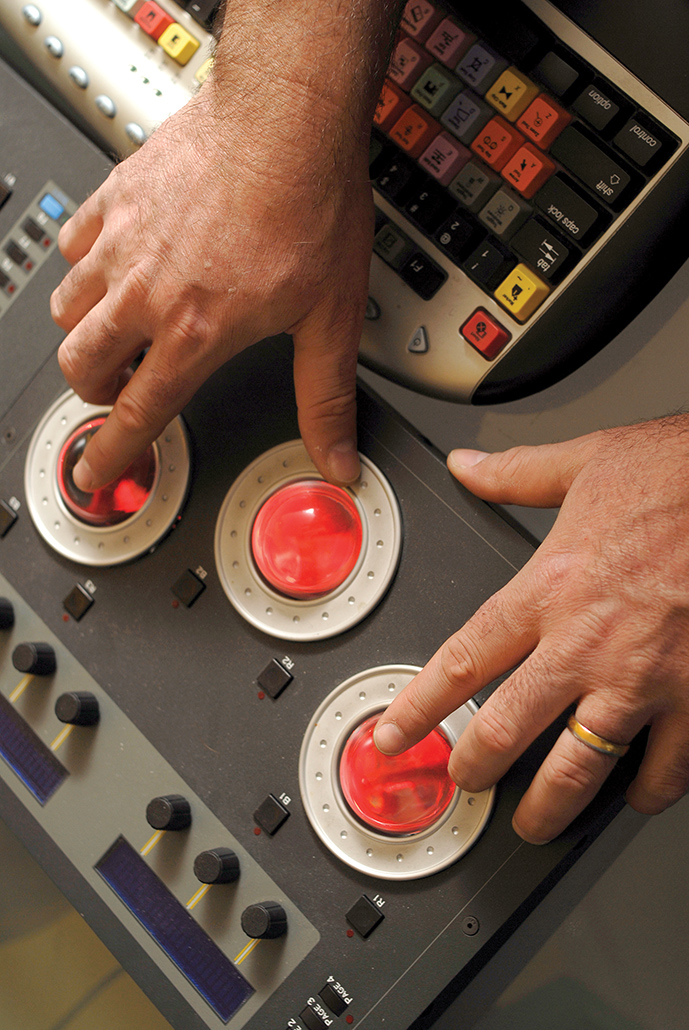 CM: I understand that you have written a book on editing multi-cam and using Pipeline in a pretty interesting way.
MJ: The book is called Mastering Multi-Camera Editing: From Pre-Production to Deliverable Masters and will be published by Focal Press in April.  Pipeline is part of one chapter in the book on the future of multi-cam, and I'm preparing the Elton John footage for the tutorial DVD.
CM: A tutorial DVD?
MJ: Elton's director, Peter Moll, and I collaborated on this test to use for the book.  We needed to put together a quick turnaround edit so that Elton's management could approve it.  So we put this test together at two of Elton's shows at Mohegan Sun [a Connecticut casino], recorded the ISO feeds from the shows––including the line cut with Pipeline––and while the concert was going forward, I cut together the demo backstage on my laptop.  That footage is planned to accompany the book as a companion DVD for the reader to cut along with Peter and me.
The DVD will have the six camera streams, Peter's line cut, and my quick turnaround cut from Pipeline.  So, you should be able to take the angles, apply the lessons from the book to group the clips, put them into your sequence and project, and actually cut the Elton John concert––then compare yours to the line cut or quick turnaround cut and see how you did.  Maybe some of the lessons in the book will have examples from the Elton John concert too.  It should be released in November.
CM: When editing, do you feel the live aspect affects the ultimate product?
MJ: The whole purpose of concert editing is to re-create the excitement of the live show.  A lot of editors never show up on location, like Walter Murch––he doesn't want to spoil his vision of the story or characters by seeing an actor portraying a character he's cutting.  He just wants to work with the materials that are given to him and maintain the integrity of the story without being interrupted by visions or memories of how things went on set.  When it all comes down to it, what you have on tape or film is what you get.
But for a concert, by being there and seeing all those angles first-hand like a member of the audience, I can do a better job to edit the show from the audience's perspective, and re-cut it as if I was the director.  I stand up, rock out  and try to cut it live on the fly to retain that energy.  But I also have the ability to trim, re-cut and refine it without destroying anything.  I did opening night of the Rolling Stones A Bigger Bang tour like that.  After the show, they had me do quick turnarounds for the satellite feed.  I was in a small edit suite just outside the stadium.  Sometimes you're in a small room with only a table; I've even cut in a closet that doubled as a darkroom!
CM: Sounds pretty rock 'n' roll to me.  What else are you working on?
MJ: I'm cutting on a documentary that is being pitched to HBO, called A Fighting Chance, about the history of boxing in Cuba and the boxers who defect, leaving their families and country behind, possibly losing it all for fame and fortune in the US.  I also freelance at PBS cutting performing arts packages and opera programs for Great Performances.  I love it all…from Aerosmith to Pavorotti!