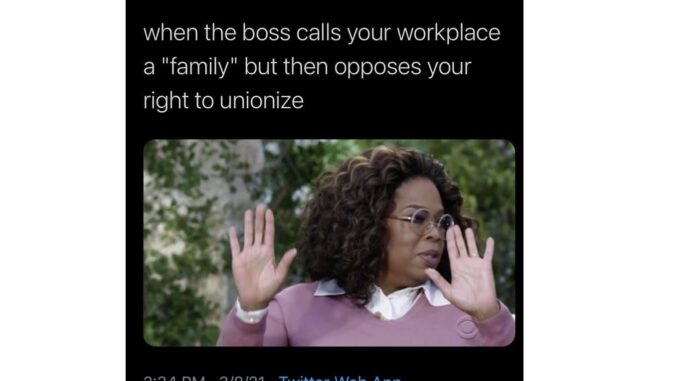 Reprinted from Common Dreams by Jake Johnson on April 9, 2021.
Amazon's victory over an against-the-odds unionization effort at its warehouse in Bessemer, Alabama is intensifying pressure on Senate Democrats to swiftly eliminate the 60-vote legislative filibuster and pass the PRO Act, a proposed revamp of employer-friendly US labor law that would ban many of the tactics the tech behemoth used to crush the organizing drive.
Endorsed by President Joe Biden and passed by the House of Representatives last month, the Protecting the Right to Organize Act has yet to receive a vote in the upper chamber as several members of the Democratic caucus—including Senators Joe Manchin (D-West Virginia), Angus King (I-Maine), and Kyrsten Sinema (D-Arizona)—have yet to back the legislation. …
The Retail, Wholesale, and Department Store Union (RWDSU), which attempted to organize the nearly 6,000 Bessemer workers, said Friday that it is formally filing unfair labor practice charges against Amazon, accusing the corporate giant of "lies, deception, and illegal activities." …
Despite Defeat, Sanders Calls Those Behind Amazon Union Drive an 'Inspiration to Workers' Nationwide
Reprinted from Common Dreams by Jessica Corbett on April 9, 2021.
Although employees of an Amazon warehouse in Alabama ultimately voted against forming a union, Senator Bernie Sanders on Friday called for reforming federal labor law as he applauded the efforts of organizers who took on the retail giant.
Sanders (I-Vermont) was an early backer of the unsuccessful union drive in Bessemer, and recently traveled to Alabama to stand in solidarity with the Amazon workers. At a rally in Birmingham, he praised organizers for serving as a source of inspiration to others nationwide—a message he reiterated Friday.
"At a time of mass income and wealth inequality, and when workers have very little power on the job, I applaud the pro-union Amazon workers in Alabama for their courage and willingness to stand up for workers' rights," Sanders said in a statement. "They have been an inspiration to workers all across the country." …
"It is extraordinarily courageous for workers to take on one of the world's wealthiest and most powerful corporations, a company that spent unlimited sums of money to defeat the organizing effort," he added. "It also appears that some of Amazon's anti-union efforts may have been in violation of NLRB law. And that is something that the union is addressing with the NLRB right now." …
Union to File Charges Against Amazon Over 'Blatantly Illegal Conduct' in Bessemer Election
Reprinted from Common Dreams by Jake Johnson on April 9, 2021.
As Amazon on Friday received the votes needed to defeat a unionization effort at its Bessemer, Alabama warehouse, the Retail, Wholesale, and Department Store Union announced that it intends to formally object to the election results and file unfair labor practice charges against the tech behemoth for "unlawfully interfering" with employees' right to organize.
"We won't let Amazon's lies, deception, and illegal activities go unchallenged, which is why we are formally filing charges against all of the egregious and blatantly illegal actions taken by Amazon during the union vote," said Stuart Appelbaum, president of RWDSU, the union that attempted to organize the roughly 6,000 Bessemer warehouse workers.
"Amazon knew full well that unless they did everything they possibly could, even illegal activity, their workers would have continued supporting the union," Appelbaum said. "That's why they required all their employees to attend lecture after lecture, filled with mistruths and lies, where workers had to listen to the company demand they oppose the union. That's why they flooded the internet, the airwaves, and social media with ads spreading misinformation. That's why they brought in dozens of outsiders and union-busters to walk the floor of the warehouse."
"Amazon's conduct has been despicable," added Appelbaum. "We demand a comprehensive investigation over Amazon's behavior in corrupting this election." …