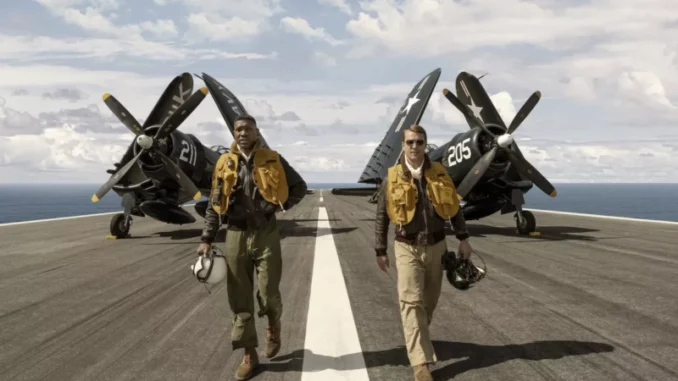 By Patrick Z. McGavin
An Emmy winner for his work on HBO's World War II series "Band of Brothers" (2001), editor Billy Fox knows his way around war themes.
His newest project, "Devotion," is a fact-based story about the Navy's first Black aviator, Jesse Brown (Jonathan Majors). The film was released last month in theaters.
Set against the backdrop of the Korean War, the movie explores Brown's complex and moving professional friendship with his wingman, Thomas Hudner (Glen Powell).
The veteran editor talked about the challenges of finding an emotional center amid all the dazzling aerial footage.
CineMontage: How would you describe your creative relationship with director J.D. Dillard?
Billy Fox: When you meet someone for the first time and you're just talking, you hope you're kind of in sync, and work in a similar vein. We had similar instincts, and similar timing signatures that we're looking for. What he wanted, and what I gave him in an editor's cut, was not terribly different.
CineMontage: Is there a tension on a period film between being historically accurate while also being relevant to contemporary audiences?
Billy Fox: I think if you look at any great war movie from the 1940s, '50s and '60s, the rhythm and style are considerably different. This is a different period piece. I think it has a little bit of a contemporary feel for it. I don't think it's a hyper action film where everything is cut really fast. I don't really do that. I don't cut to that rhythm. I can cut extremely fast, but it needs to make sense. It needs to track. I don't want to get lost.
CineMontage: How does the editing underscore the emotional relationship of these two very different men? 
Billy Fox: I think what bounced in my head a lot was the concept of devotion. The meaning is multi-leveled: devotion in the sense one has for their career, in this case aviation; the devotion of Jesse to his family, to his wife and daughter. It's the through line on all the different angles of the story.
CineMontage: In the first big aerial moment between Jesse and Tom, how much were you shaped by showing wonder and awe, and how much by conveying pure kinetic thrill?
Billy Fox: We had an astounding amount of footage. It was something that J.D. discussed quite a few times. When I cut that sequence, it was longer because there was such amazing footage. Like when the planes are running on the beach and before they turn to go out where the boats are, my original was like three times longer. I love flying, I love aviation.
You think to yourself, "You have to include this shot." Then you start to look at the footage, and admit, "You have to lose that."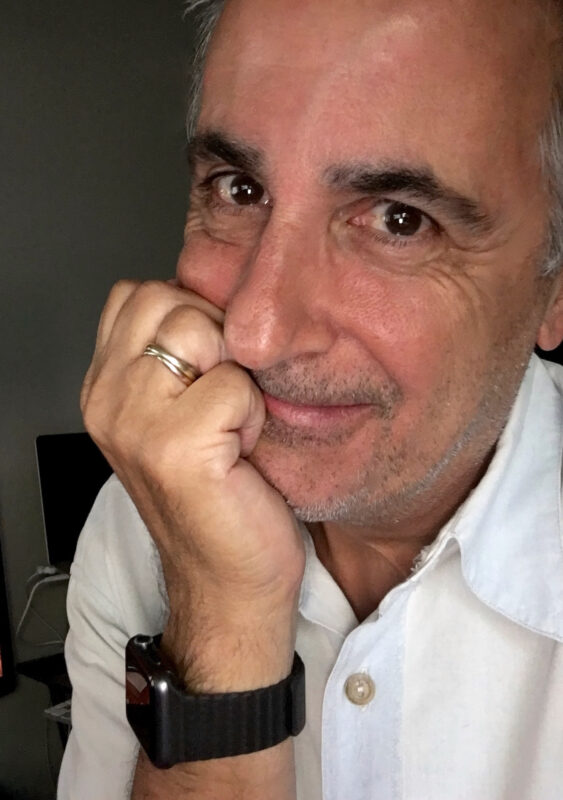 CineMontage: Did the final creative decisions tend toward the intuitive, or what felt right dramatically?
Billy Fox: What felt right. We had an aerial unit for about two and a half months that shot two sorties a day. They were shooting principal photography in Savannah, Georgia, and they're shooting aerials, initially up in Washington State.
I'd come in during dailies, and say to my assistant, "How much A unit principal did we get?" He'd say, "We got three and a half hours of footage." Then I'd ask, "How much aerial footage did we get?
"We got 17 hours." Every day was like this.
CineMontage: The Elizabeth Taylor in Cannes sequences are interesting because halfway through, you are suddenly making a completely different film?
Billy Fox: It was interesting because you are making such a huge turn. When reading the script, I was worried because I thought how are they going to find somebody who looks the part. I thought the casting was perfect. The actress (Serinda Swan) looks just enough like Elizabeth Taylor that you believed it.
People ask me what was one of my tougher scenes. You could say the big aerial scenes. When they ended up going to the bar in Cannes, and having a fight, that scene was difficult. It was a scene that did not fall together easily. It took a long time to get it where it finally had a shape. For a while, it was not working. That is the scene where the two men really come together.
CineMontage: How did the big set pieces with a lot of extensive and intricate effects work impact the picture editing?
Billy Fox: There is definitely an overlap. We had the aerial unit. We had a number of planes, and we even had a real MiG, like when they're going on that canyon run. Oftentimes there would be a shot framed, of say three Corsairs flying, but it really should have been seven. The framing of the shot would be a little odd.
I'd take from the storyboards the hand drawn version of the Corsair, and I'd paste them in and track them, so you'd see Corsair, Corsair, Corsair, and then a drawn one. It sold it. It didn't matter that it looked stupid. That filled it in, and there are times where all I have is a wide shot, and the planes coming in for the landing. I don't have any planes. I would use the hand drawn version, and I'd track it in, and visual effects would use that as a template.
CineMontage: The closing credits said you cut the film on Adobe Premiere Pro. Is your preferred system?
Billy Fox: Not necessarily my preference. It's more on every single film I evaluate what's the best nonlinear editing system. Sometimes I want Avid, sometimes I want Final Cut, sometimes I am on Adobe Premiere.
When this project came along, I thought about it, talked with my first assistant about it, and talked with J.D. He was familiar with it. This is my fifth or sixth project on Premiere. I do enjoy it. It's a very intuitive, smart system that is embracing some new technologies that I like.
It's very strong with visual effects and color correction and with sound. I do a lot of sound work. It's very intuitive that way. The collaborative aspect was very important. J.D. would do notes, and it would come into my edit system and appear in the sequence.
CineMontage: How much has your early work in television influenced your approach with shaping actors and performance?
Billy Fox: When I was doing "Law & Order," that is when I really learned the molding of performance. It's interesting, people often ask me if I cut differently with television or features. I don't at all. There is virtually no difference. Even if it's a wider screen, I cut it exactly the same way. I don't even think about it. Sometimes I'll be doing features, and I will peel over and do a pilot, and then I go back to features. I don't change my technique at all.
CineMontage: The great cinematographer Nestor Almendros wrote a famous essay where he talked about the human face being the most expressive landscape. Do you have an equivalent feeling as the picture editor?
Billy Fox: Particularly when you have somebody like Jonathan Majors. How he recites his lines is wonderful, and very understated. You have to be very careful with him, because he gives you so much between the lines when somebody else is talking.
You just see volumes of information, emotion or drama, or essence, that comes from him. Sometimes we lose lines because he told you a story with his look. The line comes up, and you say, "I don't need this line anymore."
CineMontage: How did you and JD arrive at a creative synthesis in charting the relationships of Jesse and Tom, and Jesse's wife Daisy (Christina Jackson)?
Billy Fox: Every director is a little bit different, so you have to figure out where the director is comfortable. How I worked with J.D. is that we looked at stuff. Some stuff I make changes hot with him in the room there, and he will wait for me, or sometimes I just take down the notes, and we just keep pushing through the cut. I just say to him, "I'm good. You can go home early. Let me take it from here, and I will show you something when you come in tomorrow."
CineMontage: Did your interest in music precede your interest in editing?
Billy Fox: I would have to say it did. I was way into music, and I'm also an audiophile as well. As I got into editing, I did music videos because I so enjoyed the transfer of energy, the action, the flow of things that happen and connect the next image.
CineMontage: Did you study formally?
Billy Fox: My father was the general manager of a TV station in San Diego. I was always exposed to electronics, cameras, audio gear and tape machines. I gravitated toward the tape room. I ended up working at the station for a while.
A commercial director who lived in San Diego would come into the station and rent the equipment. He came up to me, and said, "I'm putting the equipment in my office. Would you like to leave the station and come work for me?"
I was probably 18 or 19. From there, I just grew. I went to Los Angeles, and I worked for NBC Sports and NBC News. I take a lot from my days working for NBC News and NBC Sports. Some of those techniques, some of those interesting cuts, that you make in television, I actually use in "Devotion."
CineMontage: What is the most satisfying part, either emotionally or artistically, of your work?
Billy Fox: There are many things, but I'd say the one I look for is the emotion and the heartbeat, and being very tuned into the story, and the tracking of information and making sure that it all works. It's kind of why you have to be very careful about what you pick, and what you work on.
As an editor, you're on it for so long, that you really have to enjoy it, because you see it so many times. The mark of a good film is that you can sometimes see it two or three times in a day, and you don't mind.
If you've taken a film for the wrong reason, you mentally tend to drift. You have to mentally keep pulling yourself back into it.
If it's a film you really love, at a certain point, you have to keep molding. At a certain point, it becomes a person. We used to say that on "Law & Order." It has a brain, a heart. You have to be true to that person. Any film I work on, all the way to "Devotion," it's the same groove. You're trying to find the emotion and the heart that's in there. You have to dig it out.
Patrick Z. McGavin is a Chicago-based writer and cultural journalist.