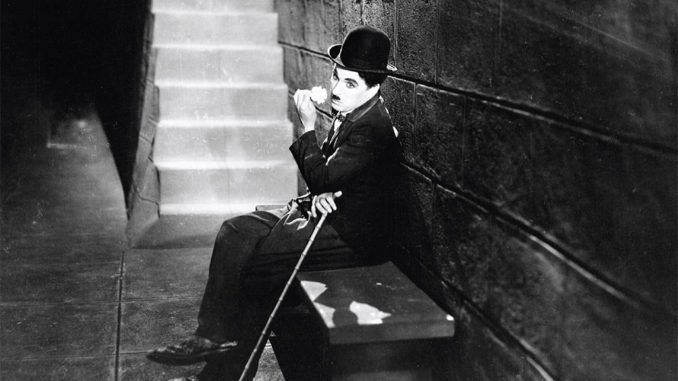 by Plowden Schumacher
When I was a little kid, I used to pray for rain––because on rainy days my mom would take me to the library and we would check out 8mm films. When we got home, she would cover the windows with dark bed-sheets. I would thread the projector, and for the rest of the day we would eat popcorn and watch silent movies flicker away on the bare wall above our living room couch. It was on these soggy afternoons, watching cowboys rob banks and vampires suck blood, that my love for the cinema was born. It was also when I was introduced to a little tramp named Charlie Chaplin.
As audiences around the world had learned more than 50 years before my rainy-day matinees, Chaplin's on-screen mixture of humor, acrobatics and pathos has an almost magical ability to put a smile in one's heart. Not surprisingly, I never forgot the joy I felt upon first watching the Chaplin shorts. And as my passion for movies blossomed, I sought out his more accomplished works, including his masterpiece, City Lights.
Like most of Chaplin's films, the plot of City Lights is very simple: A hapless tramp is mistaken for a millionaire by a blind girl selling flowers on the street, and he continues the ruse in an effort to win her heart. Although admittedly plain, Chaplin's ability to intertwine outright slapstick, social satire and heartfelt emotion throughout the narrative lends the film an air of sophistication rarely found in the bloated plots of modern films. The end result is a protean achievement, which is arguably one of the greatest films ever made.
There are many classic scenes in City Lights, but the one in which the tramp meets the blind flower girl (Virginia Cherrill) is truly spectacular. The sequence begins with the tramp avoiding a policeman by jumping into a parked limousine and quickly exiting through the opposite side. Upon emerging, he notices a beautiful girl selling flowers. He quickly realizes she is blind and decides to show his affection by buying a flower with his last coin. As the girl counts out his change, a rich man enters the limousine and is quickly driven away. The blind girl hears the car leaving and assumes the tramp was the rich man who left in the limousine.
Chaplin labored over every frame with an attention to detail rarely equaled in the history of filmmaking… He shot 342 takes of the tramp meeting the flower girl to get it just right.
The tramp likes that she has mistaken him for a millionaire and decides to exploit the situation by quietly sitting down beside her so he can admire her beauty. His adoration is abruptly ended when she unknowingly throws a bucket of dirty flower-water in his face. The scene is at once clever, touching and outright funny––and all of this is achieved without a single word being uttered.
To fully appreciate the film, one needs to also consider the circumstances under which it was made. When City Lights went into production in 1928, Al Jolson's performance in The Jazz Singer had already ushered in the era of sync sound. For Chaplin to embark on a feature-length silent film when the public was clamoring for more "talkies" was an enormous risk. But, having recently created his own movie studio (United Artists) with Douglas Fairbanks, Mary Pickford and D.W. Griffith, Chaplin was in a unique position to take such a risk.
Serving as the writer, director, editor and composer of the film, Chaplin labored over every frame with an attention to detail rarely equaled in the history of filmmaking. For example, he shot 342 takes of the tramp meeting the flower girl to get it just right. Production on City Lights lasted 180 days and post-production lasted for an additional two and a half years––an incredible schedule even by today's standards. When it was released in 1931, Chaplin's gamble paid off as audiences flocked to theatres to watch the tramp fall in love. Chaplin went on to make other great films, but City Lights was his last silent film and served as a fitting end to the silent era.
When City Lights was released on DVD, I picked up a copy and invited my kids to watch it with me. When they saw it was in black-and-white and was silent, they started to leave the room…until the little tramp came on screen. In a matter of seconds he had them smiling; a minute later they were giggling; and an hour later they were howling with laughter as he danced his way through the famous boxing scene.
It's nice to know in a world of video-on-demand, where style often rules over substance, kids still know a great movie when they see it.