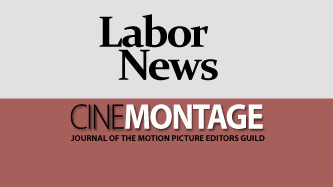 Reprinted from Variety by Guy Lodge on September 12, 2020.
One day after premiering and receiving the most rapturous reviews of any film in competition, US-based Chinese director Chloé Zhao has won the Golden Lion award at the Venice Film Festival for her film Nomadland, a documentary-influenced road movie starring Frances McDormand as an itinerant widow traveling across America.
The lineup had seemed unpredictably competitive until yesterday, when roaring applause and acclaim established the Searchlight release as the one to beat. Blanchett's jury did not resist.
The win makes Zhao the first female filmmaker to take Venice's top prize since Sofia Coppola triumphed with Somewhere in 2010, and the first woman of color to lift the trophy since Mira Nair in 2001. In a year featuring a record eight female directors in competition — nearly half the lineup — there was widespread speculation that Blanchett's jury would reward one of them. …
77th Venice Film Festival site
'Nomadland' and 'Ammonite' are Early Standouts at the First Toronto Film Festival of the Pandemic Era
Reprinted from The Los Angeles Times by Justin Chang on September 11, 2020.
Cinematic trend-spotting is a fond and familiar practice for journalists covering international film festivals — the more weirdly specific the trend, the better.
For instance: Isn't it strange that we saw two movies today featuring extreme acts of animal cruelty? And three yesterday that revolved around a zombie apocalypse? Whoa, why is Tilda Swinton in everything this year? (That one isn't a complaint, mind you, just a question.) Forgive us, but we just can't help ourselves: It's a convenient way of organizing our thoughts on deadline and placing different films in conversation with one another. It also imposes an arbitrary, potentially misleading narrative on an experience that, even at its most carefully programmed, is destined and perhaps even designed to frustrate your sense of order.
That would seem especially true of the 2020 Toronto International Film Festival, one of the first major film events of the COVID-19 pandemic era. Making sense of this year's significantly overhauled edition promises to be a challenge for any journalist who, like me, is covering the festival from afar, specifically from the confines of their living room. Admittedly, the program is much smaller and theoretically more manageable this year: There are only 50 new features, compared with the usual 300-plus that makes Toronto one of the world's biggest, most diverse and inexhaustible cinematic showcases. And those of us diving into the lineup remotely — courtesy of the spiffy TIFF Digital Cinema Pro platform — will at least be spared the trouble of waiting in lines, dashing between theaters and subsisting on a concessions-based diet. …
Toronto International Film Festival 2020 site