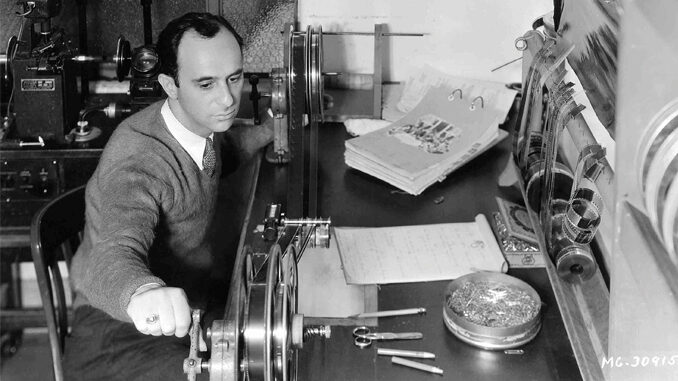 by Edward Landler
In a way, Ben Lewis, one of the three founding members of the Society of Motion Picture Film Editors (SMPFE) — now the Motion Picture Editors Guild — was the quintessential company man, working 45 of his 52 years in the cutting room at Metro-Goldwyn-Mayer. But, even though he served his employer skillfully and faithfully, and earned over 120 credits as an editor, he took the initiative to form a union that demanded fair treatment and respectful consideration from his studio bosses.
Lewis was born in New York City on February 6, 1894. His father was an optometrist and oculist with a store at the corner of 8th Avenue and 50th Street on the West Side in Manhattan. He left home in 1913 to get in on the ground floor of the embryonic movie business in Los Angeles and found work as what was then called an "assistant camera boy" with the Biograph Company. It is believed that he worked on D.W. Griffith's last Biograph film, Judith of Bethulia (1914).
Lewis' first documented work in the editing room was as an editor for a short-lived movie company called the Empire All-Star Studio in 1917. When Metro-Goldwyn-Mayer was founded in 1924, Danny Gray — the company's first Editor-in-Chief — hired Lewis, who served as an assistant editor on the industry's most expensive picture to date, the original Ben-Hur: A Tale of the Christ (1925). The film's box-office success helped to establish MGM's status as the largest studio in Hollywood. It also entrenched the company's compartmentalized system of creative departments in which all stages of the production process had to answer to the central office.
In 1926, Lewis got his first assignment as editor on The Devil's Circus, the first American film directed by the then-renowned Benjamin Christensen of Denmark. Cutting under the supervision of MGM's Editor-in- Chief — Gray at first and, from 1938 through 1968, Margaret Booth — rather than a film's producer or director, Lewis apparently thrived in the MGM system. Among his silent editing jobs were White Shadows in the South Seas (1928) — famous for its original director, pioneer documentary filmmaker Robert Flaherty, quitting the project because of studio interference — and The Kiss (1929) with Greta Garbo, directed by another distinguished European import, the French Jacques Feyder.
Over these years, Lewis got his kid brother Joe a job on the MGM lot — first as a camera boy and later, when sound came in, as an assistant editor. But Joe disappointed his big brother and quit because he couldn't take being shut up in the cutting rooms. He moved on to various film jobs on Poverty Row and, later, as Joseph H. Lewis, directed such noir classics as Gun Crazy (1950) and The Big Combo (1955).
But at MGM, the elder Lewis' early sound films were among the studio's greatest successes of the time. They include the 1930 adventure Trader Horn, which used extensive second-unit camera work shot in Africa; 1932's Tarzan the Ape Man, which re-used the same African footage and kicked off Johnny Weissmuller's long career as Edgar Rice Burroughs' jungle hero; Dinner at 8, with George Cukor directing an all-star cast in 1933; and Manhattan Melodrama, with Clark Gable, William Powell and Myrna Loy in 1934. During this period, Lewis would edit as many as four or five movies a year; in 1938 alone, he worked on six pictures.
At MGM, Lewis' early sound films were among the studio's greatest successes of the time.
Throughout the 1930s and '40s, Lewis cut prestigious films with MGM's major stars: Jean Harlow (Personal Property, 1937), Spencer Tracy (They Gave Him a Gun, 1937), Wallace Beery (The Bugle Sounds 1942), Elizabeth Taylor (Lassie Come Home 1943) and James Stewart (The Stratton Story, 1949). He also was part of MGM's so-called Seitz unit, named for director George B. Seitz, who churned out the Andy Hardy movies with Mickey Rooney; they were made with lower budgets and were consistent box-office draws.
The range of his assignments included horror movies (The Mask of Fu Manchu with Boris Karloff in 1932, Mark of the Vampire with Bela Lugosi in 1935), musicals (Strike Up the Band in 1940 and For Me and My Gal in 1942, both starring Judy Garland and directed by Busby Berkeley), comedies with Red Skelton and with Abbott and Costello, and even an exotic costumer, 1944's Kismet with Marlene Dietrich and Ronald Colman.
In 1951, Lewis edited John Huston's adaptation of Stephen Crane's classic Civil War novel, The Red Badge of Courage. The film's production was painstakingly documented in Picture, a fascinating book written by New Yorker journalist Lillian Ross. Ross recounts the screening of the movie's first cut in the basement projection room of the Irving Thalberg Building at MGM (now Sony) Studios — with only producer Gottfried Reinhardt, MGM editor supervisor Booth and Lewis present. Ross incisively captures Lewis' careful diplomacy as he tries to balance Reinhardt's attempts to defend director Huston's intentions and desires in the face of the studio's dictates laid down by Booth.
As Hollywood changed in the 1950s, Lewis' assignments shifted away from pictures with major but fading stars to low-budget movies like High School Confidential (1958) — produced independently but distributed by MGM. He still edited an occasional major studio project — Vincente Minnelli's 1961 updating of The Four Horsemen of
the Apocalypse stands out — but almost all of his work in the '60s was with an MGM independent unit called Four Leaf Productions. Two of the Four Leaf movies — Kissin' Cousins (1964) and Harum Scarum (1965) — were successful Elvis Presley vehicles. But the rest generally reflected the industry's exploitation and misreading of changing social attitudes and values. The titles tell it all: Hot Rods to Hell, Riot on Sunset Strip, The Love-Ins (all 1967) and Lewis' last editing credit in 1968, The Young Runaways. Lewis officially retired in 1969 and died in Hollywood on December 29, 1970.