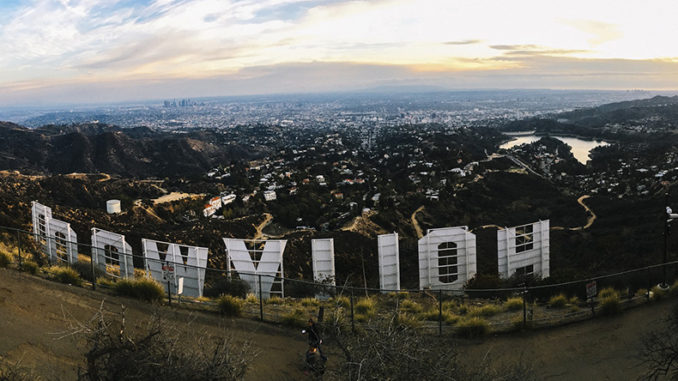 by Mark S. Andrew, A.C.E.
I grew up in the Midwest, the son of a GM executive.  It was a place where you grew up, married your high school sweetheart and followed in your father's footsteps.  The bright lights of Hollywood were hardly a reachable goal.
But after a brief career in radio during high school, and a general love of the boob tube, I decided to study Radio/Television and Speech/Theatre at Ball State University.  I figured maybe I could have a career at a local radio station on weekends, while teaching speech as my career.  After I wrote and produced some shows for various classes, a couple college professors thought I had talent to do more, and encouraged me to shoot for a full-time career in broadcasting.  They used their contacts to land me an internship in LA after I graduated.  I arrived in Hollywood with no contacts––and as I observed the inner workings of the business, I felt that what I learned in college was horribly insufficient for me to succeed.
So I opened myself up to any job I could get, observing everyone and everything.  It was a rocky road, and I spent many years trying to find my place in Hollywood.  I knew I wanted to be part of this world; I loved the creativity and flowing from one project to the next as opposed to the same old work grind day after day.  But I was still unsure if I wanted to be in production or post-production, or work behind a camera or typewriter, or any of the dozens of other specialties.  Through the years, I worked in the art department, special effects, publicity and film distribution, as well as assisted cutting sound on film for a few features.  I touched almost every area of the pre-production, production and post-production process.
Eventually, a post-production supervisor took me under his wing.  I was working as an assistant production coordinator and he needed a post coordinator.  He saw that I had picked up a great deal of knowledge in post over the years.  That job led to work as a coordinator and post supervisor, and eventually post producing, writing promos and supervising editors.
Perhaps my favorite work experience was editing the "fake" reality show Joe Schmo, where the executive producers allowed the editors to add to the humor in any way possible.
At that point, I seemed to be on the path to becoming a producer.  I liked the editing process, but did not have the knowledge of the emerging nonlinear editing systems.  Then, I was offered a staff producer job at a promo company, on the condition that I learned to edit my own spots on the Avid.
I jumped at the opportunity.  Not only was I getting to produce, but I was learning new technology and gaining hands-on experience at what I had merely supervised before.  Soon, I was editing and producing promos for all of the major networks as well as for home video commercials.  I realized that I actually had a knack for visual storytelling.  I enjoyed learning new tricks on the Avid, and stretching the envelope as more visual effects features were added.  Eventually, a producer friend contacted me about a magazine show pilot she was doing.  The original editor had left and the show needed a re-edit and polish.  The next thing I knew, I was editing non-scripted TV shows full time.
My path to union membership was equally backward.  I was always leery of the unions.  As a child, my father negotiated against the UAW for GM.  I grew up thinking unions were the enemy.  But after a couple years, an opportunity to join the Editors Guild presented itself.  One of my fellow editors on Kids Say the Darndest Things wanted me to co-edit a union animated feature with him.  I gathered my proof of hours and got onto the Guild roster.  However, I mistakenly joined MPEG before the final deal was made, which of course fell through.  So I spent my first two years as a Guild editor without a union show to edit.
I finally grew tired of paying dues and took a voluntary withdrawal.  As anyone knows, the minute you close a door like that, opportunity comes knocking.  Within a month, I received my first union show offer.
Over the years, I have worked on dozens of shows––some union, some not.  Perhaps my favorite work experience was editing the "fake" reality show Joe Schmo, where the executive producers allowed the editors to add to the humor in any way possible.  I don't think I have ever been allowed to be as creative as I was on that.
But my greatest achievement came just this year, as my show If You Really Knew Me won the Eddie Award for Best Edited Reality Series from the American Cinema Editors, an organization of which I am proud to be a member.  My career has carried me across every major network and cable outlet, and yielded me some great experiences, friends and accolades.