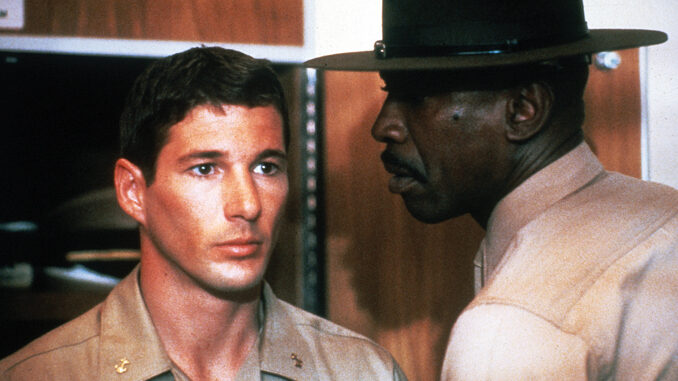 by Peter Tonguette
For the first 10 days of their collaboration, composer Jack Nitzsche did not say more than two words to music editor Curt Sobel.
Nitzsche and Sobel were thrust together on Ivan Passer's Cutter's Way (1981) after the music editor on several of the composer's most recent films, Dan Carlin, Jr., had become unavailable. Instead, Sobel – a relatively new hire at LaDa Productions, the company run by Carlin and his father, Dan, Sr. – drew the assignment.
It took a while for Nitzsche, who had counted among his past collaborators Neil Young and the Rolling Stones, to warm up to Sobel. Over the course of the three-week scoring session, though, the two became close, and Nitzsche brought Sobel along on his next two films, David S. Ward's Cannery Row (1982) and Robert Towne's Personal Best (1982) – both of which, like Cutter's Way, were unusual films with idiosyncratic scores.
Not so with their next project. As work was being concluded on Personal Best, Nitzsche took Sobel aside and said, "Okay, I got one more for us. It's called An Officer and a Gentleman, and I've seen the movie and it's going to be a lot of fun."
By then, the two had developed a partnership in post-production. When director Taylor Hackford approached Nitzsche about scoring the film, the composer said that he wanted Sobel to again join him. "I went to Jack and asked him to do the film and he agreed, and said, 'Listen, I work with a music editor…,'" Hackford remembers. "I
said, 'Well, fine – great.' And then I met Curt."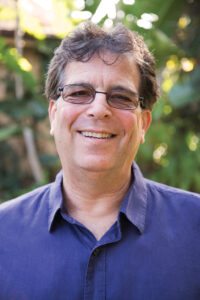 As it turned out, An Officer and a Gentleman was enjoyable for more than just its makers; the film was a bona fide blockbuster on its debut in July 1982, becoming among the top-grossing films of the year and winning two Academy Awards (out of six nominations).
Douglas Day Stewart's screenplay tells of Zack Mayo (Richard Gere), the footloose offspring of a US Navy enlistee (Robert Loggia). Dreaming of outdoing his dad, Zack sees a future as a Navy pilot, and to that end enters Aviation Officer Candidate School in the state of Washington. There, he encounters a surly but humane drill instructor, Gunnery Sergeant Foley (Louis Gossett, Jr.), and a smart, prepossessing local girl, Paula (Debra Winger).
With its sure-fire story arc (Zack not only graduates but also gets the girl), the film might have been a hit without Nitzsche. But his score – aided immeasurably by the resourceful contributions of Sobel – enhanced its emotional power. "Here was a film that was going to be a little less experimental musically," Sobel says, comparing the film to his and Nitzsche's earlier efforts. "A traditional score is the kind of music that could work for this."
But Hackford did not want too much tradition in the music. A self- described "rock 'n roller," the director disliked the idea of a conventional "string score" for the project, and was instead intrigued with Nitzsche's rock music credentials. "I felt that the main characters – the young people who were in Officer and a Gentleman – listened to rock 'n roll," Hackford recalls. Nitzsche produced a score that melded strong themes with unique instrumentation. Sobel explains, "He took a non-orchestral approach to it in many ways, with guitars and drums, but with an orchestra overlay."
A native of Detroit, Sobel also had a keen appreciation of the power of rock 'n roll. He initially had notions of becoming a doctor before an interest in music took over for good; in his senior year at the University of Michigan, he abandoned his pre-med path and made plans to enroll in Boston's Berklee College of Music, but not before receiving a bachelor of general studies degree. After receiving an arrangement and composition degree from Berklee, the guitar player moved to Los Angeles with the intent of becoming a film composer. Sobel would have never imagined getting custom guitar picks or musical tokens as gifts back when he was in his senior year of college. A chance meeting with a projectionist at Todd-AO led to his detour into music editing. "At the end of a hall, I heard music coming out of an editing room," Sobel remembers. "I walked down the hallway, and met Dan Carlin, Jr."
The meeting led to Sobel getting a job at LaDa Productions – but not before he re-examined his career path. After Carlin, Sr., made note of Sobel's goal to become a composer, he expressed reluctance about hiring him. "For the first time, I realized that music editing afforded an incredible opportunity for someone like me in terms of meeting those composers – the people I admired and collected in soundtracks, like Jerry Goldsmith, John Williams and Alex North," Sobel says. "I said to Dan, 'I think that music editing is an incredible profession and I would like to try that. And I promise you, I will not pick up and leave after you've trained me.'"
Sobel stuck with it, but never could have guessed that he would soon be involved with a film that would prove as successful – and that would ask as much of him – as An Officer and a Gentleman.
The experience was, he says, the first in which he felt he was "a real part of the editing room." Picture editor Peter Zinner, ACE, having once worked as a music editor himself, had a keen appreciation for the job, and Hackford seized on Sobel as a musical ally of sorts. "I have a real musical ear, and I know what I want in sequences," Hackford says, adding that if a piece of music doesn't work in a given scene, he wants to "cut it so that it works." "Curt, being a musician that he is, was the easiest for me to work with," he continues. "We get into an editing room, I say, 'I want to take this down, I want to make this moment happen, I want that warmth in this particular moment of the film.' And he'll cut it, and I'll say, 'No, no, no, it's not quite there yet.' But we get it right every time."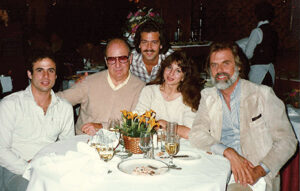 The main theme Nitzsche composed for the film is as bold and brash as the film's lead character; it's first heard over a close-up of Zack's upper arm, on which he places a bandage to conceal a tattoo unbecoming for a would-be officer. The credits begin to appear, and the camera pans with Zack as he walks to his motorcycle. "It hits hard on that motorcycle shot, where you have the title," Hackford says, referring to the simultaneous moment when Zack jumps on his motorcycle, the words "An Officer and a Gentleman" appear on screen and Nitzsche's score reaches its crescendo. Then, as Zack enters the base housing the school, the music begins to dim – the entire sequence illustrates how music editing can bring a cue in and take a cue out gracefully. "I'm soon fading it out because I want to get to Sergeant Foley," Hackford explains. "It was a very lovely way to deliver the audience right to a very potent opening sequence."
Sobel recalls listening to the Nitzsche's themes for the first time at his house: "On a piano, that sounds very different from what it became eventually, but you can hear it is a structured melody, and something we hadn't done in the three previous films."
But all was not smooth sailing. Working on the film, Sobel encountered several scenes requiring editorial finesse. Up to this point, he had relied exclusively on pre-existing film scores for temp tracks, but a pivotal love scene with Zack and Paula was giving him fits. Nitzsche, preoccupied with other cues in the film, had not solved the scene, and none of the film scores Sobel had at hand were doing the trick.
After coming home from work, he put on jazz guitarist Lee Ritenour's just-released album, Rit – not to get ideas but simply to unwind from the editorial impasse. "I was getting frustrated," Sobel recalls. But in listening to a track entitled "Dreamwalk," he had a moment of inspiration. "It was for the time very contemporary, very clean-sounding," Sobel says "I made a copy of it, played it against the scene and thought, 'This works; this is like a film cue.'" He ran the scene with "Dreamwalk" for Hackford, and the director agreed.
"Instead of giving Jack the additional chore of trying to replace Lee's song, which worked like gangbusters for the love scene, I suggested we reach out to Lee and see if he would be interested in recording Jack's themes for the film, but using his 'Dreamwalk' arrangement as the template," Sobel explains. Ritenour was game, and the scene was solved. Sobel adds, "Lee received end-credit acknowledgment for his arrangement and I believe it became a hit for him."
Meanwhile, an even more important scene was proving challenging: the ending, in which Zack – having completed school but seemingly leaving Paula in the lurch – arrives unannounced at the factory where she works and leads her (carries her, actually) to what promises to be happy days ahead.
The scene was fraught with anxiety even before it reached the music editor. "They didn't want me to shoot that last sequence," Hackford remembers. "The studio, the producer, even Richard Gere said, 'Don't shoot it. It's phony. It'll never work.'" The director persisted, but the scene would not play until it was determined what music to use and how to use it.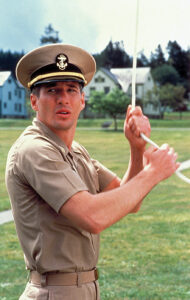 Sobel, though, reached back to Nitzsche's main theme for the film and arrived at the idea of combining it with his secondary theme – an orchestral version of what would become a verse from the film's song "Up Where We Belong" – at the moment when she, unprepared for Zack sneaking up on her at work, embraces him. "I clicked it out, I looked at it, I figured out the tempo for it," Sobel says. "When Zack kisses Paula, I brought in the secondary theme, played by a large string section. When Zack actually picks her up to carry her out, I modulated the cue to emphasize their movement and bonding, securing their future together." The music soars as Zack and Paula depart, the other factory workers gathering around in hearty applause.
Suddenly, with Sobel's arrangement, the scene worked – not by going against its emotion and sentiment, but by reinforcing it. "You either had to go with it and accept what you were watching – accept the fact that this was maybe going to be a corny ending, but one that was very romantic – or not accept it," Sobel points out. "And the music had to go with that; it couldn't hold back."
On Oscar night, Nitzsche was up for two awards for An Officer and a Gentleman: Best Original Score and Best Original Song for "Up Where We Belong," winning the latter (along with Buffy Sainte-Marie and Will Jennings); the film's second Oscar went to Gossett, Jr. for Supporting Actor. At the podium, Sainte-Marie made a point to acknowledge Sobel, whose partnership with Nitzsche continued for several more films, including John Carpenter's Starman (1984).
Critics and fans commonly refer to the "fairy tale ending" of An Officer and a Gentleman – but it was a fairy tale ending not just for Zack and Paula, but also for Curt.
"When in conversation with people, they say, 'Oh, what was your favorite film?' this is definitely one of a handful, if not the first one, that I always bring up," Sobel reflects. "Because of its importance of establishing a relationship with Taylor, and already having been in a trusted relationship with Jack."
There was another consolation for the music editor: "Of course, having my name mentioned on the Oscars was a real thrill for my parents, who always worried about whether I was going to be able to find a job out here."