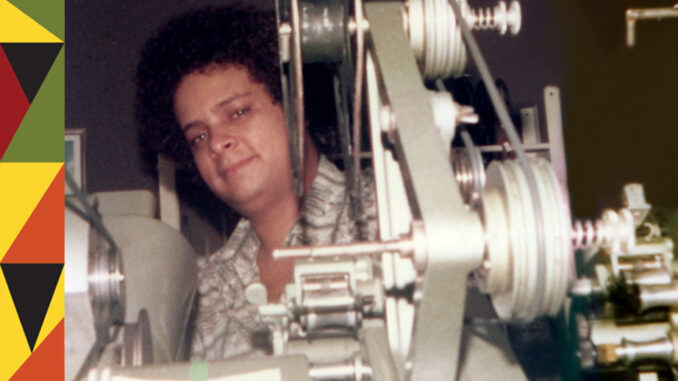 For each day in the month of February, the Committee will be highlighting African-American members, both past and present, and their accomplishments. We look forward to showing the contributions and influences African-Americans have had on the industry.
Earl Watson, Jr., ACE

Earl Watson, Jr., ACE was a talented Editor of more than 60 feature film and television shows. Born and raised in Los Angeles, Earl was a kind and generous man with a big heart, a great sense of humor, and compassion for people and the world.
In college, Earl studied film so he could take classes with a girl he had a crush on. Following his heart led to a long illustrious career in cinema and television.
Being a Picture Editor was truly his destiny.
He was a patient and generous mentor to many Picture and Sound Editors and was a valued friend to his co-workers. He is fondly remembered for his dedication to his craft.
One colleague said, "Earl was a creative soul who taught me a lot – some of it was about editing. Most of all, I will miss Earl's hearty laugh and stunning green eyes. I would know his laugh anywhere and can still hear it ringing out. And those eyes could light up a room!"
He was a member of the Academy of Motion Picture Arts and Sciences, the American Cinema Editors (A.C.E.), the Motion Picture Editors Guild, and the Director's Guild of America.
Earl loved working with Reggie Hudlin on:
"House Party" – New Line Cinema
"Boomerang" – Paramount Pictures/Imagine/Eddie Murphy Productions
"The Great White Hype" – 20th Century Fox Corp./Atman Films
"The Ladies Man" – Paramount Pictures/SNL Studios
He also enjoyed working with Gary Hardwick on:
>"The Brothers" – Screen Gems
"Deliver Us from Eva" – USA Films/Baltimore/Spring Creek Productions
His numerous film and television credits also include:
"Everybody Hates Chris" – CBS Paramount Television/CW Network
"Two Can Play That Game" – Screen Gems
"Trippin'" – Beacon Communications
"The Cherokee Kid" – Spring Creek Productions/Home Box Office
"Panther" – Gramercy Pictures/Polygram/Tribeca/MVP Films
"CB4" – Universal Pictures
He had an eye for beauty so he became, understandably, smitten with Halle Berry while working on "Boomerang."

His nephew, Eric Wilson, is an Editor on "NCIS:LA" and recalls his Uncle saying "even just one frame can make a difference."
Earl said many years ago he was working on a film when Michael Jackson came into the Editing Room. Michael asked Earl about the white glove on his hand and before long he saw Michael performing with one white (bedazzled) glove!
Earl was a bright guy who loved music, baseball, good food, games, Haitian art, and people from all walks of life. He was a big guy with a big heart. He'd call colleagues into his editing room to play "Jeopardy" on the AVID when he needed a break and wanted to have a little fun. In high school, Earl had a summer job driving a Good Humor Ice Cream truck. He was truly the Good Humor Man to the end of his life.
He died at the age of 64 but lives on in the hearts of those who loved him… and in the rolling credits of his many films!
By James Wilcox