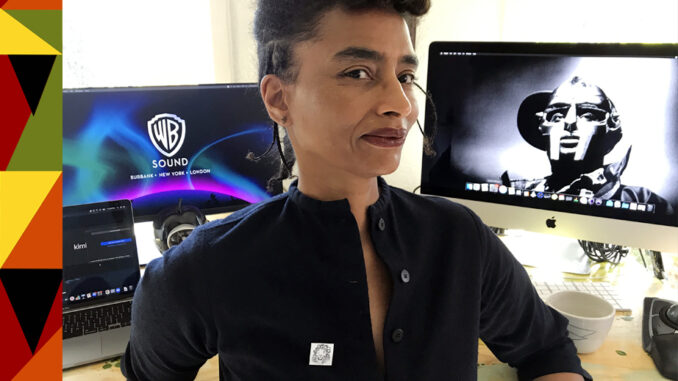 For each day in the month of February, the Committee will be highlighting African-American members, both past and present, and their accomplishments. We look forward to showing the contributions and influences African-Americans have had on the industry.
---
Name: Kimberly R. McCord-Wilson
What's your job? Supervising Sound Editor for Warner Brothers Studios.
List the credits you're most proud of. Difficult to choose—my dialogue work on Spike Lee's "Summer of Sam" or HBO's, "The Wire" to supervising Peabody Award winning "David Makes Man."
What are you working on right now? S2 CBS's, "All Rise" and gearing up for "David Makes Man, S2."Who and what are your influences and/or mentors? Satya Goenka.
What books are you reading, shows are you watching? "The Nickel Boys" and "I Will Destroy You."
What's the best piece of advice you've been given? See things for what they really are.
If you could time travel, when would you go and why? My childhood—the 70s were dope!
What's a little known fact about you? What are your hidden (or not so hidden) talents? I have 7% Yakut ancestry.
What are your black history month memories and any cultural or historical impacts on your life? My college-tour of Howard University. I was humbled by a renewed sense of majesty feeling the energy of the cultural brilliance surrounding me. I got accepted and never looked back.
What's your favorite (Black) television/movie moment? Waiting for "What's Happenings," "Doobie or Not Doobie Pt 2," to air.
Was there a television show/movie that inspired you to pursue your career? Watching 70s B-horror movies: hearing all those cool Sci-fi SFX opened that door.What's your personal/professional mantra? Never answer before you're ready.
What's the last show/movie that left you speechless? 
Marcel Camus' "Orfeu Negro."
What would be your dream project to work on? Dream Talent(s): Regina King, Radha Blank, Ava DuVernay, Kenya Barris, Michaela Coel, Steve McQueen, Donald Glover, Charles D. King, Chris Rock, Dave Chappelle,  Nia DaCosta, Lena Waithe, Mara Brock Akil, Monkeypaw Productions, Overbrook Entertainment, Viva Maude Productions, Higher Ground Productions, SpringHill Entertainment , Animal Pictures, Proximity Media and Outlier Society just to name a few. 🙂