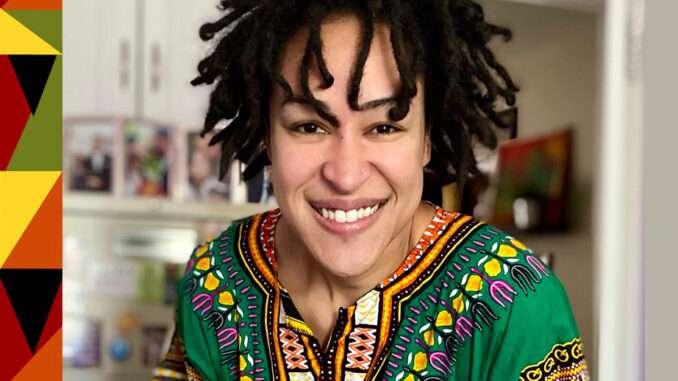 For each day in the month of February, the African American Steering Committee will be highlighting Local 700's African American members, both past and present, and their accomplishments. We look forward to showing the contributions and influences African Americans have had on the industry.
---
Name: Sushila Love
What's your job? TV and Picture Editor
List the credits you're most proud of. "The Sixties: A Long March to Freedom" for CNN; "On My Block," Seasons 2 & 3, for Netflix; "Ms. Marvel" for Disney+
What are you working on right now? I'm currently working on "Dynasty," Season 5.
Who and what are your influences and/or mentors? I've always been very much influenced by visual art, since that's the world I worked in for many years. The photography of Carrie Mae Weems has always inspired me. Another artist who tells amazing stories through silhouetted cutouts is Kara Walker.
What books are you reading, shows are you watching and/or movies you're excited about? I recently finished the book "The Parable of the Sower," which feels unnervingly close to our current state of being at times. The book's themes on spirituality are also very interesting and are discussed in a way I have not previously seen.
What's a little known fact about you? What are your hidden (or not so hidden) talents? I have a background in visual art and a green thumb in the garden. I also play several musical instruments.
What's your favorite (Black) television/movie moment? As a kid, my brother and I must have watched "I'm Gonna Git You Sucka" about a thousand times. I always screamed with laughter when the character Cherry throws her fake T&A at Jack Spade then hops after him.
Was there a television show/movie that inspired you to pursue your Career? When I saw the film "Requiem for a Dream," I think it was the first time I really noticed the editing of a piece and how important it was to the telling of a story. I didn't realize until years later, however, that I would go from making fine art to editing film and television.
What's your personal/professional mantra? I often tell myself "If you're not having fun, you're fired."
What's the last show/movie that left you speechless? "Parasite"
What would be your dream project to work on? A dark comedy/psychological thriller feature with a cast of predominantly BIPOC.