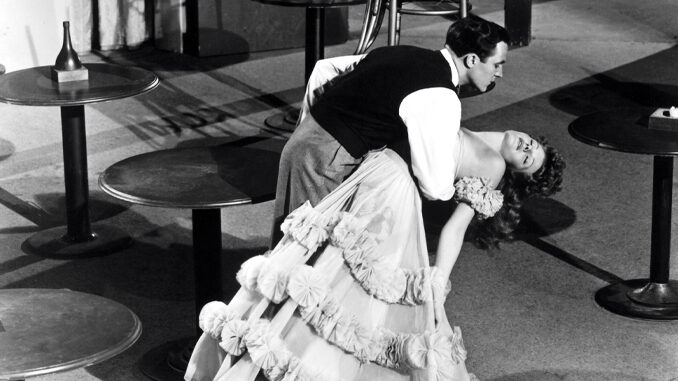 by Kevin Lewis
Cover Girl (1944) is a famous movie for two reasons — one intentional and the other accidental. The film's legacy is of a time when women were celebrated for their glamour and sexuality. For the World War II sailors and soldiers overseas, the film acted as a stimulus for what awaited them when/if they came back.
For the home-front women, it was an extended fashion show in Technicolor. Columbia Pictures' Harry Cohn hired proto-supermodel and film executive for David O. Selznick, Anita Colby as an advisor, and recognizable fashion models were cast in the film. But its raison d'etre was movie star and sex symbol Rita Hayworth, who was a favored pin-up in foxholes and atolls. Any cultural historian can get a frozen-in-time view of the fashion magazine and modeling world of the World War II era in New York from Cover Girl, released 70 years ago this April.
If one era could be cited for classic fashion, it would be the 1940s. Arguably, women were more glamorous then, and fashion designers over the succeeding decades drew inspiration from that era. The design inspiration was Alberto Vargas, the famed illustrator of sexually accessible women with flowing hair, long legs and parted lips — which Hugh Hefner used as his model for Playboy magazine in the 1950s. Hayworth, the star of Cover Girl, still tops many lists of all-time screen goddesses and sex symbols because she was an in-the-flesh version of the Vargas Girl. Cohn spent millions promoting his main star and Cover Girl is almost a shrine in glorious Technicolor to his goddess.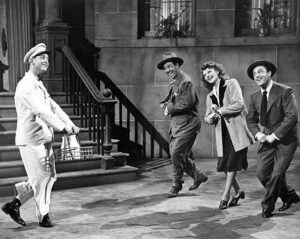 The accidental reason, and its other legacy, is a seminal one in the evolution of the American film musical, specifically the peerless Arthur Freed production unit at competing Metro-Goldywn- Mayer. The movie established Gene Kelly as a choreographer and dancer at the studio, making possible such notable masterpieces as An American in Paris (1951) and, in partnership with Stanley Donen, On the Town (1949), Singin' in the Rain (1952) and It's Always Fair Weather (1955).
MGM bought Kelly's contract from Selznick in 1941, fresh from Kelly's 1940 Broadway triumph as the hoofer heel in Pal Joey, for a variation on that role in For Me and My Girl (1942) opposite Judy Garland. The studio owed Columbia Pictures a star for Cover Girl as compensation for MGM's successful counterbidding of Columbia for the film rights to the 1941 Broadway musical Best Foot Forward, which MGM wanted for its contract player, June Allyson, a featured player in the Broadway production.
Cohn was not pleased when Metro sent over Kelly, whom Cohn considered an Irish tough, to play Danny McGuire. Along with Kelly, MGM loaned dancer Stanley Donen to Columbia, who knew Kelly slightly from their mutual association with the theatrical musicals Pal Joey and Best Foot Forward, in which Donen was a chorus dancer and Kelly was the choreographer.
The innovative MGM musical tradition of the 1944-1955 era actually began at Columbia with Cover Girl in 1944. Previously, the Freed unit at MGM was centered around the Mickey Rooney/ Judy Garland "let's put on a show" plots. It was Kelly and Donen who revolutionized the Freed production team, ironically through their work at Columbia, where they were given freedom to experiment, particularly with the film's "Alter Ego" dance number, in which Kelly dances with himself. It was the most technically advanced musical number up to that time and was pure cinema, pushing the limits of film editing and special effects.
Fred Astaire and Hermes Pan had choreographed songs that expressed psychological conflict in the Astaire-Ginger Rogers musicals at RKO in the 1930s, but Astaire used other dancers as mirror images of himself or Rogers. However, Kelly danced with himself on a deserted commercial street in Cover Girl. A decade later, he performed a similar dance in Singin' in the Rain (1952) on a street as a solo.
The difference in the two numbers is the psychology. In Cover Girl, he is jilted by Rusty Parker (the Hayworth character), a dancer in his burlesque show, after she is signed by a modeling agency. He dances because he is angry and argues with his alter ego figure. In the later film, in typical sunny, uncomplicated MGM fashion, he dances because Kathy (Debbie Reynolds) loves him.
As opposed to Astaire, who was famous for his dances with partners, Kelly really didn't want to share the spotlight with a partner, which makes the "Alter Ego" number more revealing of his persona. In Cover Girl, Kelly and Hayworth have one special dance to the superb Jerome Kern-Ira Gershwin song "Long Ago and Far Away," but the lack of chemistry between them shows in the stilted movements. This lack of chemistry makes the love story a masochistic one.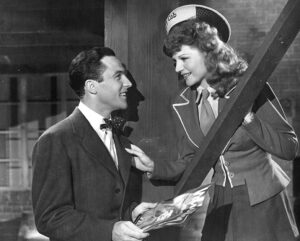 Donen, who was inspired to become a dancer and choreographer because of Astaire's effect on him, much later devised the technically innovative dancing-on-the-ceiling number in Royal Wedding (1951) for him at MGM. But at only 19 years old, Donen helped create the "Alter Ego" number that made Kelly a giant in dance. In his biography Dancing on the Ceiling: Stanley Donen and His Movies (1996), he described to author Stephen M. Silverman how he conceived the number. He had realized that Kelly was an exciting solo dancer, and figured that two Kellys would be better than one. Kelly was skeptical but receptive, and director Charles Vidor was dubious. Vidor threw up his hands, saying, "It won't work." But to his credit, he didn't oppose Donen and Kelly.
Today, special effects would be used to create the effect. In 1943, when the film was shot, Donen explained to Silverman, "We would have to repeat the camera moves by ourselves, with Gene performing the dance twice to the pre-recorded sound track. I knew it could be done by having him hit the same spots the second time as he did the first, which Gene could do, and then we could film it by having the camera hit the same marks both times, which I knew I could do."
The four-minute number begins with the angry Lopez were approved early on, including the "Let It Go" scene. "Animation and Effects were able to spend a lot of time on that sequence to help make it the show-stopper that it is," Draheim notes.
As 2013 began, after three years of listening to temp sound effects and music, sound designer Odin Benitez, composer Christophe Beck and music editors Earl Ghaffari and Fernand Bos sped up their efforts to finalize the sound. With no final score and about half the film shown in storyboards, Frozen had its first audience preview in April.
Feedback from the preview was overwhelmingly positive and the entire production crew rode its momentum to completion. As the fully animated sequences came back to editorial, Draheim, Buck and Lee spent even more time together to oversee the final cutting and timing for release.
"We were still re-doing entire sequences in the last two months, and tweaking and refining dialogue to the last moment," adds Draheim, who won this year's ACE Eddie Award for Best Animated Film for Frozen.
Despite the clear differences between the accelerated production of multiple animated episodes for a TV series and the continual reworking and refining of the painstakingly elaborate elements comprising the production of a single animated feature, the basic process and key components are the same. Similarly, the contrasting collaborations between editor and writers on The Looney Tunes Show and Frozen demonstrate their shared passion for telling stories through animation. In both, the editor exercised his storytelling skills and attention to detail to help realize the writers' vision.