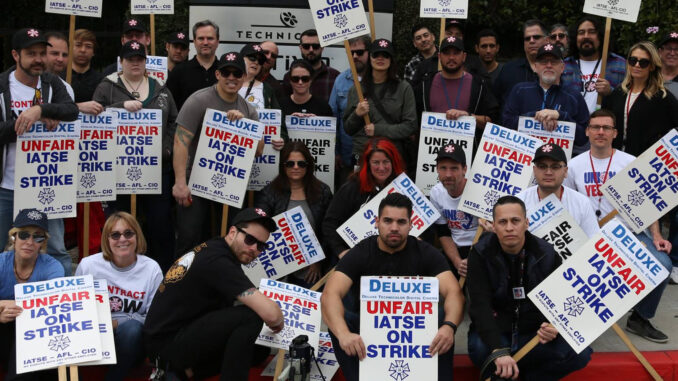 By a vote of 89%, employees of Deluxe Technicolor Digital Cinema (DTDC) have overwhelmingly ratified their first union contract.
The three-year agreement between the company and the Motion Picture Editors Guild (International Alliance of Theatrical Stage Employees Local 700) covers technicians responsible for creating the digital packages used to exhibit theatrical feature releases worldwide. Under the deal, employees will receive dramatically improved health benefits, retroactive increases in pay, improved retirement benefits, and enhanced provisions for premium pay.
The new contract will move employees from employer-specific health insurance plans to the multi-employer Motion Picture Industry Pension and Health Plans (MPIPHP) through which almost all post-production professionals working under the aegis of the Motion Picture Editors Guild receive their benefits. Inclusion within MPIPHP will both dramatically improve the coverage employees receive and substantially lower employees' costs. Depending upon in which Deluxe plan an employee had previously enrolled, the annual savings in premiums alone will range from about $1500 to about $15,000 per employee.
In addition to better benefits, employees won a wage schedule that will ensure much improved pay. All employees will receive immediate retroactive raises ranging from 3.5% to 30%; more than half of employees will see raises ranging from 21% to 38% over the life of the contract.
"Negotiations weren't easy," said Jackson Benjamin, a DTDC Quality Control Technician and member of the union's negotiating team. "But we learned that we have a lot more strength together than each of us does on their own. Over the years, many of us had gone individually to request for better pay and were unsuccessful. It took all of us standing in solidarity in order to negotiate real change. We showed that we were unified, and the company took us seriously. This agreement will improve the quality of life for myself, my coworkers, and their families."
The agreement and ratification come after several months of sometimes difficult negotiations. Contract talks began in the fall of last year, after employees rebuffed an anti-union campaign by management and voted by a margin of more than two-to-one to organize with the Motion Picture Editors Guild and International Alliance of Theatrical Stage Employees. DTDC employees briefly walked off the job for a half day in February in protest of unfair labor practices committed by the employer, but the contract was attained without any prolonged disruption to the employer's operations.
"We're proud of the fact that the employees of Deluxe Technicolor Digital Cinema chose to organize with the Editors Guild, and we're proud of the contract they won," said Alan Heim, A.C.E., President of the Motion Picture Editors Guild. "Their example demonstrates how all post-production professionals can close ranks to affirm the worth of their work. Movies don't make it to the screen without the labor that these folks perform, and today they've secured some recognition for the value of that labor. We're honored to have these brothers and sisters in the Editors Guild family."
DTDC is the world's dominant digital cinema facility, handling the bulk of DCP mastering and distribution for all Hollywood's major theatrical releases. The joint venture operates under Deluxe management. Deluxe Entertainment is owned by MacAndrews & Forbes, the holding company of billionaire investor Ron Perelman.
The Motion Picture Editors Guild is Local 700 of the International Alliance of Theatrical Stage Employees. Established in 1937, the Guild now represents roughly 7,600 postproduction professionals working nationwide in television, features, and new media.