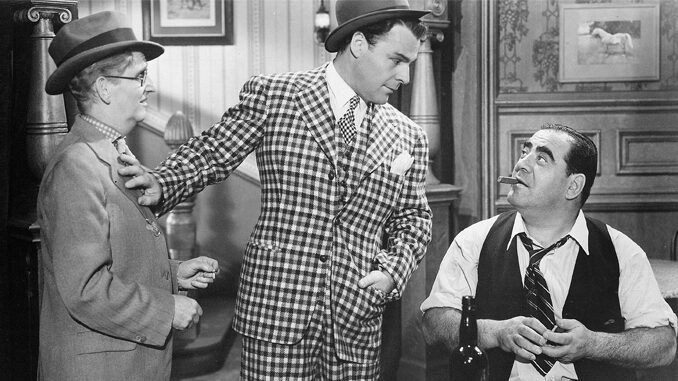 by Edward Landler
Seventy-five years ago, on August 14, 1940 — back when studios still owned theatres — The Great McGinty, written and directed by Preston Sturges, premiered at the Paramount Theatre in New York's Times Square. Opening day receipts totaled over $5,000. Two days later, a Paramount executive wired Hollywood stating, "Audiences continue enthusiastic about picture."
The movie's success let Sturges achieve his ambition to direct his own scripts after 10 years as a screenwriter. Joseph L. Mankiewicz called him "the Moses who led us out of the wilderness" — the "us" being the film writers who wanted to direct "because they couldn't stomach what was being done to what they wrote." In the next five years, John Huston, Billy Wilder, Delmer Daves and Mankiewicz were all directing their own screenplays.
For Sturges, McGinty kicked off a remarkable string of eight pictures he wrote and directed for Paramount between 1940 and 1944, seven of them box office hits. Inimitable blends of satiric observation and screwball energy driven by physical comedy, these movies skewer the twisted inconsistencies of the American dream. The filmmaker's open treatment of social and emotional realities burst the seams of classic Hollywood's studio-bound sets and conventions.
Among his targets are class differences, romantic expectations, the movies, heroism, morality, justice, mom, the girl next door and success itself. For openers, in McGinty, Sturges set his sights on American politics, tracing the rise of a tramp from a soup kitchen to the governor's mansion and his fall to tending bar in the tropics.
Originally named O'Hara, the main character was based on New York Governor William Sutzer, a Tammany Hall politician impeached and booted from office in 1913. Sturges learned the inside workings of machine politics from an old friend, a retired Brooklyn lawyer and magistrate named Andrew McCreery.
The script that eventually became McGinty was written under the title The Vagrant in 1933. He wrote it while 20th Century-Fox was shooting his original screenplay, The Power and the Glory, as a major production. He had started writing for Hollywood in 1929 after the Broadway success of his play Strictly Dishonorable that year. The strength of his Power script had gotten the writer a non-revision clause in his contract with Fox and a percentage of profits, if any. He was even allowed to be present on the set during the shoot.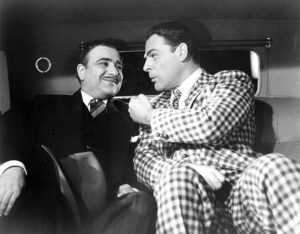 Sturges was confident that Power would be a hit, as he recalled in his autobiography, Preston Sturges by Preston Sturges: His Life in His Words (he died of a heart attack while writing it in 1959; it was published in 1990). So he decided not to sell The Vagrant "unless I was permitted to direct it. It was to be my entering wedge into the profession, my blackjack. After that, it was simple. It only took six years."
The Vagrant script was completed in August. The Power and the Glory, starring Spencer Tracy as the industrialist, opened in October. At best, it was an interesting failure. Sturges, though, became the industry's highest paid screenwriter, earning anywhere from $1,000 to $2,500 a week. In 1937, he signed with Paramount, where each of his scripts brought him at least $30,000.
In 1939, the writer got the chance to use his "entering wedge." Director Mitchell Leisen made unapproved changes to his original script for Remember the Night (1940) and Sturges threatened to leave the studio unless he could direct The Vagrant. Production head William LeBaron let him do it as a low-budget project.
During negotiations, the studio agreed to pay him as director but the price of the screenplay was an issue. Sturges recalled, "LeBaron said, 'I'll OK any price you say, but the less it costs to bring in your first picture, the more it will be admired.' 'How about a dollar,' I said. The legal department changed the one-dollar price to $10, which they felt was more legal." The contract was signed late in August. Frank Capra's Mr. Smith Goes to Washington (1939) was set to open in October and this may have helped nudge Paramount into backing a politically themed movie.
Paramount assigned the producer role to Paul Jones, who had already produced two comedies Sturges had written for the studio, as he would four more of the writer-director's films. Jones continued to produce mostly comedies into the 1960s, including pictures with Bob Hope and Jerry Lewis.
Over October and November, Sturges rewrote the original script to expand key characters and clarify their influence on O'Hara, still the name of the main character. During the rewrite, the title became The Story of a Man and then Biography of a Bum. Jones suggested that O'Hara's name be changed to McGinty and the shooting script was submitted as Down Went McGinty.
With a limited budget, Sturges could not afford major stars. "Leading tough guy" supporting actor and B-star Brian Donlevy, familiar to audiences of the time, naturally conveyed McGinty's evolution over the years played out in the story. Another familiar face was Russian Akim Tamiroff, who anchored a scene like his "Boss" ran the city and the state. Their strength in the central roles led Sturges to bring them back four years later for brief appearances as the Boss and the Governor (despite their fate in McGinty) in The Miracle of Morgan's Creek (1944).
Joseph L. Mankiewicz called him "the Moses who led us out of the wilderness" — the "us" being the film writers who wanted to direct "because they couldn't stomach what was being done to what they wrote."
Of equal importance, the director selected a cast of over a dozen character actors, distinctive in appearance and mannerisms, for big and small parts sprinkled throughout the movie. They grew into a reliable stock company he would draw from in all his Paramount pictures, and included the voluble William Demarest, wormy Jimmy Conlin, flighty Esther Howard, burly Dewey Robinson and gravel-voiced Frank Moran.
Assistant director George "Dink" Templeton broke down the script for a 36-day shoot starting December 11, 1939. The only major conflict Sturges found on set was with cinematographer William C. Mellor, ASC, who insisted on doing over-the-shoulder shots the director did not want for coverage of conversations. Mellor later would win two Oscars for his work on George Stevens' A Place in the Sun (1951) and The Diary of Anne Frank (1959).
A more serious concern for Sturges during production was his health. Intent on not wrecking his shot at directing, he wrote, "I went into strict training. I gave up drinking. I gave up smoking. I gave up late hours. After I started shooting, I had a masseur waiting for me every night… As a result of this totally wholesome and totally unaccustomed manner of living, I was rewarded on the 14th day of shooting with pneumonia."
The director's illness coincided with the Christmas break. The studio loved the footage he had already shot and LeBaron assured him no other director would be assigned to the project. Back on the set in 10 days, Sturges wrote, "I gave up not drinking and not smoking and have not been troubled with pneumonia since." The shoot only fell behind four days.
Production wrapped on January 25, 1940. The editor assigned to the project was Hugh Bennett, who had cut many major films of the 1920s and '30s, including John Ford's Arrowsmith (1930) from Sinclair Lewis' novel and Frank Lloyd's If I Were a King (1938) from Sturges' swash- buckling adaptation of a play about medieval poet François Villon. Bennett edited 135,000 feet of film down to a swiftly paced 81 minutes.
His work effectively points up Sturges' portrayal of big-city politics. Early on, a jaunty montage traces McGinty voting at 37 polling stations in one night. When McGinty runs for governor, editor Bennett deftly intercuts alternate lines of campaign speeches from a politician for him and his opponent against him: "He put 40,000 men to work…40,000 lunch pails, my friends…40,000 happy families…money in circulation, prosperity!" to "He gutted the treasury…raided the city…raised the taxes…built miles of useless buildings, bridges, beaches…" to "…and gave you the most beautiful city in the world!"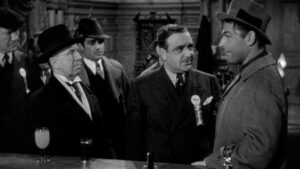 Sturges and Jones brought the picture in for $368,000 — $4,000 under budget. Sturges was paid $2,750 a week for the six-week shoot and the same weekly salary for three weeks of editing. Bennett made $200 a week for 17 weeks of editing, and his assistant editor $100 a week for 18 weeks.
About two months before release, the studio renamed the picture The Great McGinty. Along with box office returns came glowing reviews. For audiences, then and now, its succinct and clear glimpse of how political power works, local and national, is refreshing — like when the Boss gives McGinty the lowdown on how he runs the city: "In this town, I'm all the parties. You think I'm going to starve every time they change administrations?"
In his autobiography, Sturges modestly wrote, "For The Great McGinty, I received a statuette of a nude gentleman with a long sword known as Oscar." In fact, he won the first Academy Award ever given for Best Original Screenplay, beating Charles Chaplin for The Great Dictator (1940) and John Huston and his co-writers for the biopic Dr. Ehrlich's Magic Bullet (1940), among others.
As a practical joke, the successful filmmaker accepted the prize by saying, "Mr. Sturges was so overcome by the mere possibility of winning that he was unable to come here tonight and asked me to accept it in his stead." Most of those present did not know what Sturges looked like, and everyone applauded — thinking the speaker was finished. The abashed winner just returned to his seat.
Sturges was nominated for the same award twice more for The Miracle of Morgan's Creek and Hail the Conquering Hero (both from 1944) — effectively cancelling out his chances to win. He might then have remembered something else the Boss told McGinty: "Yesterday you was a hobo on the breadline… Today you got a thousand berries and a new suit. If you keep on like you started today, there's no telling where you'll be tomorrow. This is a land of great opportunity."