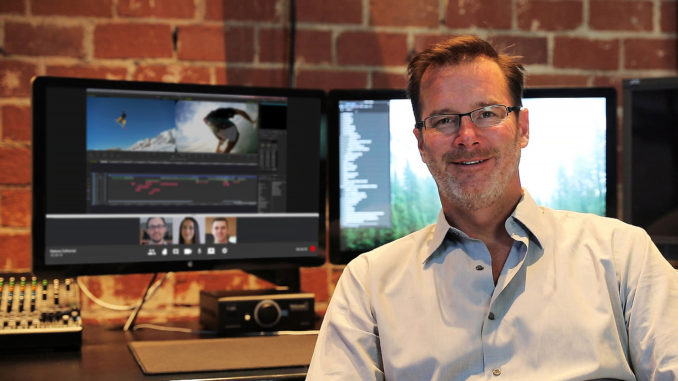 by Debra Kaufman
When nonlinear digital editing first made its appearance in the late 1980s, so did the very first systems that aimed to create review-and-approval to make the process faster and more efficient. The past 30 years have seen many failures, although a handful of companies managed to evolve, as technology caught up.
Now comes Evercast, a system developed in part by a veteran editor, Roger Barton, to provide all the collaborative features an editor wants and the studios require.
Barton put his own successful editorial career on hold for nine months to help shape and launch a tool that he believes will help improve the lives of editors. After close to 100 films and TV shows used the system during its beta phase, Evercast debuted as an official product at the ACE TechFest on the Universal lot on June 8.
What sparked his passion for editing, he says, happened in his early years in the industry working on the reality show Stuntmasters!
"At the last minute, I would spend all night reviewing my mediocre footage to write my mediocre script," he recalls. "Watching these editors elevate my little story into something that was actually half-decent was like watching a form of alchemy, a magic show. I remember thinking to myself, this is where a film comes alive, and to be a part of that became my mission."
"Working as a film editor has made me acutely aware of the challenges we all face to find a balance between an art form we all love and a family we love even more."
Barton embraced the brand-new Avid, becoming an early advocate and tutor for other editors, before turning his attention back to editing. What followed was a 25-year career cutting movies for Michael Bay (Transformers), James Cameron (Titanic, as associate editor), George Lucas (Star Wars: Episode III – Revenge of the Sith), Joe Carnahan (The Grey) and the Wachowskis (Speed Racer).
When Barton's life took a turn – a divorce that left him a single father – one of the trade-offs of working as an editor came into high relief.
"Working as a film editor has made me acutely aware of the challenges we all face to find a balance between an art form we all love and a family we love even more," he says. "Especially when we've experienced more travel, greater expectations and shorter schedules."
At about the same time, Legendary Pictures brought him on to cut director Michael Dougherty's Godzilla: King of the Monsters. "I didn't want to travel to Atlanta, so I looked at all the collaboration systems out there," he says. Then a neighbor happened to introduce  him to Brad Thomas and Alex Cyrell, who had just created a software solution for remote usage. "They did a demo for me that knocked my socks off," he says.
The system was also secure – a must-have for the studios. Barton took the system to Legendary's chief information security officer Dan Meacham, who vetted it for content security. The studio approved him to use it provisionally on Godzilla: King of the Monsters.
'Godzilla' and Hail Mary
But, at that point, Dougherty still hadn't seen Evercast.
"By that time, Godzilla was three-weeks-deep into shooting and they still wanted me to travel to Atlanta," Barton says. "I had a Hail Mary chance of not going to Atlanta by doing a test session with the director on a Sunday afternoon."
From his cutting room at Legendary, Barton connected with the director in his apartment, where he was on a wireless laptop.
"I started to stream to him out of my Avid, and what was designed to be a test turned into a three-hour editing session where we were just in the flow," says Barton. "At the end of the session, I said, 'Michael, I'm supposed to come out there,' and his response was, 'Why would you want to come out here? Let's just keep using [Evercast].' At that moment, I knew the potential that this had."
Barton used Evercast throughout the film, saying it enabled him to do his job better than he could have on set (more on that later). Barton then invested in Evercast and took a nine-month sabbatical to introduce it to the studios. "I saw an opportunity to make a difference in some small way to the lives of my friends and colleagues who struggle with the same issues that I do," he says.
Barton had another important role to play. "The version of Evercast was originally rudimentary," he says. "I started to work with them on features that I thought would make a meaningful difference in the lives of creative professionals, which would set it apart from business platforms."
Breaking It All Down
Barton breaks down the platform's most important features.
"Evercast is a security company first," he says, noting that their platform has been vetted and approved by all the major studios. "Every feature we add is assessed first from a content security perspective."
Second, says Barton, Evercast was built to be easy to use. "We use Google Chrome and it will soon be accessible on Safari, so anyone can use it from an iPad," he says. "Evercast functions via the concept of a 'room' where there is one designated administrator who will invite – or disinvite – others to enter.
The room also has a unique URL. "Everyone bookmarks the same URL so it's easy to join a session," says Barton. "You can see all the participants in thumbnails and you choose what appears in the main screen including content. You can mute yourself (to have a private conversation) or selectively mute specific participants, but the names will always be displayed, so there's no lurking on any sessions."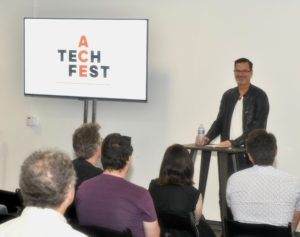 Extremely low latency is another important feature. "As long as you have a clean broadband connection, our latency is 200 milliseconds, which is less than an eye blink," says Barton. "There's also little difference between local and international. In fact, we have clients using Evercast between Burbank and New Zealand, and the latency is always extremely consistent. It feels like you're in the same room."
Increased efficiency is one of the benefits of using Evercast, says Barton. "When I was cutting Godzilla from L.A., I would often have ideas that I wanted to run by the director," he says. "With Evercast, one of us would request some time together via text, and then we'd simply launch the browsers shortcut we saved on our desktop, log-in and we'd instantly see each other. Evercast not only supports the idea of spontaneity but promotes it."
With regard to that laptop, "Evercast's proprietary hardware is another key factor," says Barton. "Evercast doesn't require you to invest in or rent infrastructure."
Barton reports he saved a tremendous amount of time by getting such instant feedback, which was especially useful when he needed to know what might be missing in a given scene.
"The spontaneous collaboration translated to far less anxiety when [the director] returned from shooting because by then, even though he shot three million feet of film, I was able to make a pass of his notes on many of the scenes with him on the platform," he says. Evercast was used on the HBO series Chernobyl, where creator Craig Mazin noted that the sessions can be recorded, so "if you're giving notes on something, the editor can record it and play it back later when doing changes."
"Evercast has been kind of a life saver," he says. "I think as production continues to become a more global affair, this is going to become more and more useful."
Becoming a 'Rock Star'
Barton notes that, before he had the ability to record a session, he would "furiously take notes on a yellow pad so often I couldn't read them the next day or sometimes I'd either skip or misinterpret them," he says. "Evercast made me look like a rock star. All I had to do was follow along with my Avid as I was watching the recorded Evercast session ensuring all the notes were done accurately, without anyone between the director and me. Because it captures each stream individually, I can see the content he's referring to, which is incredible." The system also takes time-stamped notes, which would allow him to jump to those points in the recording without having to relive the entire session.
One unexpected benefit, says Barton, is that, while working on Godzilla, he had more face-time with the director than when he was on location. "On location, I would often have to pull the director into the cutting room kicking and screaming because they're spread so thin and they're rarely in a good mood in the cutting room," says Barton. "Evercast puts the control in the director's hands – whenever he has free time, in between lighting setups at lunch, in his apartment, he could text me and say, let's meet virtually. Then we could instantly start working – for five minutes or three hours. All those moments, added up, translated to a profound change the quality of my editor's cut, because I got so much more input from him during the shoot."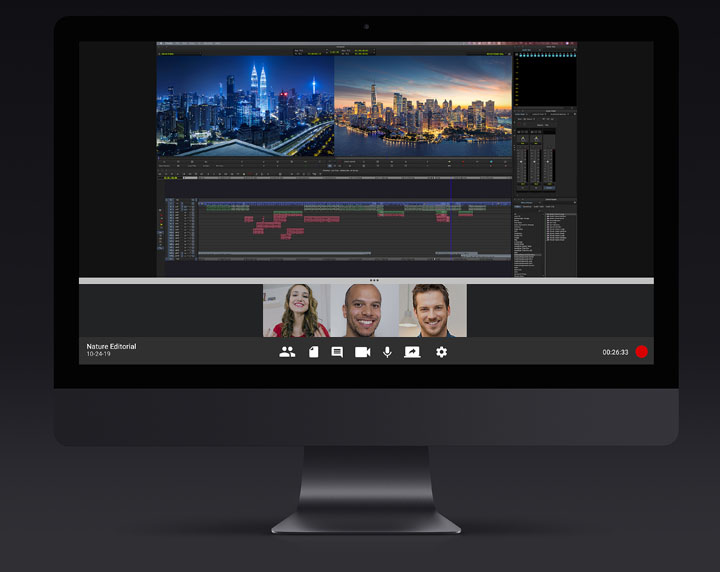 Evercast also saves the money that would be spent to send an editor and his crew to location; a room costs $999 per month, with $299 for an additional room, regardless of the number of users. "It breaks down to about $250 a week that lets your entire crew collaborate on the platform," says Barton. He notes that Evercast is also a great system for VFX reviews, music and sound spotting, casting meetings, live table reads and other applications. "It's agnostic to any application you're working with," says Barton. He's currently using Evercast on Michael Bay's upcoming Six Underground and still is focused on getting Evercast launched.
"To be honest, if Evercast is embraced by the community and positively changes the lives of my friends and colleagues, it will be the most meaningful credit I have," he says. #ACETechFest.