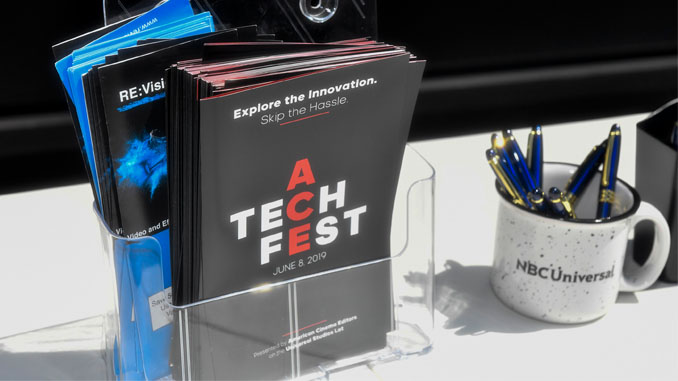 by Debra Kaufman • photos by Peter Zakhary/Tilt Photo

More than 350 post-production professionals turned up earlier this month for TechFest, a new educational technology event presented by the American Cinema Editors (ACE), at Universal Studios in Los Angeles in early June.
Adobe, Avid, Blackmagic Design, and Evercast gave in-depth presentations of their products, offering industry pros a one-stop learning opportunity rarely seen outside of major events such as the NAB Show in Las Vegas.
"ACE has been participating in the NAB Show for about 10 years, but not many of our members go, because it is in Las Vegas in the middle of the week," says Jenni McCormick, executive director of ACE. "Most of them are working. So we started to think about bringing relevant technology to them."
"With TechFest, editors can enjoy many of the companies and products they would want to see at NAB," McCormick adds. "But tailored for them, and without the crowds or travel." The June 8 event at Universal sold out.
Getting Editors to 'Take Care of Themselves'
McCormick also made a point of adding vendors who focus on the wellness of editors, with services from massage to Reiki.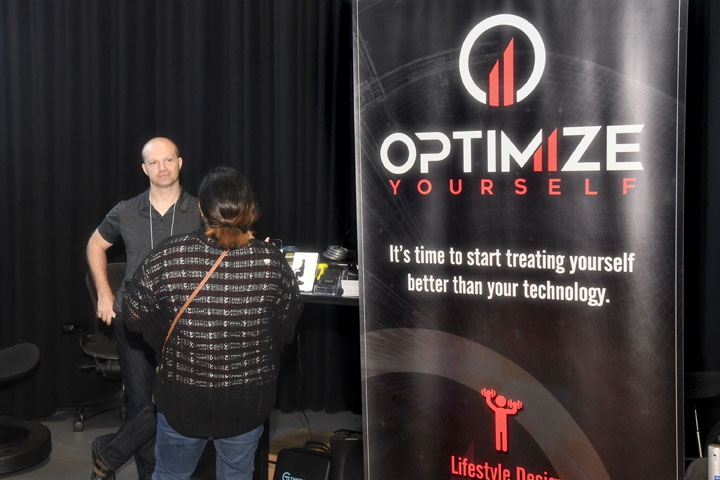 "Editors don't have the chance to investigate how to take care of themselves," she says. One notable attendee was Zach Arnold, ACE, whom McCormick dubs "the bridge between post-production and wellness." Arnold's "Optimize Yourself" program (https://optimizeyourself.me) is aimed at "ambitious creative professionals" in danger of burning out to "learn how to more effectively manage their time, energy and attention."
The Motion Picture Editors Guild was a TechFest sponsor, along with Adobe, Avid, Blackmagic, Evercast and NBCUniversal Studio Post. Other sponsors included AJA Video Systems, Boris FX, Netflix and Sohonet, as well as Master the Workflow, Screeners.com, Shift and Wipster.
(For an earlier post about Evercast's presentation, please click here.)
Adobe Premiere Pro principal strategic development manager Mike Kanfer started the session with clips of some of the movies and TV shows using Premiere Pro.
"In its 25-plus year evolution… Premiere Pro has come a long way, and is now in use by a wide spectrum of filmmakers, including some of the top directors and editors in Hollywood," says Kanfer. Lead quality engineer Matt Christensen and senior workflow specialist Karl Soule led the program.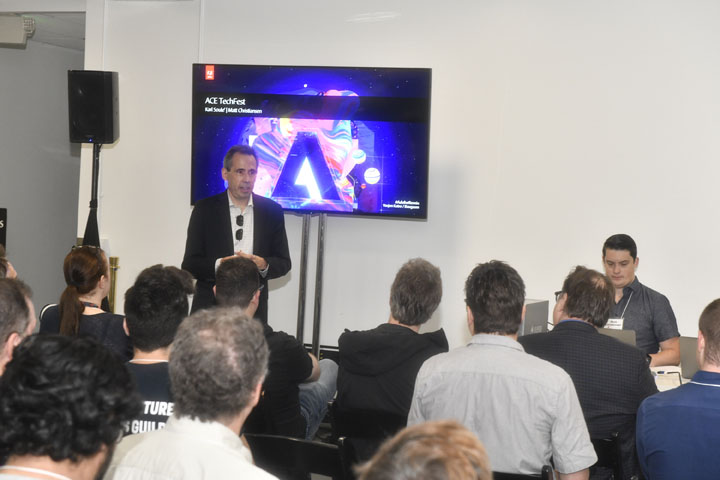 Soule told attendees that Adobe offers free half-day training for ACE members, in a 4K edit suite in its Santa Monica offices, and is putting together a set of online training videos for common workflows. Adobe is focusing on improving speed and performance, Christensen says, to help editors focus on the accelerating amount of content and number of deliverables.
"We want to try and utilize AI and machine learning to do away with the mundane tasks and keep you in the groove of telling a story," he says. The two trainers pointed to Adobe Sensei, which focuses on machine learning and artificial intelligence, cloud-based and in-app technologies.
For Blackmagic Design, senior director of marketing Paul Saccone brought on a crew to show off the company's multi-user collaboration systems, dubbed MultiView editing, with built-in chat. The three creatives demonstrated how they can all work on clips in the timeline at the same time.
Multiple Cooks in the Kitchen
"Editors need to move things around, so there is only one editor at a time," says Saccone. "But while the editor is in there, the visual effects artist and colorist can add effects or color the clips." He also pointed out yellow badges. "Those are all shots the colorist has worked on and the editor can accept the changes for every clip," he says.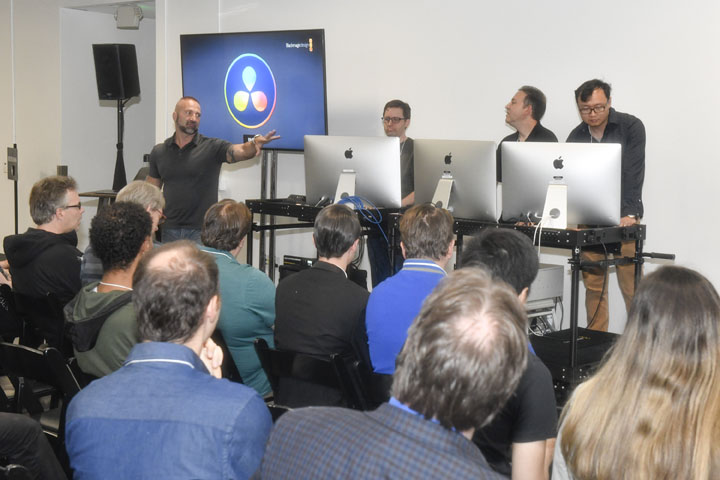 The Blackmagic team also showed how to do a quick export of a sequence to Frame.io, the company's remote review-and-approval platform. "Once it's uploaded to the server, the editor can see it on his laptop and comment," Saccone continues. Asking for a show of hands, several attendees in the audience indicated that they already use Frame.io. "The really cool thing about this is that it automatically generates proxies, and I can leave notes," he adds. "Editors, colorists, visual effects people can keep working, getting the notes they need in real time. This is the Holy Grail of post-production."
During the Avid session, product solutions specialist Michael Krulik reported that Media Composer 2019.6 will be released June 20. "We're not changing the way you edit — mainly the way Media Composer looks," he says.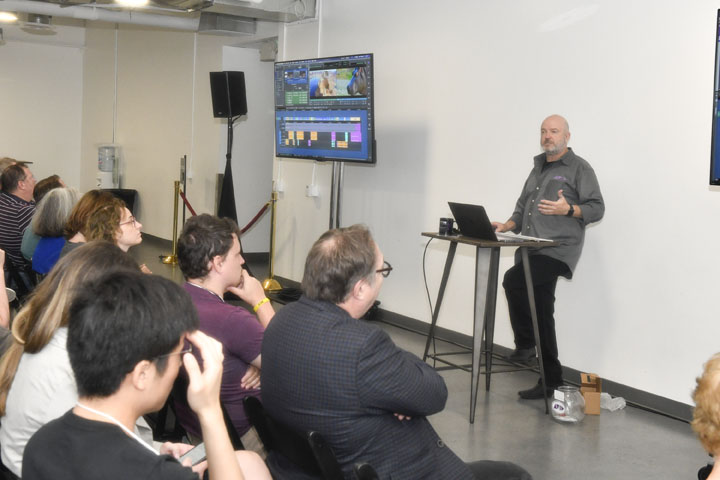 "Editors told us they don't like bins and windows on top of one another, so we designed a new paneled interface," Krulick continues. "You can spread everything over two or even three monitors, if you choose to. But you can float your bins and windows as well. The great thing is that you decide."
He demonstrated that the project window, with its list of bins, is now a sidebar in the Bin Container that the editor can close or open. "People said that when they closed a bin, they'd end up closing the project, and it broke their editing stride," Krulik explains. The bin icon has also changed from two strips of film hanging over a bin [going back to the days of analog film editing] to an open or closed drawer/bin icon. "We're looking to make it intuitive to new editors."
For two-monitor system, the most common edit bay setup, the editor can make the bin container as big as desired on the Bin Monitor with a customized paneled look.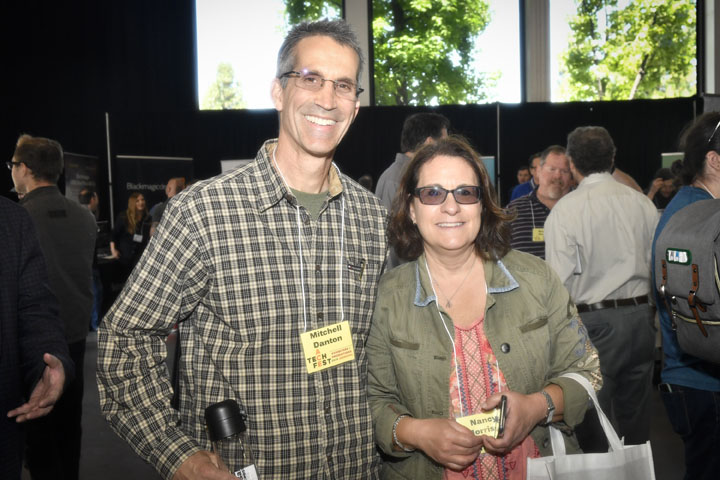 Krulik demonstrated his favorite new bin tool for showing clips in frame mode. "If you right-click in the bin, and select the new Bin Map, it gives you a landscape view of the bin," he says. "You can get a nice visual representation of the overall larger bin and then navigate visually to what you what to find." The smart tool has been removed from the left side of the timeline, to open up some of the real estate it used to take up. "A pain point was that the editor would mistakenly turn on or off the smart tool when selecting tracks," he adds. "Now it's mapped above your timeline or in keys. If you right click, you can enable or disable which smart tool you want."
And Avid also had a special surprise: The company brought back the previously discontinued weightlifter icon, which "lifts your clips."
The change met with approval from attendees. #ACETechFest