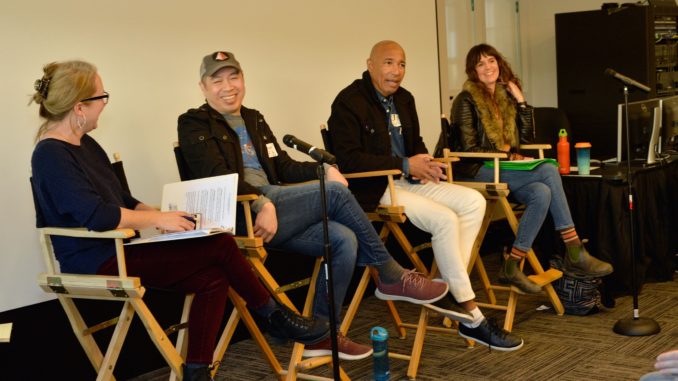 by Molly Shock
Luyen Vu, ACE, has a special weapon in the edit bay: His dog, Doyner.
Vu sometimes brings his pup to work, and not just because he loves canine company. The need to take the dog for walks ensures that Vu, who's edited "The Right Stuff" and "American Crime," gets the stress-busting breaks he needs, too.
This was just one of the tips emerging editors got at "Bumped Up: The Leadership Workshop for New Editors," an MPEG workshop on November 24 that was sponsored by the Membership Outreach Committee.
Co-sponsored by MPEG and ACE, the workshop featured a panel of four experienced scripted editors who offered two hours' worth of advice to former Assistant Editors who had made the move to Editor, some as recently as in the past three weeks.
Spearheaded by Susan Vaill ACE ("Lodge 49", "Grey's Anatomy"), the goal of the workshop was to instill principles of leadership.
"We want new Editors to shift their perspective as they take on this new position, both as a department head and as one of the front-line creators of the project or show they are cutting," Vaill said.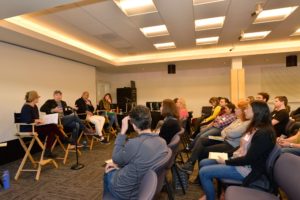 "We want to refresh them on our Union's working agreement and clarify the differences between the job classifications of Assistant Editor and Editor," she added.
Vaill, who is also a member of the Directors Guild of America, was inspired by a director orientation program that the DGA began offering in 2017. She hopes the Editors Guild workshop will similarly become a regular event that will be a safe space for blunt talk about real issues editors face.
"The DGA began their first time director orientation after I started directing at 'Grey's Anatomy,' but still I wished I could have participated even though I had three episodes under my belt," she said. "But they limit it to first-time directors only. I wanted to do this to provide support to editors in the early phase of their careers, not just on their very first job."
In addition to Vaill and Vu, the panel included Monty DeGraff, ACE ("The Man in the High Castle", "Narcos") and Lizzie Calhoun ("AJ & the Queen", "Nashville").
The audience consisted of 28 newly promoted editors, who heard discussion of a wide range of topics such as how to manage overtime when you are a newer (and sometimes slower) editor, time management and finding space for a mental break, and finding your voice in collaborating directly with the big power players on a show.
"You have to work your courage muscle to develop a sense of self-confidence," DeGraff advised. He underscored the importance of bearing the responsibility for setting the tone for how the editorial staff gets treated. "Our power gets eroded if we don't take a stand."
He also talked about having empathy for showrunners, who are under layers of stress and anxiety that sometimes manifest as anger or testiness in the cutting room. Vu discussed navigating conflicting notes from the studio and walking through them carefully with the showrunner.
Vaill suggested having a meeting at the start of the show with the AP and ask them questions like "What's it like working for this network?," or "If my assistant editor needs overtime, when do you need to know by?" She wants editors to foster a feeling that if the AP's sense you have their backs, they will be more likely to have yours. Vaill shared that producers and directors need to know they are in good hands, and to try to establish that early in the collaborative process.
Calhoun discussed some social media/time management apps she uses, as well as noting the time she starts cutting a scene and noting once she's done. She affectionately calls her system "procrastinizing", a blend of organizing and procrastinating that helps her feel like she has her work under control. Vu also discussed the importance of not writing "worked" on timecards, to ensure all hours get reported to the pension plan.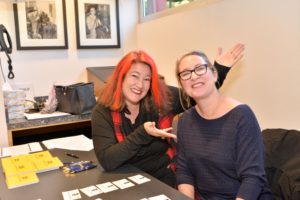 A lively Q&A session followed the nearly two-hour panel, along with a chance to problem solve a few scenarios that editors can face, such as "You know that your showrunner is about to be replaced, but they still insist on giving notes on your cut. How do you proceed?"
Attendees received a copy of the American Cinema Editors' "Best Practices Guide For Post Production" handbook, as well as a contact card with the Guild's Field Reps listed, and a reminder that they are responsible for setting the example and looking out for their team.
Attendees showed great enthusiasm for the chance to be coached by veterans and expressed an appreciation for the reassurance that they are not alone. Some expressed the desire to have the workshop open to all editors, not just new ones. As one anonymous note in the comments box put it: "As mandatory training, it is endlessly valuable."
The Membership Outreach Committee plans to make "Bumped Up" a regular workshop to be offered 2-3 times a year.
Molly Shock is Co-Chair of the Membership Outreach Committee of the Motion Picture Editors Guild.