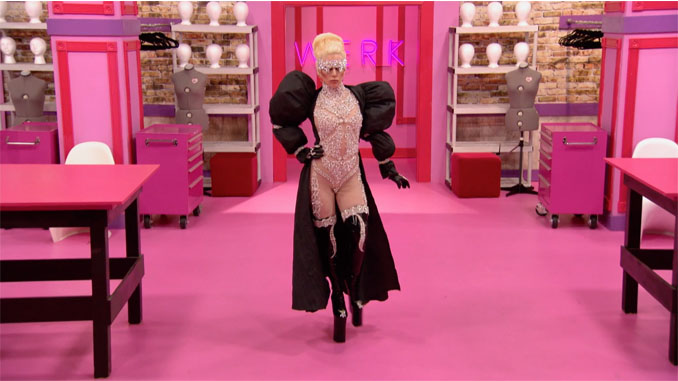 by Edward Landler
Adorned in every color out in the galaxy, gorgeous drag queens strutted the runway with pizzazz and style in the Editors Guild's Dede Allen Seminar Room, in clips on screen, though not in person, on a Saturday evening in early April. Members and their friends were in attendance for the first special event organized by the LGBTQ Steering Committee of the Guild's Diversity Committee: a panel discussion and networking mixer celebrating the beginning of Season 10 of RuPaul's Drag Race (2009-present).
Airing on Logo TV for its first eight seasons and on VH1 for Seasons 9 and 10, the reality series pits a cast of vivacious queens in competition for the title of America's Next Drag Superstar and $100,000 cash – with every contestant possessing "charisma, uniqueness, nerve and talent," as two-time Emmy Award-winning Outstanding Reality Host RuPaul says. Exhibiting the same attributes, the committee planned on creating a fun Saturday night show and delivered with a discussion punctuated by outrageous sequences from individual episodes and followed by a lively and congenial gathering with finger foods and cocktails.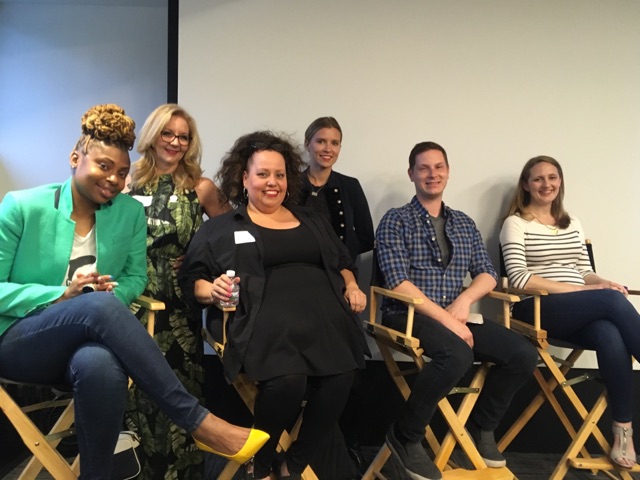 Committee chair Mary DeChambres, ACE, welcomed everyone to the program and introduced the panelists:
Picture editors Jamie Martin and Michael Roha, both 2017 Editing Emmy winners for the show's "Oh. My. Gaga!" episode (shared with editor John Lim);
Drag Race co-executive producers Michele Mills and Jacqueline Wilson, 2017 Emmy nominees (with RuPaul and others) for Outstanding Reality Competition Program; and,
Stand-up comedian, cartoonist and actor Mo Welch, creator of the animated TBS Digital series BLAIR (2018), who served as moderator.
"I'm an 'L.' The jacket and the walk gave it away," Welch said as she took her seat and asked the producers directly how they got their jobs.
Mills, who started out as a story producer in post and began at World of Wonder (Drag Race's production company) as a production supervisor, said, "I moved up to executive producer." Wilson, with a broad range of experience from on-air promotion to serialized docu-soaps and competition reality to makeover shows, summed it up with, "I got an agent."
Getting to the work of the show's small editing team – usually three or four editors and two or three assistant editors – Martin explained, "Some do the back end of the show, some the front; I edit the intros and set up the characters. But we all do everything and do it together."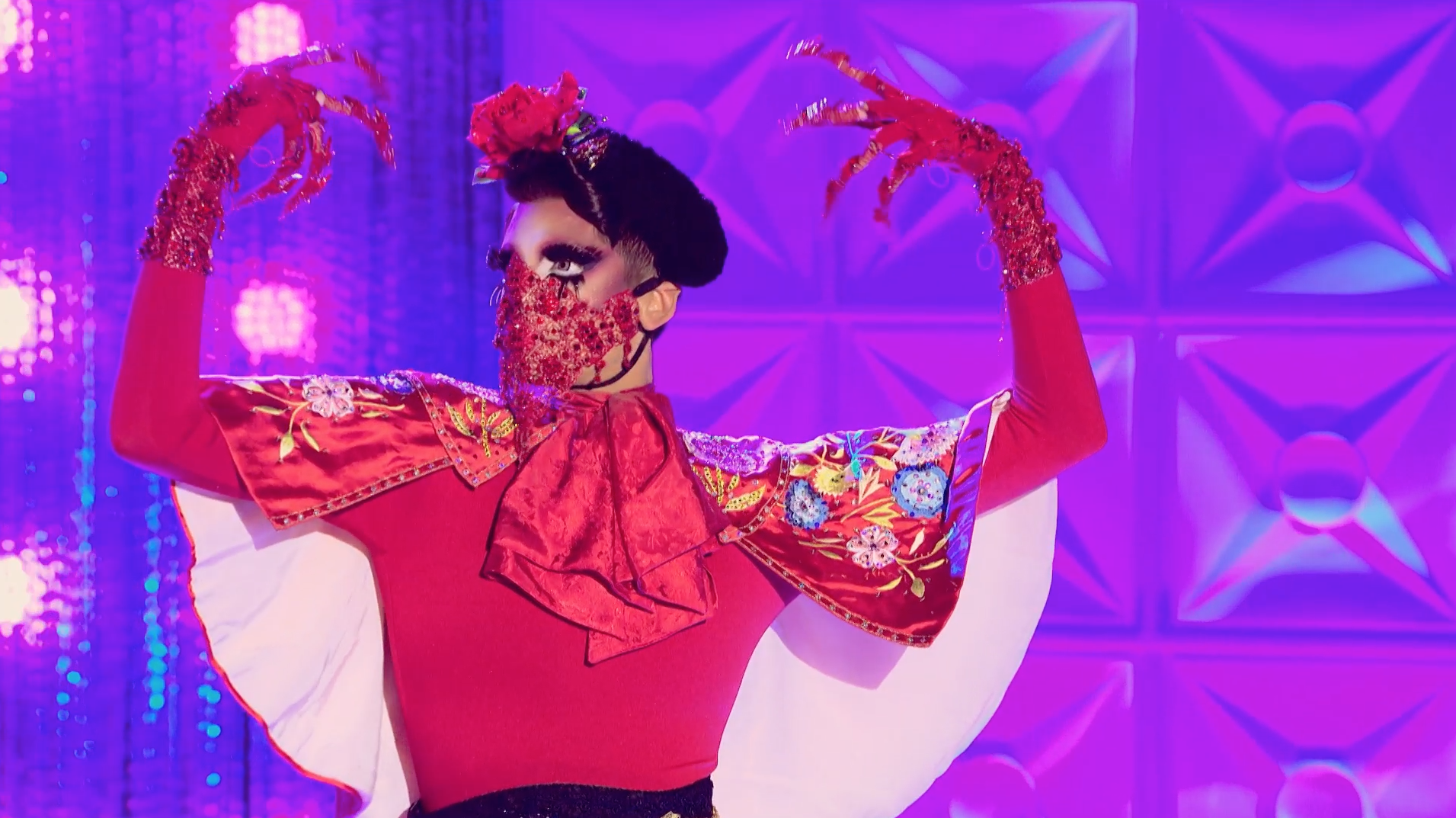 With that, the first set of clips was screened. Showing how the series has evolved, these clips compared Runway Walk sequences from Season One and Season 9, regaling the audience with the flamboyance of Nina Flowers, Alaska Thunderf**k, high-fashion clown figure Sasha Velour and Nina Bo'nina Brown, the first queen to walk the runway backwards.
The biggest thing that changed when they moved from Logo TV to VH1, Wilson explained, were the sets, which became more elaborate. She noted, "For the most part, the network people are really good partners."
Throughout the series, a main concern for the editors was maintaining a touch of humor in their cutting. Martin said, "We build, build, build – sometimes up to complete non-sequiturs. It's drag and you want to have fun with it in a competitive environment."
They also use the queen's "confessionals" as a way to build a narrative around the show. It gives a chance for the queens to show more of their personality out of drag. For example, Aquaria in season 10 was shown to be a young party animal who has been passionate about drag since they were a teenager, even going as far as admitting she used a New Jersey fake ID to get into drag clubs when she was as young as 17! The audience loves the drama the confessionals bring and the editors can use them to help structure the episodes.
The comedian moderator asked if the puns that riddled the show were written or improvised. "It's a mix," Wilson responded. "Some of them are doing lines written for the runway; sometimes it's just straight improvisation." Mills added, "'Bed, Bath and Beyoncé' in Season 5 came out of nowhere. The queens themselves are not scripted; they're pretty good – they're hams."
One of the show's most memorable guest hosts, Lady Gaga was the focus of the next set of clips. She introduces herself as Ronnie, a queen doing a Lady Gaga impersonation, and says, "How long does it take these queens to realize who I really am?"
This sequence clearly showed how the editors go overboard with the music. Martin said, "We're all in on the joke. Here we played a rip-off copy of a Gaga song." Roha continued, "The entire thing was improvised by Gaga. The only stuff that's written is announcing the challenge and the songs the queens write for themselves."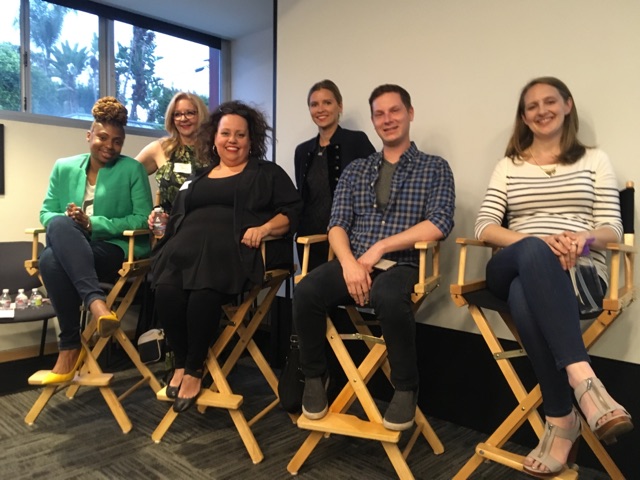 The most challenging scenes to edit are the serious ones. Roha recalled, "I worked on the scene where Trinity [K.Bonet) revealed to Bianca Del Rio that she was HIV-positive." Producer Mills said, "Wherever possible, we try to turn it back around to humor."
The next sequence screened dealt with another sensitive issue – Trinity Taylor describing having played at Orlando's Pulse nightclub, site of the horrific 2016 mass shooting: "That could have been me." Another queen adds, "We thought we had a safe place and this happens – an act of violence against LGBT people of color…not a small thing. We can't move backwards, we have to stay strong."
"I definitely did the last pass on that scene," Martin said. "You want to be as truthful as you can. That's hard."
Queried by the moderator about how serious issues come up, Mills affirmed that the queens make up the show: "We knew Trinity worked at the Pulse club. She was Miss Pulse, putting the topic out there and letting it flow naturally. We're trying to do the job and trying to take care of them. That's hard too."
As the discussion turned to the emotional bonds that the panelists had formed with cast members, producer Wilson pointed out, "Doing drag is therapeutic."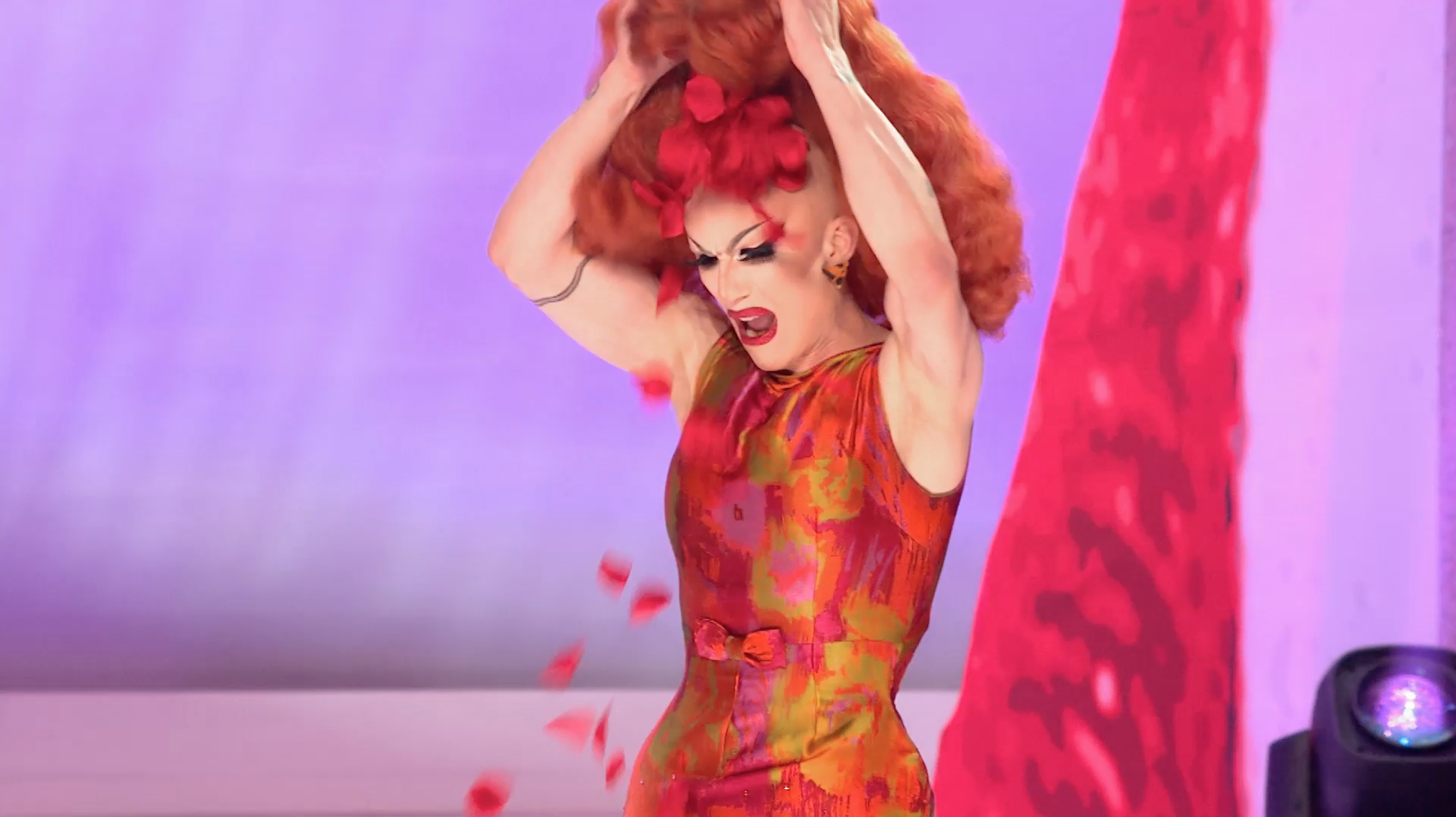 Then, one of the " most talked about scenes of Season 9″ was presented. In a final Lip Sync Challenge between frontrunner Shea Couleé and underdog Velour, the latter pulls up her wig to allow a flood of rose petals to pour on the stage.
Praising Roha for his editing of the scene, Mills said, "Everyone thought Shea would win but Sasha came out and murdered her. Michael focused on the queens in a way to keep it balanced between both of them."
Similarly, describing a technique she uses when a queen does something impressive, Martin offered, "The judges are 'oohing' and 'aahing' and I cut to the other competitors being really mediocre."
The last sequence screened was an over-the-top parody of the film What Ever Happened to Baby Jane? (1962), featuring two contestants as Bette Davis and Joan Crawford sharing a room in a senior citizens home.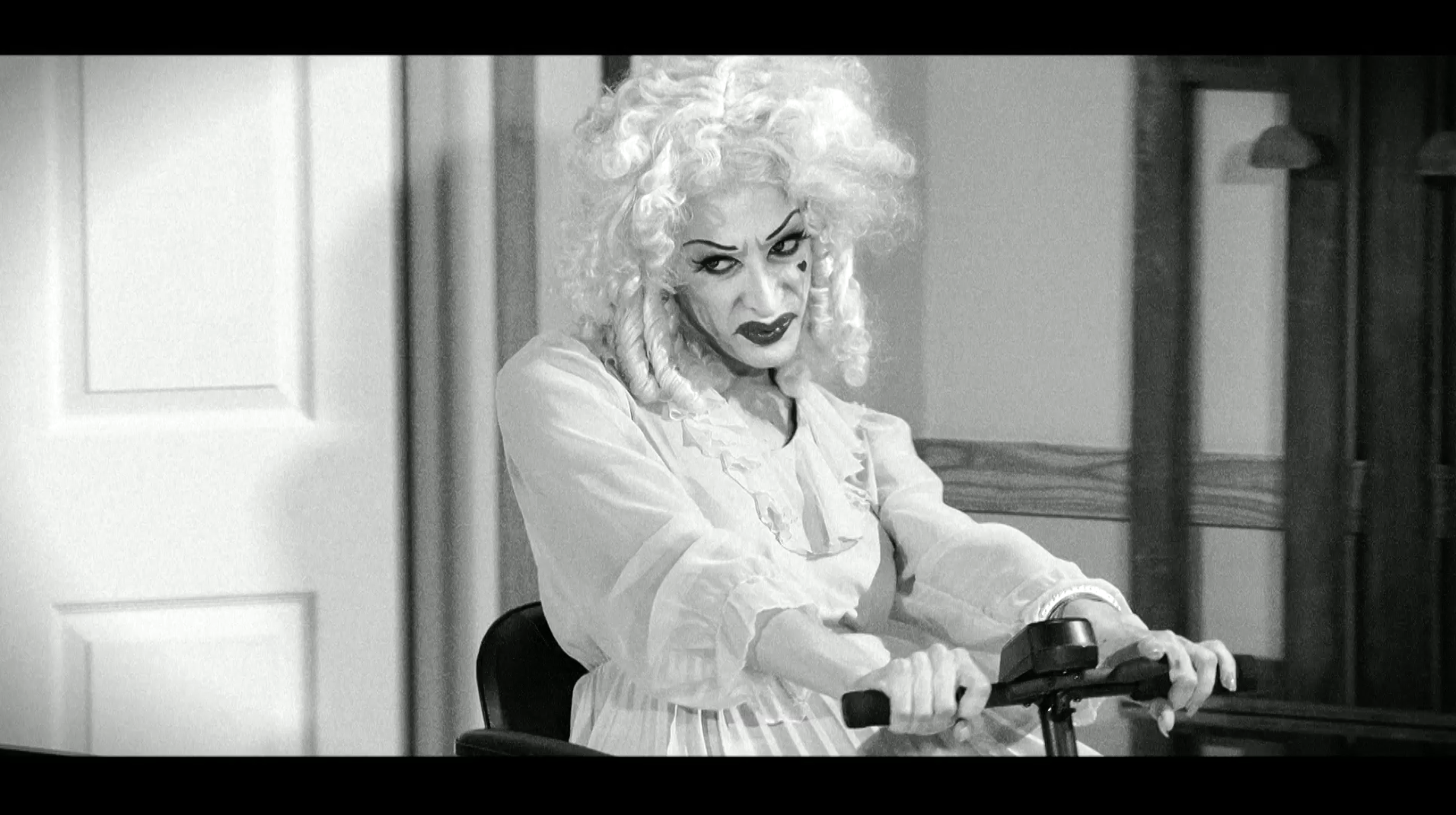 Admitting to enjoying cutting this and other "screen queens" take-offs, Martin said, "It's so much fun going into a different genre. We get to change up our style a lot." Roha offered, "I love working on the big finale performances, with lots of style."
Asked by Welch about what they looked for when hiring editors, Martin replied, "We're looking for people who are straightforward and queer-friendly, someone who can handle all emotions and who gets the comedy." Roha added, "As a team, we have a great sense of humor."
As for how often assistant editors on the show move up to being editors, Roha said, "I'm the only one that's done it."
Turning to Drag Race's style of introducing characters, this discussion really brought out the rapport among the panelists. Mills described how, in the first scene of every season, all the contestants are introduced as their drag characters. Martin smoothly segued in with, "Ninety percent of the time you'll see them as boys in the interviews," and Wilson rounded it off: "Some of what we cut out we post on our website."
Mills also noted that the first few episodes of each season can take up to a month and a half to cut, due to "judging what to include as the arcs of the season-long stories."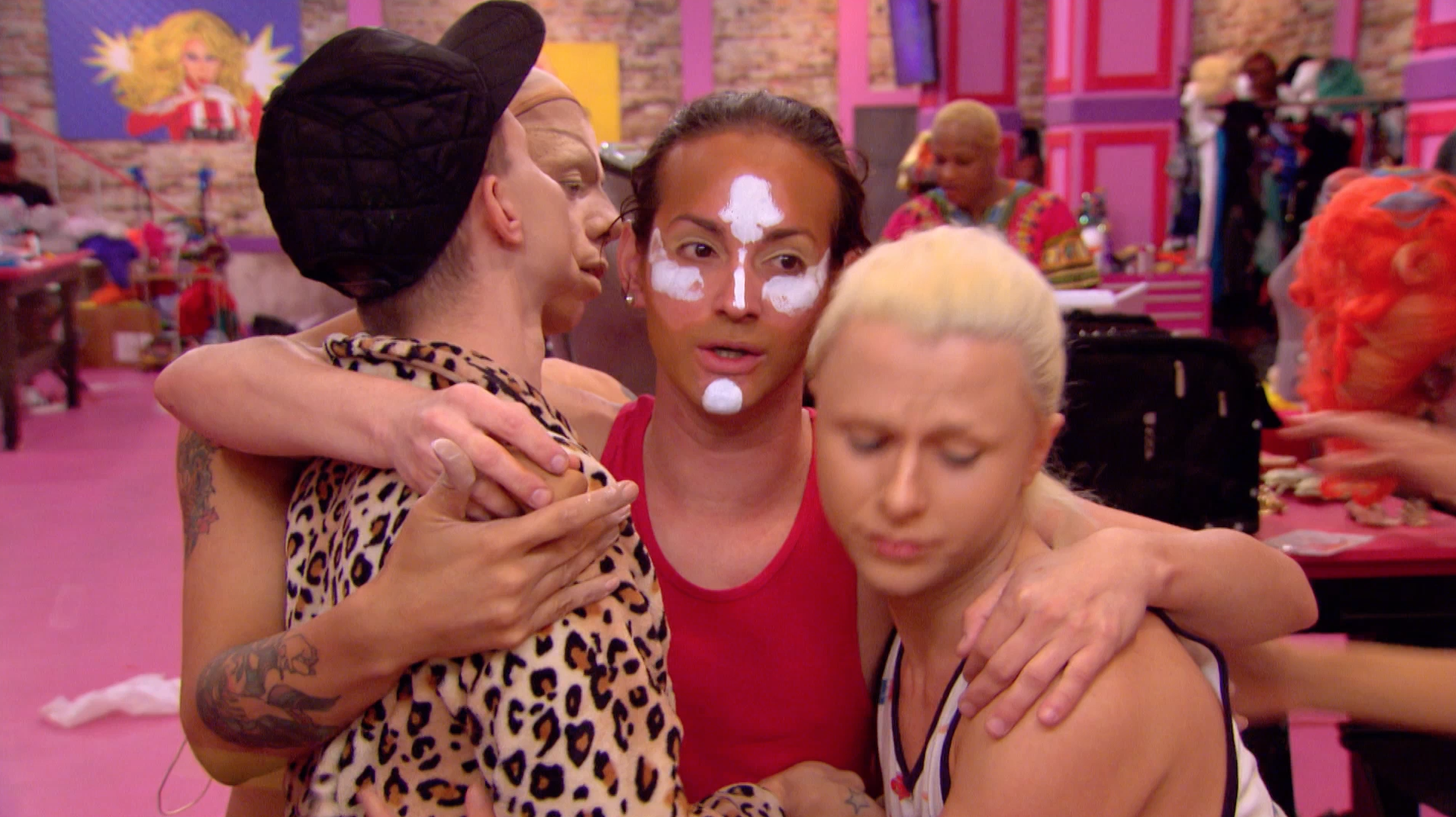 As the discussion neared its end, moderator Welch announced a "rapid-fire" round of questions, starting with, "Who's your favorite drag queen?" Wilson reeled off five, "Latrice Royale, how she maintains her identity; Bianca Del Rio, super-kind, super-grateful; Alyssa Edwards; Sasha Velour, just another lovely human; and Bob the Drag Queen, ambitious and driven and a great ambassador for the show."
Choosing Del Rio as well, Mills also pointed out, "The show's really helped so many in their careers." Martin picked Jujubee, for saying, "I like long walks on the beach, big d*cks and fried chicken."
Questioned about the use of specific catchphrases from show to show, Roha declared, "We all talk in catchphrases from the show." Martin exclaimed, "Oh, at all!" and Wilson responded, "I'm not holding back. Oh, at all!"
The discussion now broke into many relaxed conversations over food and drinks. Everyone who spoke with CineMontage appeared to find a personal connection to what was discussed.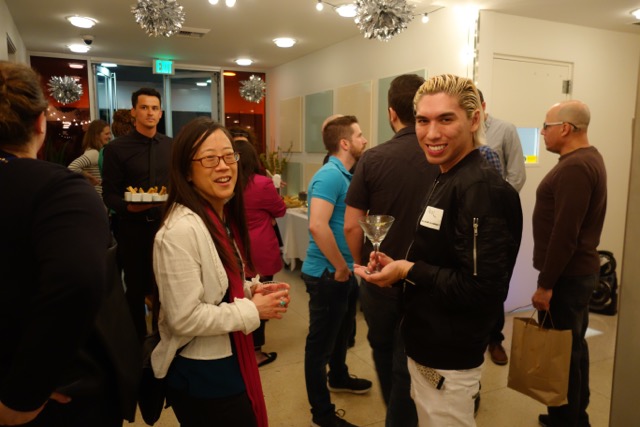 For picture editor Chris Kirkpatrick, it was "a perfect marriage of an iconic visual show and the Guild's first LGBTQ event. Everybody seems incredibly fun and cool to work with and so much like family. They have to be for such a small team to put such a complicated show together."
With a very direct connection to the show, logger Paul Sivertsen stated, "I love Drag Race. I work on it. I watch it all the time. Entertainment's number one, but they touch on topics in those poignant moments that are important for the world to see. It's more and more mainstream."
A different connection was brought up by mastering technician Dennis Pickett: "Tonight's event is the first time my film career and my drag career get to intersect… Really, it's just people working through piles of footage, trying to tell a story and do the best show they can."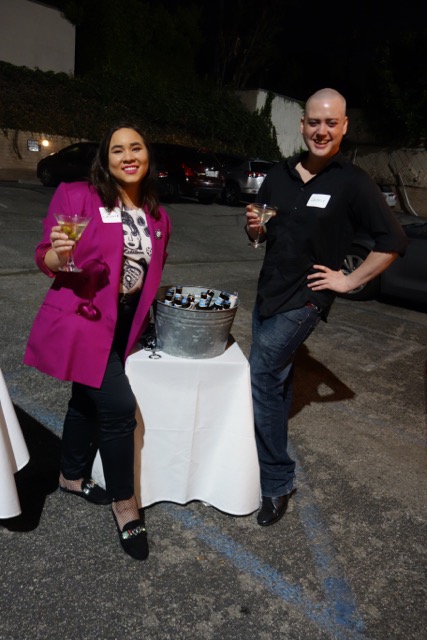 Assistant editor Celina Alvarez said, "I'm a fan of the show and its style of editing, and they really do care about their contestants and protecting their humanity. They're conscious of the issues involved."
Some things about the show surprised LGBTQ Committee member and assistant editor Diandra Kendall Luzon. She said, "I was amazed to hear that the editors on such a complex show didn't go into overtime. And the show was funnier than I thought it would be."
Agreeing with her fellow committee member about the humor, Nena Erb, ACE, also asserted, "A great program and a great turnout to kick off the LGBTQ Committee activities."
Encouraged by the night's success, DeChambres said, "This opened up for me what a roller coaster the show is, and the things that affect the LGBTQ community."
The current members of the LGBTQ Steering Committee are De Chambres, Erb, Luzon, Kevin Birou, Anna Gramlich and Lyric Ramsey. Those interested in joining the Committee should contact Diversity@EditorsGuild.com.