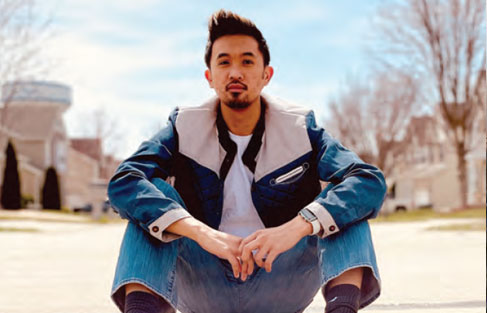 By Mark Chandley
As an adopted Filipino growing up in St. Louis, Mo., I didn't have a lot of evidence that people who looked like me worked in the business. I loved film and television as much as the next guy, but my true love was, and still is, video games. I fell in love with storytelling through games, which I believe is somewhat unique to my generation because I grew up with the medium as it matured narratively. If I wasn't out watching Cardinals baseball or camping and hiking with the Boy Scouts, I was plopped in front of a TV, hypnotized by expansive interactive universes like those in "Mass Effect," "Fallout," and "Red Dead Redemption."
From a young age, I wanted to work in criminal justice. It started as a desire to be a detective, then a lawyer, then a forensic psychologist. By high school, I was hyper-aware of terrorism on the global stage. The Boston Marathon bombings were forever seared into my mind, and ISIS was on the rise. This sparked my patriotism, so I went to Penn State to study counter-terrorism and intelligence analysis.
My college capstone course was a creative analysis of the potential threats and benefits that quantum computing and the singularity poses for society. I chose to write in narrative form and fell in love with writing, which hatched my dream of becoming a screenwriter.
As college concluded, I interviewed at many of the spooky three-letter government agencies and got far with the National Security Agency. That said, the security clearance process (polygraphs, background checks) can take up to a year to complete. I didn't want to put my life on hold any longer and realized my interest in counter-terrorism was partly because it looked cool on TV. Sure, I wanted to serve my country, but once confronted with what I wanted to do with my life, I took a leap of faith. I decided to pursue writing.
Luckily, I went viral for a joke GoFundMe campaign I created, which would supposedly free an entitled "Bachelor" contestant's nanny in 2017 (it's a whole other story), and I was able to use that to get my first job as a social-media assistant for a new unscripted/lifestyle production company.
I wore a lot of hats in this role. My job evolved into an office/set PA to associate producer. I had an itch for storytelling that wasn't being scratched by writing pieces to camera or voice-overs for B-roll. When I left unscripted, I took a day job in private investigations for insurance fraud to pay the bills. But to keep my foot in the industry, I also took an internship at Eclectic Pictures and learned the art of script-reading and coverage (the document that provides a summary, analysis and recommendation of literary material submitted to studios).
Script analysis came naturally to me due to my intelligence analysis background. Even though I wasn't analyzing terrorist attacks, motivations, or methodology, I used the skill set to break down plot, structure, and character. And loved doing it!
I took my samples and carved out a niche career in the world of freelance story analysis. I was fortunate to include the likes of HBO, Anonymous Content, and United Talent Agency as clients. I freelanced for many companies at once and read boatloads of material quickly, all to make a living. But generally, the freelance world is a dog-eat-dog world with criminally low rates. Suffice it to say, the burnout is real.
In 2018, I met my now friend and mentor Holly Sklar, the member-at-large who represents story analysts on the Local 700 Board, and learned there was a union that represented story analysts. This completely blew my mind. Since I was already interested in building a community of colleagues in the freelance story analyst world (there was none at the time), I teamed up with Holly to build what would become United Story Analysts — a safe space where analysts of all stripes, freelance and union, can discuss how to elevate working conditions of our craft.
After cutting my teeth in the freelance world, as well as a stint in the mailroom at United Talent Agency, I got an incredible, life-changing opportunity to work as an MPEG story analyst at Warner Bros. Pictures where I worked on the development of a handful of feature film projects from iconic and beloved franchises to some cool genre pieces — I'm just waiting for the day that any of them see the light of day! Other jobs followed, including time served as a development exec, and in 2021, I returned to story analysis, this time at Sony Pictures. I count myself lucky every single day to be surrounded by stories and people who love movies. I can't emphasize enough what being in Local 700 has done for me. As a 20-something kid, a living wage, healthcare, and pension give me a stable life in this town. For this, I'm forever grateful.
---
Mark Chandley is a story analyst working at Sony Pictures. When he's not knee-deep in scripts, he's hiking around beautiful California or binge-playing the latest video game. Mark lives in Los Angeles and can be reached at mchandley2@gmail.com.