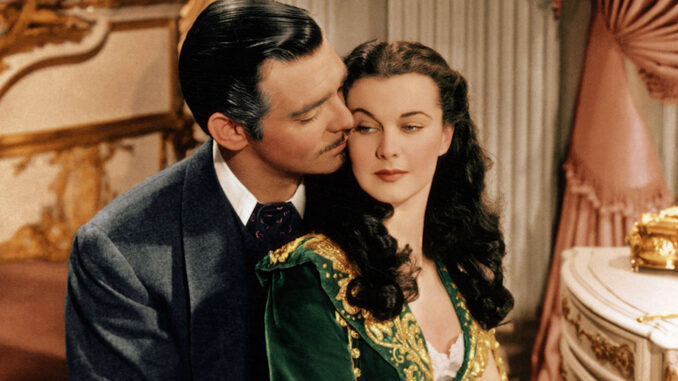 by Kevin Lewis
Why David O. Selznick feared a tombstone epitaph as the man who made Gone with the Wind (1939) is mysterious. This film was his Tara as much as it was Miss Scarlett's. His prior producing career, in retrospect, contains bits and pieces of that landmark film,and everything after was a reference to GWTW. He was also obsessed with his second wife, actress Jennifer Jones, whom he remolded into another Scarlett O'Hara.
Selznick constructed the film like an architect; it was as sturdy as Tara. In other producing hands, it could have become a typical assembly-line Hollywood block- buster, eventually sold to television as a package with the rest of Hollywood's past. Instead, GWTW became the only movie of its time––other than Disney's animated films––to be re-released for almost 30 years on a roughly seven-year cycle at first- run theatres, where it regularly out- grossed the new movies. The most celebrated film in history, as well as the all-time box-office champion, GWTW's 70th anniversary will be further honored with a restored and remastered release on Warner Bros. DVD and Blu-ray this November.
Because he was an independent producer, only releasing two or three movies a year, Selznick could supervise every detail and department: costume, art design, cinematography, performance, direction and script. As a producer first for RKO and then MGM, and second-generation Hollywood royalty (father Lewis J. Selznick, father-in-law Louis B. Mayer) he specialized in meticulous and accurate adaptations of 19th-century literature, such as Little Women (1933), A Tale of Two Cities (1935) and David Copperfield (1935) and, for his own Selznick International Pictures, Little Lord Fauntleroy(1936),ThePrisoner of Zenda (1937) and The Adventures of TomSawyer(1938).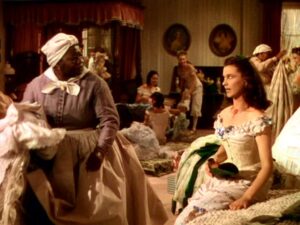 It was inevitable that Selznick would produce Gone with the Wind, from the 1936 best seller about the Civil War and Reconstruction that used Vanity Fair as a template, and Rebecca (1940), which was inspired by Jane Eyre. For these productions, he won consecutive Best Picture Academy Awards––a major achievement for an in dependent producer in the studio era. Among his subsequent epics, Since You Went Away (1944) is a combination of the story elements of both Little Women and GWTW, and Duel in the Sun (1946) is an oversexed GWTW.
Selznick was painstaking in his adaptation from book to film, even accepting the construction problems in the Margaret Mitchell novel, because, frankly, he was unclear what elements made it a best seller. And indeed, GWTW unfolds like a novel. The film is Exhibit A of the signature Hollywood editorial style––invisible editing––which advances the narrative seamlessly and concentrates on performance.
The producer eschewed the screen personas of his stars. Clark Gable played the frustrated lover and Olivia de Havilland's quiet strength as Melanie began her stardom after thankless ingénue roles. He cast Vivien Leigh because she had no discernible screen image and could deliver a complex performance encompassing prissy snobbism, vulgarity, hypocrisy and ruthlessness.
Because he was an independent producer, Selznick had his pick of the various studios' character actors and cast these familiar beloved actors in one film. The large cast neither intruded upon nor out- shone the leads, thus making a 222- minute film––a then unheard-of theatrical running time––a smooth-viewing experience. Hattie McDaniel as Mammy richly deserved her Academy Award for Best SupportingActress (the film won eight Oscars in all), the first African-American to win––perhaps a gesture by progressive voters in Hollywood to protest Jim Crow America and American fascists of the era.
In many ways, GWTW looks back to the beginnings of the industry, with Selznick's inspiration from D.W. Griffith's The Birth of a Nation (1915), the first blockbuster and also about the Civil War. But it also anticipated the rise of independent producers after World War II, when the government forced the major studios (who had con- trolled the industry) to divest themselves of their magic ingredient: owned-and- operated theatre chains.
Selznick worked closely with editor Hal C. Kern and trusted his instincts. Kern must have exerted some psychological power over the producer because Selznick was a relentless micromanager of all aspects of his productions. Indeed, he had hired several directors for the film: George Cukor (fired), Sam Wood (uncredited) and Victor Fleming (credited). But Kern was his editor, along with James E. Newcom, throughout the production and both won Oscars for their work. Over 40 hours of film were eventually edited down to the 222 minutes of the release.
Kern refused to divulge to Selznick where the sneak preview was held on September 9, 1939, in Riverside, California, because "David would have told all his friends about it," wrote Aljean Harmetz in On the Road to Tara: The Making of Gone with the Wind (1996). In reality, Kern probably needed to recoup his energies and could no longer deal with a micromanager and Benzedrine addict who constantly re- thought his decisions. With Selznick, Kern and Newcom "tore the film apart every morning and stitched it together again before they staggered out of the cutting room at 2:00 a.m.," according to Harmetz. During the screening, Selznick wrote copious shot-by-shot notes. The next three months before the December 15 premiere in Atlanta, Georgia (the location of the story) were spent on re-takes of scenes, re- dubbing of dialogue and special effects changes. An hour of footage was cut.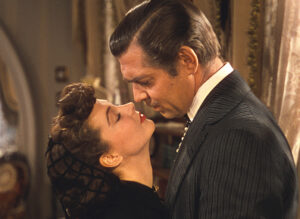 What was in those 40 hours of footage? Rumors persisted over the years about heavily edited versions. Film historian and screenwriter Gavin Lambert was one of the few chroniclers of the film who sought out Kern on the editing process for his book GWTW: The Making of "Gone with the Wind." Kern dispelled myths of longer versions of the film with cut scenes. Most of the excised footage consisted of variations of scenes and camera angles, redundant dialogue and unnecessary extensions of scenes.
Ironically, a nervous Selznick originally tried to save money during the production by streamlining the production. In a May 19, 1939 memo, he stated that he wanted Kern on the set at all times in an absurd co- direction scenario with Fleming. Boom shots reduced the number of setups in a day because of the enormous time involved setting up, lighting and shooting the scene. Selznick thought that panning the camera and using dollies would reduce the need for interruptions in scenes to set up boom shots. However, one innovative boom shot, using a mammoth crane beyond its usual capacity, started at the ground level with a medium shot of Scarlett moving through the wounded soldiers at the Atlanta train station, and rose to reveal thousands of wounded soldiers. This is one of the most famous shots in film history.
Selznick also wanted Kern to tell Fleming to film scenes with two-shots rather than individual shots for the over- the-shoulder reactions. Most of the production was storyboarded by Oscar-win- ning art director William Cameron Menzies, and Kern would show these storyboards to Fleming. So, the decisions of the editor, cinematographer and director were really those of Menzies and Selznick.
Selznick proudly related Fleming's comment to friends––"David not only produced the picture; he wrote it and he half- directed it."––not catching the sarcasm. Despite winning the Best Director Academy Award for GWTW, Fleming demonstrated his own "Frankly, my dear, I don't give a damn" attitude by refusing to attend the premieres of the film.
The French may not agree, but some- times the auteur is the producer.