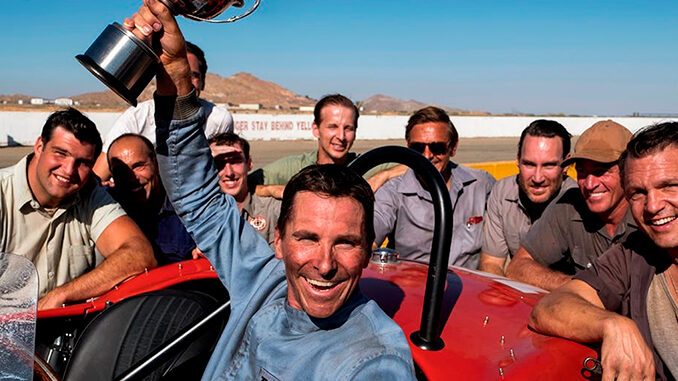 by Mel Lambert
In "Ford v Ferrari," the cars are characters. And those characters make some very distinctive noises.
The new film from Fox is an action drama that follows American car designer Carroll Shelby (Matt Damon) and driver Ken Miles (Christian Bale) as they battle corporate interference, the laws of physics and their own personal demons to build a remarkable race car for Ford to challenge Ferrari's dominance at the French "24 Hours of Le Mans" in 1966.
"From a first reading of the script," said supervising sound editor Don Sylvester, "I immediately knew how the 'Ford v Ferrari' should sound. Having worked with director James Mangold for the past 15 years – our first collaboration was 'Walk the Line' (2005) – I knew that sound features strongly in all of his motion pictures."
"The cars became characters in their own right – big and bold and real," Sylvester added. "We styled the V-8 Ford GT40 and the V-12 Ferrari 330-P3, so that the audience could instantly tell the difference."
That mission required a good deal of legwork. And it also required a big team: dialog/music re-recording mixer Paul Massey and FX re-recording mixer/sound designer David Giammarco, together with sound designer Jay Wilkinson, FX editor Eric Norris, MPSE, music editor Ted Caplan, dialogue editor Polly McKinnon, Foley supervisor Anna MacKenzie, assistant editor Matt "Smokey" Cloud and FX recordist John Fasal, MPSE.
The editorial team found a privately built GT40 replica of mid-'60s vintage in Ohio.
"Jay [Wilkinson] and I – together with John Fasal – went to secure what he could in the two days we had access to the car, carefully recording myriad sounds both inside and outside the vehicle," Sylvester said. It Atlanta, they also found a 1959 Ferrari 250 Testarossa with a V-12 engine and exhaust noises very close to the P3 that raced at Le Mans. "Because of noise restrictions in Georgia, we had to take the Testarossa to Florida for the high-speed race sequences," he added.
The supervising sound editor was brought onto the project before production at the previsualization stage, and was able to develop a rough effects track for a first assembly by picture editors Mike McCusker, ACE, and Andrew Buckland.
"To provide landscapes for their edits, I emphasized the growl and 'heft' of the race cars, with low-end and 'gravitas' to stress these big muscle machines," Sylvester explained. "We were all on the same page from day one."
Fasal in August 2018 traveled to the Laguna Seca Raceway in Salinas, Calif., to record a Shelby Cobra in a racing situation.
"We focused on heats featuring period-correct cars, ranging from close-up starting and leaving the pits, to the distant drone of constant racing," Fasal said. And then came the post-recording job of mixing and sometimes augmenting the sounds.
"The GT40's 427 cubic inch V8 and the Ferrari's 12-cylinder engine, mated to their individual exhaust systems, each had their own distinct and unique sound qualities," said Giammarco, one of two sound designers on the film. "At high rpms, the Ferraris were higher in pitch than the Fords, and had a bit more of a scream and whine to them. The GT40 has a beefier sounding engine, with more low-end roar."
The natural differences between the cars was then exaggerated with equalization, pitch changing, sub-harmonic frequency support, and blended mic recordings.
"This [combination] gave the cars their own voice even as they raced right alongside one another. Both were beasts!" Giammarco said.
After all, it's a movie.
"As we all know, even when you go for reality and record classic cars for a film," Sylvester said, "there are still dramatic moments that, for lack of a better term, are unreal – they're theatrical in nature. That's why there were occasions when we had to augment our tracks. I don't think you'll pick out the spaceships, rockets and other unworldly elements we mixed into the cars. There's also the occasional train, metal stress from ships, some thunder and ferocious winds."
THAT VISCERAL FEELING
The GT40 recordings comprised 16 channels, "including an Ambisonic mic in the very tight interior, multiple exhaust and engine mics, and even a contact mic on the transaxle," Fasal added. "The idea was to isolate as many individual engine, exhaust and mechanical sounds as possible, along with an immersive interior perspective, in order to afford Jay [Wilkinson] the most possible options while cutting race sequences. Our greatest challenge is always to capture that visceral exciting feeling that being in and around these cars provides."
Norris, the effects editor, recalls that he was brought on relatively late in the editorial process. "My first day was the first day of the first temp, with 70%-80% of the work already done by then," he says. The SFX track layout alone included eight hard FX tracks, one Design/ Whoosh, nine Car Engine, three Tire, and Suspension/Crash pre-dubs, for a total of 24.
"We wanted to be as accurate as possible with the car sounds," Norris said, "but needed to balance that with [the director's] desire for a sound that supported the story, irrespective of historical accuracy."
In some ways, all the demands of the car sounds put extra pressure on dialogue editorial, too.
"There was a lot of ADR," Sylvester said. "Much of the production dialogue had been recorded with loud engines running in the background. And in every case they were the wrong engines. For example, some of the picture cars had Chevy motors. So a great deal of that material had to be looped." Sylvester edited the ADR tracks while McKinnon oversaw conventional dialogue editorial.
"In our initial conversations, Don made it clear that even though it was a film about racing cars, it is still very much a human story, and that relationships between the characters are central," McKinnon said. "To keep those performances, we worked very hard to preserve as much of the production dialogue as we could – despite everything being full of rumbly car noise.
"Although there was a lot of ADR, we presented all of the original production dialogue to the stage too, and went to a lot of effort to clean it all up," she said. "Jim [Mangold, director] likes to be able to hear both options, and sometimes makes the choice in the final mix. I did a lot of work with iZotope [clean-up software] during the track-laying stage, and then Paul [Massey, dialogue mixer] did an amazing job on the pre-dubs, cleaning up some pretty gnarly dialogue and getting it to sing. We ended up using a significant amount of the production sound."
Extensive Foley recordings were needed, too, "to underscore the reality of the different race tracks, o ces, and car interiors," Sylvester explained.
"It was such a fun challenge doing Foley on a Jim Mangold movie," MacKenzie, the Foley supervisor, said, "because he pays so much attention to it as an integral part of the storytelling. There were so many scenes where the Foley really got to contribute: building and testing the cars at Ferrari and Ford; the [Carrol] Shelby and Ken Miles shops; plus the pit stops at Daytona and Le Mans. But it also provided additional detail to car crashes, and the sense of hand-built machines being pushed to the limit, with rattles and creaks."
CUE THE MUSIC
With all that metal crashing and those engines roaring, music became a vital way to stitch the narrative together. "From the beginning of 'Ford v Ferrari,' Don and I strategized about how we could create space for both the cars and the music to support each other," said Caplan, the music editor.
"In many ways, since the cars were another instrument in the orchestra, we never felt that the two elements were in competition with each other, but rather playing different parts of the same tune. The biggest challenge was during the Le Mans race; we spent a lot of time trying to nd a sound that was playful, intimate and intense, and did everything we could to stay away from a score that felt overly sentimental."
Early in the film, Caplan used a small jazz ensemble – upright bass, piano, guitar and drums – to set the tone for the Ford and Ferrari factories, while recording cues from composers Marco Beltrami and Buck Sanders.
"With a slight nod to [composer] Lalo Schifrin, the arrangement gives those sections an air of Sixties 'daytime drinking,' corporate intrigue. Later in the film, the Daytona race is the best example of how all the styles come together. It begins with The Who-inspired organ motif underscoring [Carroll] Shelby's planning. Next it launches into a propulsive rhythm section – acoustic and fuzz guitars, drums, percussion and electric bass – when [Ken] Miles is finally loose. And then, after the race comes to a grand thematic brass section finish, a solo pedal steel guitar wafts in like a relieved exhale. The unique blend adds so much character to the film."
With all the elements in place, a six-week Native Atmos dub started in May 2019, with print mastering in June – just in time for the summer film festival season.
Working at Fox Studios' Neve DFC console and Avid S6 control surface, Massey and Giammarco replayed, respectively, music, dialogue and ADR from one high-capacity Pro Tools server and FX, BGs plus Foley from another.
With "Ford v Ferrari" marking the sixth feature film on which he has worked with James Mangold, Massey was aware of what the sound-savvy director would be looking for.
"Jim is very appreciative of sound," Massey said, "and allows us to experiment, especially with the music tracks, ordering up diferent ideas. He will often describe a mood or emotion that he wants the audience to feel, giving me key words to pick up on. Marco Beltrami's and Buck Sanders' music was perfect; Jim likes a raw and gritty quality in his scores; not too polished – think Rolling Stones, not Steely Dan."
Working in his remix facility, Massey prepared 14 5.1-channel Music pre-dubs and eight, 8-channel Dialogue, ADR, Group, and Race Announcer pre-dubs.
"I received 24 production dialogue tracks from Polly [McKinnon], together with multiple ADR and Group tracks," the re-recording mixer said. "We ended up using a lot of the production dialogue instead of ADR in the final mix once it was balanced against the music and FX."
With the Atmos mix evolving during May and June, and final VFX sequences continually arriving on the stage, "we spent time refining our balances," Massey added. "Dave [Giammarco] and I have worked together on so many films now that we have our own instinctive shorthand. That makes the process a lot of fun, and so the final passes went very smoothly."
Giammarco utilized four 16-track pre-dubs for the Ford GT40 and four for the Ferrari P3, with interior and exterior sounds.
"I also had three additional Vehicle pre-dubs, six Practical FX pre-dubs and three Design FX pre-dubs, plus three pre-dubs for individual tires, suspension, and three Crash pre-dubs," the FX mixer adds. "In addition to FX, there were six 16-track Background pre-dubs. I had stadium crowd effects on my side, while Paul [Massey] had the PA sounds with Group ADR. I isolated Atmos objects that I wanted to place in the surrounds and overheads, including car-cockpit interiors, suspension rattles, rain on the cars, buffeting winds and crowds."
The result is an action-filled period film that maximized the team effort that produced all those larger- than-life sounds.
"We had great sound recordings from the star cars, with plenty of spatial placement and microphone choices, and incredible FX and Foley editorial work," Giammarco said.
"I enjoy working on films with exciting action scenes that also need to play emotionally without the audience being overwhelmed with sound," Massey concludes. "We elected to take the audience on a powerful ride while telling this story; I'm proud that we achieved that without deafening them." ■