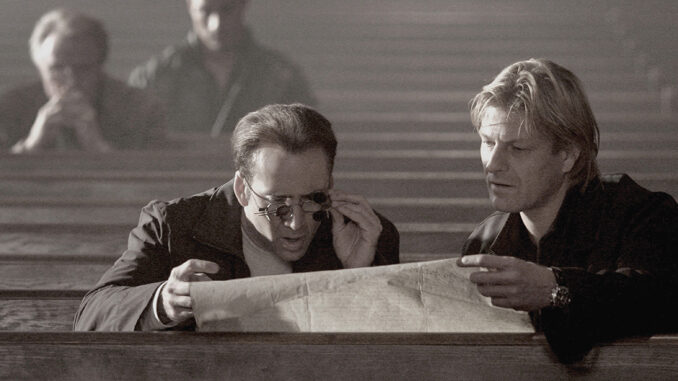 by Andy Thomas
Movies — or films, as I would call them when I was growing up in the United Kingdom — have always been a huge part of my life. My father is a massive movie buff; if I ever have a question like, "Who was the composer on the original Thomas Crown Affair?" or "Who did the cinematography on Spartacus?," he is my go-to guy. To this day, he's quicker than Google!
What resulted was a wonderful "moving picture spectacle" of a childhood where I discovered that films were — and always will be — a passion of mine. It was this childhood influenced by films that led me to pursue a career in the industry and as soon as I was old enough to hold a camera. I was shooting whatever I could, from making short films with friends to shooting a commercial for Dad's Saab!
To continue my dream of working in the industry, I studied film at a university in Canterbury, UK, where I was introduced to 16mm Arriflex cameras, six-plate Steenbecks and some software called Avid. After these first experiences with Avid, it was pretty evident to me what I wanted to pursue as a specific career path: Editing. There was something about crafting an entertaining story to which I had an unexplainable attachment.
After moving to London, I was lucky enough to find a production assistant job that fortunately led me to editing breakfast television within three years of graduating. I loved it — every single one of my 4:00 a.m. starts and quick turn-around segments. I just loved being part of the storytelling process.
While in London, I also discovered something (or should I say someone) else. A girl came into my life who changed it for good. Pip Wells and I met at a friend's birthday party and hit it off immediately. Following a whirlwind romance, the opportunity to move to the United States and namely New York City came up. It was an offer that we couldn't refuse and we jumped into the adventure together 100 percent.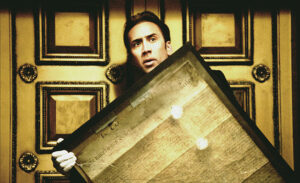 It was in our wonderful (and tiny!) apartment in Brooklyn that we had our first experience of National Treasure. It was a chilly day outside — as it was slowly moving into winter — the perfect weather for us to curl up on the sofa and watch a film. Little did we know what we were about to experience…
Benjamin Franklin Gates (Nicolas Cage) is an archeologist who is from the eighth generation of a family whose legend has it that George Washington, Thomas Jefferson and Benjamin Franklin hid a massive cache of treasure during the waning days of the Revolutionary War and left clues as to its whereabouts in the original drafts of the Constitution and the Declaration of Independence. With no firm proof that it actually exists, Gates sets out to crack the code that will lead him to the fortune, which, as a member of the Gates clan, he is sworn to protect from wrongdoers.
My girlfriend hated it; I loved it. She couldn't fathom the far-fetched storyline or accept that someone would take a hairdryer to the back of the Declaration of Independence. Equally, she couldn't understand why I loved it so much or why I couldn't stop laughing throughout the film.
I was also confused why I had been laughing so much; I certainly wasn't expecting it to be a comedy! However within the first 15 minutes of the film, the comedy is evident in the perfectly executed editing by William Goldenberg, ACE. One example of the great comic timing is when one of the main characters of the film, Riley, discovers a skeleton in a bunk bed as he and some of his fellow treasure hunters are exploring the hold of an abandoned ship. He is so shocked by his discovery that he freaks out and falls to the floor! This is when the picture cuts to a shot of Cage staring at the ridiculousness before him and, after the perfect amount of a pause, let's out the line: "You handled that well." He is totally deadpan and has me in stitches every time I see it. There are wonderful comedy nuggets like this throughout the film and it makes it such an enjoyable ride with characters Gates, Abigail and Riley on a truly fantastical adventure.
Watching this film is always a great reality check for me. I know that I always strive for that perfect edit, that perfect pace, that perfect story. But watching National Treasure always makes me remember that on top of those perfect edits, pacing and stories, the entertainment factor that allows the audience to escape is also a huge part of filmmaking. National Treasure is on television more regularly than my (now) fiancé would like, but she has come to the realization — after five-plus years — that this is just one guilty pleasure I just can't pass up.