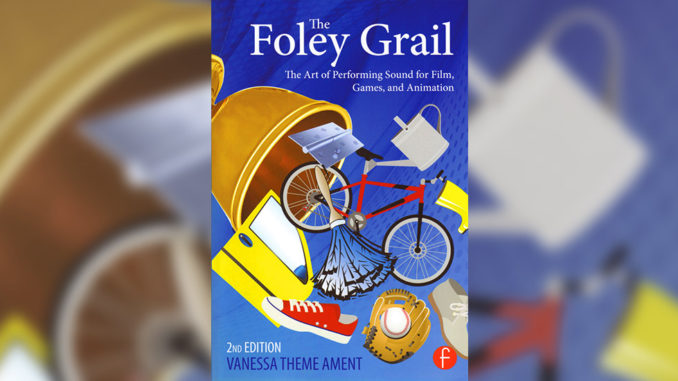 By Mel Lambert
Although it is often considered something of a specialist art form, an appreciation of the intricacies of Foley walking can be extremely useful for any post professional working in film and TV. And there is no better source of such insider information than this eminently readable book from a Foley artist and writer who knows from practical experience of what she speaks. Vanessa Theme Ament's revised second edition of The Foley Grail: The Art of Performing Sound for Film, Games and Animation builds on the highly detailed work of her initial offering. She adds useful new material on specific techniques applicable to games, TV and animation, in addition to offering a number of highly useful "sound recipes" that can be used to enhance a post project in a number of highly imaginative ways.
The book is sized to fit easily into a
 pocket or satchel, and covers the material 
in seven easy-to-follow sections. Section
 1 explores the art of Foley, followed by
 chapters that cover the myriad ways in 
which Hollywood-style Foley artists 
work on today's high-energy stages. As
 a professional Foley artist — and former
 Local 700 member — the author's credits 
include innovative work on Platoon, Clue, Predator, Die Hard, Dirty Rotten Scoundrels, Noises Off and Beauty and the Beast, as well as a long list of television shows. She just completed a PhD at Georgia State University; her dissertation examines how the cultural geography of key cities influenced the transition from analog to digital sound.
Early chapters of this well-illustrated book cover such critical topics as "What Foley Artists Do, and Why," including the "History, Theory and Methods of Foley Recording," "The Evolution of a 
Craft within the US," "Foley in the Various Genres" and "Foley
 Used Independently or Combined with Sound Effects," while 
latter sections focus on "How Foley Artists Work," including "The Protocols, Conventions and Hierarchy," plus spotting and cueing. Subsequent sections delve deeper into Foley specifics, ranging from footsteps and prop selection to mixing and editing Foley tracks.
The writing style is authoritative without being bombastic, with copious references to real-world examples of the art and craft of Foley walking on well-known film and TV productions. The text is accompanied by a large number of black-and-white images that help place the reader within the various environments being described, as well as showing practical — and often imaginative — examples of Foley materials. As with any textbook, well- selected images help draw the reader firmly into the didactive narrative, and illustrate what can be a complex and sometimes overwhelming creative process.
The book's real strength, results from the
 enthusiasm and insider information that its experienced author
 brings to it.
Having moved outside the normal film/TV community to explore the needs of games and animation, including the ways in which Foley can augment a reality or fantasy production, The Foley Grail delves deeper into the art and craft of Foley sessions, focusing on footsteps and props and then mixing and editing techniques. The well-considered chapters explain how Foley is designed, crafted and edited for a variety of targeted projects, including the nuts and bolts of spotting, cueing and performing sounds. Working artists provide a number of practical shortcuts, tips and other tricks of the Foley trade.
This second edition features entirely new chapters dedicated to Foley for games, TV, broadcasting and animation, as well as new developments in sound for media education, with details of proven Foley techniques that readers can use immediately on their own projects. New case studies are also included from well-known films, TV shows, games and animations, in addition to interviews with current Foley artists. A companion
website (www.focalpress.com/cw/ament) features a number of useful video demonstrations of Foley artists at work, plus video tutorials of specific Foley techniques and lectures from the author. Titles for these videos range from "Analyzing a Clip Foley with FX, Dialogue and Backgrounds," through "Creating Continuity Against Picture Edits" and "Resonance, Bare Feet & Gun in Elevator Shaft" to "Walking" and "Grit."
The book's real strength, however, results from the
 enthusiasm and insider information that its experienced author
 brings to it. It is soon obvious that Ament is in love with the subject and uses her educational experience while teaching 
in a Californian community college to make the material fully 
accessible and easy to follow. As she states at the end of the book's introduction, "The art of Foley is one I honor. I am grateful to have been a part of the art, and I am more grateful to know such talented sound professionals who are a piece of that world."
Comprising a virtual master class 
on leading-edge Foley techniques, The Foley Grail covers just about everything a practitioner or observer of the Foley process would need to create convincing sounds for a variety of film and television media, in addition to podcasts, animation and games. A must-have text for any post professional's bookshelf, the book might also serve as a timely reminder to today's new generation of producers and directors that the art of Foley remains alive within a number of post-production centers around the world, and can add that all-important aspect of reality that a film or TV show needs to take it from so-so to truly involving.