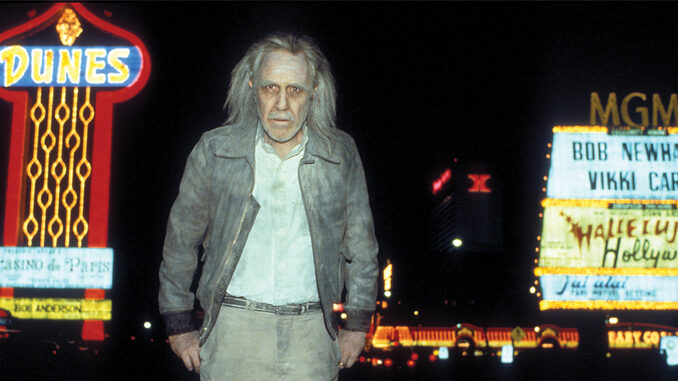 by Stephen Myers, ACE
As an inquisitive kid growing up in rural northwest Georgia, I was always looking for ways to keep from being bored — reading, watching TV or going to the movies. I loved seeing Walt Disney's Pinocchio at the age of five, and later saw a re-release of Hitchcock's Rear Window and Vertigo. I was enthralled. When I had to write a paper for a high school English class, I chose Alfred Hitchcock as my subject because I loved his movies.
Majoring in journalism at the University of Georgia, I took all the film courses available to me. After graduation, I made a trip to Los Angeles — where I interviewed composer Elmer Bernstein and director Robert Wise. They were so generous with their time that I vowed to return and find work in the film industry.
After a year working at my hometown library doing video productions, I was able to fund my move to Los Angeles, where I finally landed a gig at the AFI as a projectionist and film librarian. Eventually, I wanted a job on a feature film. I researched upcoming projects and amazingly landed an interview with director Jonathan Demme to be his personal assistant on Melvin and Howard. After a nervous meeting with him, I was sure I had blown my chance. But a week later, I got a call saying, "If you can start Monday, you have the job." I was over the moon.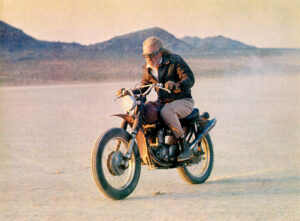 The story of Melvin and Howard is based on true events. A motorcyclist wearing a bomber jacket and aviator goggles speeds across the desert as his shoulder-length gray hair whips wildly in the wind. He attempts a jump that wrecks his motorcycle and gives him minor injuries. That night, a young man driving a pickup truck pulls to the side of a desert road to answer the call of nature, hears the groans of the injured rider and helps the man into his truck.
The man refuses medical attention, wanting only to be dropped off in Las Vegas. The driver introduces himself as Melvin Dummar (Paul Le Mat), and the man says that he is Howard Hughes (Jason Robards). Although he doesn't believe the old coot, Melvin gets the man to listen to a Christmas ditty he's written. Upon arriving in Vegas, Melvin drops the old man off at a hotel parking lot.
Melvin holds a series of jobs from milkman to gas station owner. He's trying to grab his piece of the American Dream but, no matter how hard he tries, he can never get ahead. His marriage to first wife Linda (Mary Steenburgen) falls apart over money. Eventually he marries a flirtatious co-worker (Pamela Reed) with a couple of kids and buys a gas station in Utah, where he settles with his new family.
One day, a mysterious man in a limousine drops off an envelope on Melvin's desk. Melvin opens it and can't believe his eyes — it's the purported will of recently deceased defense contractor Howard Hughes. Melvin's good deed years earlier has led to him being named a beneficiary of the Hughes fortune. The will is contested, drawing Melvin into a lengthy courtroom battle.
Le Mat brings an all-American boyish likability to the hapless Melvin. Melvin and Howard was only Steenburgen's third movie, yet she shines as the love of Melvin's life. Most poignant are the moments between the two after their divorce. With only a few scenes in the movie, Robards' displays many facets of Hughes' personality — from the wild abandon of the motorcycle ride to his secretiveness in wanting to be dropped off in a parking lot.
Although I wasn't present during the editing by Craig McKay, ACE, I was able to see how the raw dailies could be fashioned into an incredibly emotional and effective film that still resonates to this day.
In the film's coda, Melvin knows he'll never see any of Hughes' money, but realizes that it was more important that he and Hughes connected briefly by singing a song together. A flashback to part of the driving scene (not previously seen) shows Hughes taking the wheel and happily singing "Bye Bye Blackbird" as he drives into the dawn. Robards performance is both magical and mystical. As wonderful as the movie was, I don't think anyone involved expected it would go on to win Academy Awards for screenplay (Bo Goldman) and supporting actress (Steenbergen).
No doubt, I would have loved Melvin and Howard regardless of the personal connection. The fact that I had the good fortune to witness almost all the scenes being shot, and observe Demme's skill and generous nature, made the experience of watching the film extraordinary. Although I wasn't present during the editing by Craig McKay, ACE, I was able to see how the raw dailies could be fashioned into an incredibly emotional and effective film that still resonates to this day.
But what most affected me about the movie experience was the infectious enthusiasm of Demme. I take that with me and try to pay it forward on every project in which I'm involved.