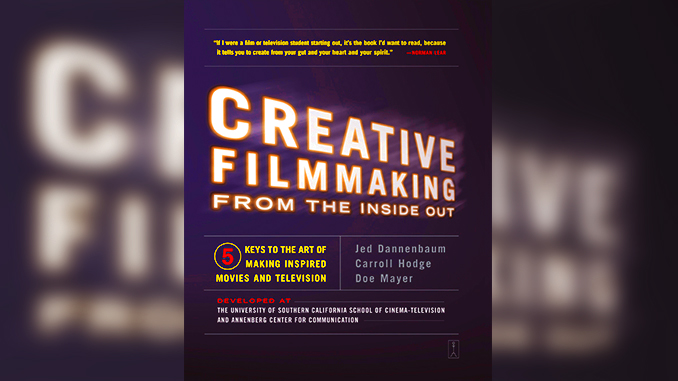 Creative Filmmaking From the Inside Out:
5 Keys to the Art of Making Inspired Movies
and Television
A Fireside Book
Published by Simon & Schuster
New York, 2003
By Michael Amundsen
Creative Filmmaking From the Inside Out is a refreshing change from many recent books in that it focuses on the artist rather than the technical issues. Written by three instructors from USC's School of Cinema-Television, it features interviews with 15 filmmakers, including three editors. Kate Amen cuts documentaries for PBS, HBO and many other producers. Guild members Lisa Fruchtman (Oscar winner for The Right Stuff) and Walter Murch (Oscar winner for The English Patient and Apocalypse Now, and the author of In the Blink Of An Eye) also share their insights and wisdom.
The authors have attempted to define creativity by boiling it down to five "keys" each conveniently identified with a word beginning with "I" – Introspection, Inquiry, Intuition, Interaction and Impact. This sounds worse than it is, because surprisingly, the five keys actually work well as organizing ideas. Each is individually explored in its own chapter. Sections within the chapters describe different aspects of creativity and include exercises for the reader.
Interviews
While such emboldened pedagogy usually turns me off, the author strengthens their argument by focusing on interviews with undeniably talented, down-to-earth and articulate filmmakers. There are directors such as Anthony Minghella (Cold Mountain), Renee Tajima-Pena (My America… Or Honk if You Love Buddha) and Kimberly Pierce (Boys Don't Cry); writers like Hanif Kureishi (My Beautiful Laundrette) and Pamela Douglas (Star Trek: The Next Generation), and producers like John Wells (ER) and Ismail Merchant (A Room With a View). Besides editing, other crafts are also included – a production designer, Jeannine Oppewell (L.A. Confidential), a cinematographer, the late, legendary Conrad Hall, an actor, Kathy Baker (Boston Public) and a composer, James Newton Howard (The Sixth Sense).
What is rare in a book of this kind is the authors' brave foray into audience reaction.
All the interviewees are excellent choices, both for their credentials and their ability to contribute to the authors' discourse. The filmmakers provide real-life examples to highlight the individual keys. For example, in the chapter "Interactions," which discusses the collaborative process, Walter Murch calls the director who has the film completely finished and fixed in his mind "reductive." As he puts it, the attitude becomes "I, the director have a vision of sublime filmmaking, and I know you Lilliputians can never achieve my vision." In such a case, he believes, the results will always "be less than the imagined." Documentary editor Kate Amend follows up by saying, "If they just want a pair of hands, they don't want me."
In the same section, Lisa Fruchtman calls collaboration, "a fluid process…The script has to be great and seem to be rock solid, but when the actors come, if they don't add something unexpected to it, another layer, then it doesn't come alive… Or if the director of photography doesn't have an inspiration… then the movie is dead."
Connections
 Connections are made throughout the book. Anthony Minghella, in a section called "Arguments Worth Having," shares his perspective on working with Walter Murch. "He's enormously, enormously hard on me. And impatient with me. And challenging of me," Minghella declares. Responding to a story Murch had told a chapter earlier, Minghella says, "I hope we continue not always to agree."
In addition to insights from this small group of professional collaborators, the authors include a rich reserve of perspective on creativity from prominent non-film artists such as Auguste Renoir, Alice Walker and Gore Vidal. This aspect significantly enriches the author's ideas, suggesting a broad-based knowledge of aesthetics beyond film, and this is one of the most appealing things about this book.
The book features interviews with 15 filmmakers, including three editors… Oscar winners Lisa Fruchtman and Walter Murch, and documentary editor Kate Amend.
At the end of each chapter, there are "limbering up" exercises specific to each key. For example, an exercise from the Introspection chapter involves re-examining old family photos by squinting your eyes in order to see them in different ways. The sixth and final chapter, "workouts", is a collection of practical exercises designed to further develop insight and application of the five keys. It includes exercises on subjects such as the camera's point of view, simplifying your work, techniques to help bring crews closer together, and most significant for editors, different ways of looking at dailies to find previously hidden undercurrents.
Conclusion
 I generally encounter books of this nature with some trepidation, but the more I read, the more I liked this one. The authors are thorough and concise, never giving too much or too little information. The examples are cogent, to the point and rarely repetitive. It is well organized and even motivational. It's especially useful for young assistants and new editors seeking to expand their artistic sensibilities.
However, the attempts at including voices from other kinds of filmmaking, such as documentaries and independent films, seemed meager and superficial and were smothered by the weight of examples from big budget theatrical filmmaking. Interviews with people from that arena seemed underused and would have provided much-needed balance.
What is rare in a book of this kind is the authors' brave foray into audience reaction and responsibility in the chapter on "Impact." Contemplating audience reactions, how to communicate what you really want to communicate, and censorship vs. responsibility are topics rarely mentioned, and the inclusion here is laudable. Walter Murch calls the audience the "last creative act in filmmaking," and any book on filmmaking that doesn't include the audience misses the overall picture.
Creative Filmmaking reminded me of things I've known for years, yet introduces elements completely new. It's inclusiveness is what I admired most. Taking all five keys together and extracting something valuable from each is a useful reminder of why we all got into this field in the first place.