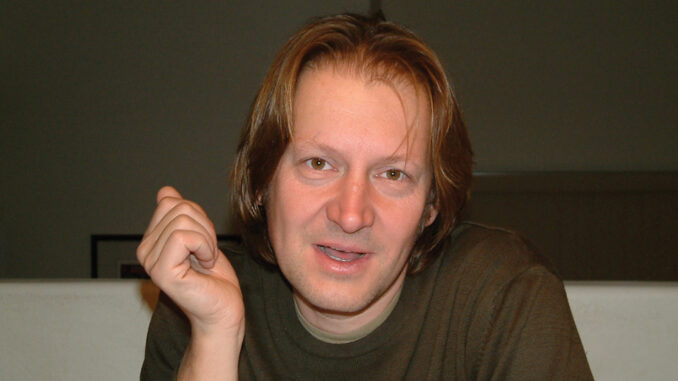 Maciek Malish
Sound Editor
January 7, 1962 –
September 12, 2015

by Nick James
Maciek Malish (Maciej Juliusz Malisz), 53, an acclaimed sound editor and winner of two Primetime Emmy Awards, passed away on September 12, 2015 after being struck by a car while riding his bicycle in Moorpark, California, near his home in Simi Valley.
The son of Teresa and Emil Malisz, Maciek was born January 7, 1962 in Gliwice Poland, about 100 kilometers west of Krakow. He was an accomplished violinist, having studied since he was a child, attending both regular and music classes every school day. After graduating from high school, he moved to Warsaw in 1981, where he attended the Warsaw Academy of Music (now Frederic Chopin University of Music), a highly selective university that only admitted a handful of elite students each school year. He studied sound engineering, something that he applied with great skill and artistry throughout his career in Hollywood. He graduated with a Masters Degree in Sound Engineering from the Warsaw Academy of Music in 1986.
While a student at the University, he met and married Julietta Wodzicki and had two children, Oscar and Consuelo, who survive him. His first marriage ended in divorce. Maciek left Poland in 1986 on a flight to his beloved Italy, where he met his second wife, Elisabeth Gozdowska. She survives him as well, as do his stepsons, Adam Pivovar and Filip Uss. Maciek's parents and younger sister, Malgorzata (Margaret) Emilia Tyszer of Gliwice, Poland also survive him. Margaret and Maciek were extremely close, being born in the same year.
When Maciek left Italy for America in 1987, he had virtually no contacts in the American film industry. He worked in various jobs to support himself until he found an apprenticeship in sound editorial. His abilities were such that he quickly became a dialogue editor. He joined Local 700 and remained a brother for nearly 25 years. As a union sound editor, he worked on such internationally known and commercially successful movies as The Hand That Rocks the Cradle, The Last Boy Scout and Starship Troopers, as well as TV series such as Picket Fences, The Wonder Years, L.A. Law, The X-Files, Ally McBeal, Boston Legal, Lost, NCIS: Los Angeles and, most recently, Person of Interest. He was slated to work on the upcoming HBO series, Westworld. Over the years, Maciek was nominated for 11 Emmys, winning twice, and 10 MPSE Golden Reel Awards, also winning twice.
In addition to his work in Hollywood, Maciek began a sound editorial and mixing business in Warsaw in 2009 with Tomasz Dukszta. The company, SoundPlace, has done the sound and Foley work on dozens of feature films and television shows from Poland, the United States, Italy and Spain. He traveled between his company and his Hollywood jobs, always actively involved in the creative and managerial aspects of his business.
He was a longtime member of the Television Academy and was on the Board of Directors of the Motion Picture Sound Editors for over 10 years.