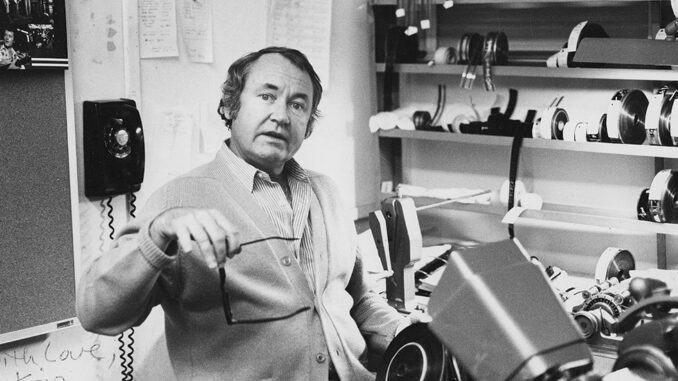 Danford B. Greene
Picture Editor
June 26, 1928 –
August 11, 2015

by Tom Gianakopolous
Danford B. Greene, editor of such films as Mel Brooks' Blazing Saddles and Robert Altman's M*A*S*H, among others, was an avid sportsman who had more nicknames than you could shake a golf club at: Danny Boy, Big D, the Irishman, Big Daddy, Dan-O, D.B. Greene, Danny Greene, Pops, Pa and the Big Kahuna. He had a boundless enthusiasm and sense of humor that endeared him to friends, family, colleagues and students throughout the years. His perpetually optimistic outlook on life never left him, even when his body began to suffer the wear and tear of time. While convalescing at the St. John's Physical Rehabilitation Center in Santa Monica earlier this year, he was heard to remark, "I just can't seem to get these nurses to make a decent martini."
Danny was born in Wichita, Kansas. After the family moved to the Los Angeles area, one of his first jobs was working as a bike-runner at Paramount Studios, which is when his preference for short pants began to make itself known. He entered the Marine Corps in 1946. After his tour of duty, he attended the USC School of Cinema, and soon landed a job in the sound effects department at Universal Studios, where his friendly demeanor and gung-ho attitude helped him to rise through the ranks, becoming head of the department at age 30.
It was during this time, while working on the sound design for Alfred Hitchcock's Psycho, that he made a name for himself by solving a particularly vexing problem that Hitchcock was having with the shower scene: The sound effect of the knife as it stabbed Janet Leigh was not to the director's liking. In an "aha!" moment, Danny utilized the pot roast intended for his family's dinner, and when he played the sounds back the next day, "Mr. Hitchcock damn near had a standing orgasm as he listened to it."
Danny transitioned to picture editing, which proved to be his true calling. Starting in television, he worked his way up to feature films and even managed to direct The Secret Diary of Sigmund Freud, a film starring Carol Kane and Bud Cort that was made behind the Iron Curtain in Yugoslavia during the height of the Cold War. His abilities as a negotiator and peacemaker proved quite handy when the production had to track down a particular item for Ms. Kane, who refused to appear on set unless her demands for pink toilet paper were met. That experience changed Danny's perception of the Black Market. It also cured him of the directing bug. He returned to editing, and never looked back.
In his later years, he embraced the roles of teacher and mentor at the American Film Institute and the Los Angeles Film School, where he could be seen walking the halls in his signature khaki shorts, golf shirt and tennis sneakers.
He is survived by his former wife, Suzanne Greene; sisters Suzi Mason and Nancy Greene; son Jonathan D. Greene; and granddaughter, Katie Cunneff. His much beloved daughter, Nancy Elizabeth Cunneff, passed in 2012.
If he could, he would probably leave us with his favorite sound bite: "Them's the jokes, kid."