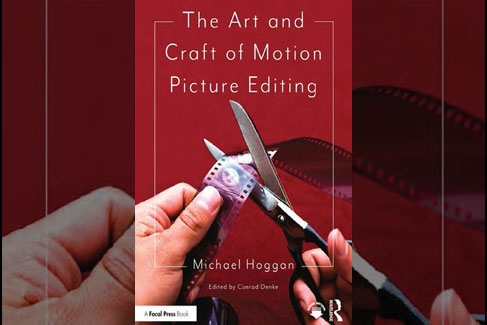 By Betsy A. McLane
Readers of "The Art and Craft of Motion Picture Editing" by Michael Hoggan, ACE, might be tempted to begin at the end rather than beginning of this slim volume. That might be a good choice since the Appendix, "Film Production's Historical Timeline," is a valuable addendum to a useful book.
This list was compiled by Hoggan, Conrad Denke, Donald Petrie, Richard Leeman, Fred Ginsberg, and Joel Kranz in March 2020. They created a document that is much more than a simple chronology. It covers not only film, but also radio and television, noting inventions, technologies, important people, as well as all important patents and legal decisions. There is informed and good-humored commentary, as in the highlights of 1890s-1920s: "Editing a film then was about fixing it if it broke, but discovering that technical capacity indicated the possibility of what editing could do." The timeline pays careful attention to the history of unions, explaining that in 1934, the NBC radio network formed an in-house union (later NABET) to keep its employees from being organized by the IBEW. The timeline also links technical achievement with artistic landmarks, such as the first use of an optical printer in 1920, which appears next to an entry about the birth of the Dada art movement that year. The connection may be subtle, but interesting in light of how optical printing became a core technique in experimental cinema. Many motion picture timelines are available, but this one, with its focus on production and the forces that affect it, does an excellent job of providing information without overload.
"The Art and Craft of Motion Picture Editing" is conceived mainly as a text for teaching picture editing, but there are numerous tips and ideas that will interest many professionals in the field. Hoggan is a former President of American Cinema Editors and received Eddie and Emmy nominations for his work on the shows "Miami Vice" and "Homefront." He has been teaching Film Production and Motion Picture Editing since 1996 at California State University Northridge, where he also received undergraduate and graduate degrees. These credentials, along with over 20 years of experience editing for television, make this book a helpful guide.
Hoggan approaches editing from a perspective slightly different than most. While other writing on the subject usually focuses on the creativity of editors, the working relationships of various people involved in making a film, or the nuts and bolts of cutting, Hoggan places his emphasis on "the evolution of practices in film production and editing with respect to the ever-changing expectations of the audience." As the book demonstrates, understanding editing from the audience's perspective is essential to any successful film. This methodology is increasingly important in a changing media landscape that includes a seemingly endless variety of distribution and exhibition outlets. Filmmakers are challenged in countless ways as they navigate the different demands of IMAX-giant screen, traditional theatrical-big screen, television and streaming-medium screen, along with gaming, virtual reality — and the sorry fact that many viewers now see a film only on a tiny cell phone screen. With these circumstances, it makes sense to keep in mind audiences and where and how they see a film.
"The Art and Craft of Motion Picture Editing" is organized into 10 chapters. Some chapters link editors' work to the roles of people – for example, "The Motion Picture Editor/Director Partnership" — while others focus on processes, such as "Forming the 'Editor's Cut,' Its Creative Opportunities." Each chapter is broken down into succinct subsections. In Chapter Two, "Motion Picture Editor and the Story," the subsections include I. Relationship of Script Writer and Film Editor, II Elements of Script Construction, and III.
Concluding Thoughts on the Writer/Editor Relationship. Each of these is further broken down into smaller bits. In Chapter Two, for example, "Entertainment: The Overarching Goal," appears in the section on editor and director partnership. For students, these divisions are meant to be steps on the path to learning editing; professionals can dip in and out of parts that may be of interest.
The book is packed with diagrams, some useful, some confusing. Representations of a script that has been lined by a script supervisor offer authentic material that is directly related to editors' work. On the other hand, two charts on the "Five Cognitive Elements in Thought Process" in Chapter Six are convoluted, subjective, and mistakenly assume that all editors approach a film in the same way. In Chapter 10, the innovative discussion about the relationship between editor and audience begins with eight tiny pictures that are meant to represent various kinds of audiences. These are far too small to be of use and do not reflect the many types of exhibition media available today. Hoggan rightly comments that, "In 2021, viewers were in control of what they see, when they see it, where they see it, and how much time they want to give to watching," then launches an argument of how psychology influences the relationship between self and society. This line of inquiry is thought-provoking, but would be more useful if it was simplified and linked to audience perceptions of various media formats. Unlike many books on film editing, this one brings serious attention to the work of sound editors. Chapter Nine is devoted to the relationship between the picture editor and sound, beginning with a section on "The Nature of Sound." Hoggan notes the critical difference between sound and noise, then moves on through discussions about how music is perceived, the art of sound design, and the value of sound in films, before explaining the workflow of the mix and the master. He acknowledges that this chapter is a very brief overview, but reminds readers that there are good reasons why sound recording mixers, re-recording mixers, and supervising sound editors win Oscars.
References to on-line support materials provided by the publisher underline the use of this book as a teaching text. These are available without charge at routledge.com and offer a bibliography and glossary that are not included in the print edition. Editors who find themselves speaking to general audiences or working with beginners will find Hoggan's approach helpful. Readers needing another reason to browse "The Art and Craft of Motion Picture Editing" need look no farther than the back cover. There, a promotional blurb claims, "This book will be of interest to postproduction students, independent filmmakers, film critics, and agents with editing clients." So, in addition to being a useful resource for professionals and teachers, it's a perfect gift for your agents the next time they get (or fail to get) you the big gig.
"The Art and Craft of Motion Picture Editing" by Michael Hoggan, edited by Conrad Denke, Routledge/Focal Press 2022, 175 pages.