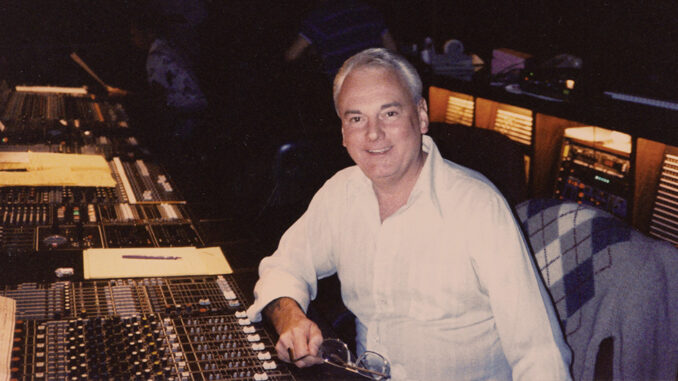 Robert A. "Dan" Dillon
Re-Recording Mixer
January 14, 1939 –
June 6, 2015

Dan Dillon of Erie, Colorado passed away June 6, 2015 in Denver, Colorado after suffering a fall. He was 76. Born January 14, 1939 in Chicago, Illinois, Dan was the first child born to Robert and Charlotte Dillon. Family and friends gathered to share in a celebration of his life Monday, June 8, 2015 at Darrell Howe Chapel in Lafayette, Colorado.
Early on, Dan was fascinated by science, especially electronics. It was a trait revealed when — at the age of 7, wishing to know how pictures got into the television — he removed the tubes from his parents' TV set and managed to get them all back into their proper sockets. To the surprise of his parents, the set actually worked again when he finished.
Dan earned his Amateur Radio Operator's license (K6HBQ) at the age of 14. This hobby led to his early and colorful career in the entertainment industry, where he worked as a disc jockey and broadcast engineer for major radio stations, first in Klamath Falls, Oregon as "Dan the Midnight Man," then on to Seattle, Washington. He later followed the call to the California cities of Santa Rosa, Redding, San Diego and Los Angeles, and also did a two-year engineering stint in Sydney, Australia.
While working in broadcasting, Dan organized and emceed concerts and events, helping to launch the careers of the Fleetwoods, the 1959 musical group that made pop chart history with tunes such as "Mr. Blue" and "Come Softly to Me," among others.
Dan possessed a wry wit, often belied by wink or grin, inviting conspiracy in a shared moment of mischief. His friends were many and lifelong. His acquaintances easily became his friends, and business associates came to him first and often for ideas, expertise and execution.
His gregarious personality led him to Hollywood, where he gained entry as a sound engineer and re-recording mixer for movie and television studios. Dan employed his talents on many films, including such notables as Funny Girl, Tora! Tora! Tora!, Close Encounters of the Third Kind, Slap Shot, etc., and TV shows like Bewitched, The Flying Nun, Mork and Mindy and The Real McCoys, among others.
He was nominated for an Emmy Award for Outstanding Sound Mixing for a Drama Series for NBC's 1987 series L.A. Law. Dan retired from the entertainment industry in the late 1980s, and moved to Porterville, California in 1999, where he managed the Dillon Diamond D Ranch until relocating to Colorado in 2012.
Dan is survived by his sister, Cherie Tippett (Rick Smith) of Erie, Colorado and brother Brian Dillon of Reno, Nevada. He will also be missed by nephews Scott (Barbara) Tippett and Greg (Jenna) Dillon, niece Tanya Tippett (Rick Lopez), three grandnieces and four grandnephews, and many fond cousins and their families. Dan was preceded in death by his parents.
To honor his wishes, and following a promised Amtrak ride, Dan's final resting place is alongside his paternal grandmother, Susan Boyd Dillon, at Woodlawn Cemetery in Forest Park, Illinois, near his childhood home of Riverside.