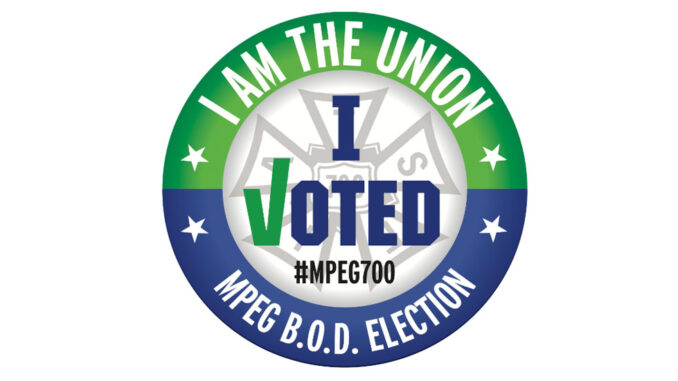 The Membership Outreach Committee has created an "I Voted" sticker for the Editors Guild's 2017 Board of Directors election, encouraging members to participate in an online photo sharing campaign to communicate they have voted.
The sticker has been mailed with ballots to all active members. The goal of the "I Voted" campaign is to increase voting turnout in the election, according to the committee.
Instructions mailed with the sticker encourage members to take a "selfie" photo wearing the sticker, or a group photo with their crew, and then post the photo to the "I Am The Union" Facebook page to let others know they have voted. More than 2,400 members in all classifications participate in the private Facebook discussion group at www.Facebook.com/groups/IAmTheUnion.
In a change from previous years elections, statements from candidates running for an Officer seat, Director seat or IATSE Convention Delegate will be exclusively posted on the Editors Guild website, instead of additionally being printed and mailed to members, as they were in past years.
Candidate statements and further information is available to members only at www.EditorsGuild.com/vote.
The new election policy was enacted by the Board of Directors and the Election Committee to save on costs of printing and mailing documents, though members wishing a printed copy of campaign statements can contact Lisa Dosch at the Los Angeles office at LDosch@EditorsGuild.com.
Union rules require voting by mail-in paper ballots, which must be received in the Guild's post office box by 9:00 a.m. Thursday, December 22, in order to be counted.
If a member has not yet received his or her ballot in the mail, or if the ballot is lost or damaged, a duplicate ballot may be requested by calling TrueBallot at 866-675-1772. The deadline for requesting a duplicate ballot is 3:00 p.m. Friday, December 16.