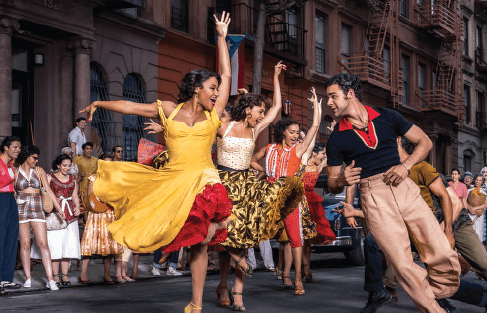 By Kristin Marguerite Doidge
When Michael Kahn, ACE, and  Sarah Broshar began co-editing Steven Spielberg's "West Side Story," they knew they worked with a gold-plated legacy: The original film of the Broadway hit, released in 1961, won an Academy Award for Best Film Editing (Thomas Stanford) alongside seven other statuettes that year, making it the musical with the most Academy wins, including Best Picture.
But Kahn and Broshar have created a legacy of their own. Kahn, who is one of the most-honored editors in motion picture history, has enjoyed a long association with Spielberg, spanning more than four decades. He is a three-time Academy Award winner for his work on Spielberg's "Saving Private Ryan," "Schindler's List," and "Raiders of the Lost Ark." His work on "West Side Story" marks his eighth collaboration with Broshar, with whom he's cut all of Spielberg's films since "Adventures of Tintin" in 2011.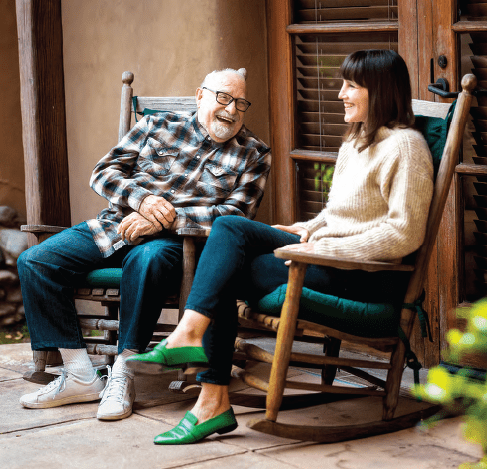 "I feel like I'm very lucky to be one of the very few people who got a mentorship sort of position where I get to sit with Michael," Broshar said of moving from first assistant editor to additional editor, then co-editor over the last 10 years. "Since 'Tintin,' I sat in the room while [Steven and Michael] were making decisions, so I think it's a very organic process and evolution."
Still, no one could have predicted what the COVID-19 pandemic would mean for films like "West Side Story" as the industry came to grips with new production safety protocols and theater closures—and perhaps a more cynical global audience after people continue to be ravaged by the physical, emotional, and economic impacts of the deadly virus nearly two years after it first emerged.
With a screenplay by Pulitzer Prize and Tony Award winner Tony Kushner, the new "West Side Story," released late last year, tells the classic tale of fierce rivalries and young love in 1957 New York City, and stars Ansel Elgort (Tony); Rachel Zegler (María); Ariana DeBose (Anita); Brian d'Arcy James (Officer Krupke); and Rita Moreno (as Valentina, who owns the corner store in which Tony works). "West Side Story" has been adapted for the screen from the original 1957 Broadway show, with book by Arthur Laurents, music by Leonard Bernstein, lyrics by Stephen Sondheim and concept, direction, and choreography by Jerome Robbins.
During their work on "Ready Player One," Spielberg "mentioned he's been wanting to do ['West Side Story'] for a long time," Kahn said. "He's always loved the story and the score. So we did it and unfortunately, COVID came in."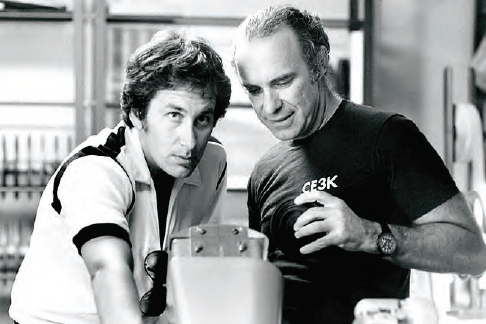 That meant setting aside the work for more than a year while Broshar received big news of her own: she was pregnant. By the time they returned, she was a new mother. "It was so strange to go from spending every single day with this movie to all of a sudden, 'Okay, you're not coming into work tomorrow,' and 'we'll see about the following week,' and then 'we'll see about the next month,'" she explained.
The editors worked together remotely during the final mix and the final submission of the film.
"It was a very emotional process to a very emotional movie," Broshar said. "When you're watching a film, it's almost like you're sitting in a theater, but you're transformed to these emotional places, so depending on what scene we're working on or you're watching, you're really lifted up for some time if you're low. But either way, there's so much depth of feeling."
While Spielberg has often depended on Kahn to edit some of the most emotionally difficult scenes of his movies over the last 40 years—such as those in the Academy Award-winning "Schindler's List" (1993)—both editing mentor and mentee alike found the legendary director's youthful exuberance to be contagious as they cut "West Side Story." The word they used over and over again to describe the experience was "joyful."
As the iconic Bernstein score flowed through the editing room day after day, he even found himself tapping away on top of the desk and singing along with the music.
"I use this phrase all the time: you don't work from knowledge, you work from feeling," Kahn said. "A lot of [editing] is intuitive."
He also credits his longtime collaboration with Spielberg to his ability to listen.
"I'm a listener. I don't say much," Kahn added. "We just listen to what's happening around us: the music, listening to the picture, mainly listening to Steven Spielberg because he has good insights into everything. If you talk, you're not listening. So I like editors to know: please listen."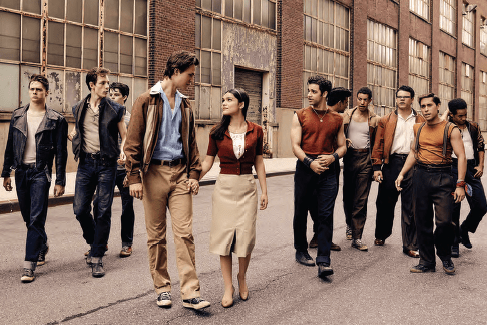 As Broshar and Kahn established their routine, Pat Crane joined them in the cutting room to help take notes and orchestrate everything alongside the director. Assistant editors Andrey Ragozin, Kevin Birou, and Nicholas Lundgren worked hard to organize all the dailies and sync up the music so everything was lined up for playback.
One of the best parts of the process was getting to edit the big dance scenes. "It's amazing where they got these dancers from," Kahn said. "They're from all over the country. This girl who played Maria [Rachel Zegler], at the time, was only 17 years old or 18. She's great. You have an opportunity to see some large scenes that are fun."
Broshar found the authenticity of the talented young actors inspirational as was the reimagined script by Kushner. "It felt really, really special," she said.
Even after all of his years in the business, Kahn said he still feels lucky to have found such a perfect match in his collaboration with both Spielberg and Broshar, especially as they worked on "West Side Story."
"It was a collaborative effort with the three of us," Kahn said. "Steven's a great guy to work with—he's wonderful in the editing room. And certainly Sarah knows Avid better than anybody, so she was pretty quick on getting things done for Steven's input. But we all had input—he welcomed that."
They're currently at work co-editing Spielberg's next film, "The Fabelmans," a semi-autobiographical, coming-of-age story about his early life, which recently wrapped production and is slated for release in November.
"It takes a lot of guts to do something like that," Kahn said, "because some of the blemishes that you may have in the family are discovered when people see it."
As for "West Side Story," the only blemish is perhaps the delay in making it to the big screen due to the ongoing pandemic and the unexpected surge of the Omicron variant this past winter. It premiered in U.S. theaters in December , which Kahn said they'd been "eagerly waiting for," adding, "I think when people see this picture, they're going to come home feeling good."
Kristin Marguerite Doidge is a freelance writer who writes frequently for CineMontage.  Her forthcoming book, "Nora Ephron: A Biography," will be published in June by Chicago Review Press.