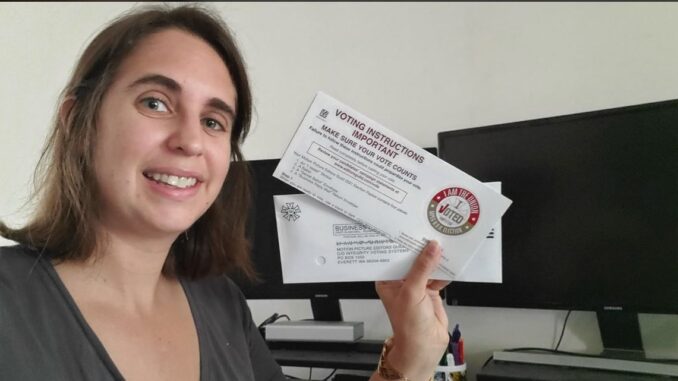 By MPEG Staff
The Motion Picture Editors Guild on Thursday announced the newly elected or re-elected members of the Guild's 2021 Board of Directors and IATSE Convention Delegates.
The Board members will take office on January 1, 2021, and will be officially inducted at the Guild's first Board meeting of the new year on Saturday, January 9. However, due to the COVID-19 pandemic, the annual Board Installation dinner which usually occurs later that evening has been canceled.
The Guild sent 8,235 ballots; 1,445 were returned — a returned rate of 17.55%.
Following is the list of members newly elected or re-elected to the Board during the recent election. (Members new to the Board are indicated by *.)
Assistant Editor
Aziza Ngozi, Incumbent
Scott A. Jacobs, Incumbent
Sean Thompson, Incumbent
Margaret Guinee, Incumbent
Katie Rose Cornblath *
Halima K. Gilliam (one year term) *
Eastern Region
Tom Fleischman, Incumbent
Ivonne Loyola (Alternate) *
Editor
Dody Dorn, Incumbent
Mary De Chambres, Incumbent
Stephen Rivkin, Incumbent
Shannon Baker Davis *
Music Editor
Stephanie Lowry
Sound Editor
Stephanie Brown
Outgoing board members are: Assistant Editor Michael Zurer, At Large Representative Paul Overacker, Editor Tatiana Riegel, and Eastern Region Alternate lightchild.
IATSE Convention and District Delegates. The number of Delegates sent to the 2021 Convention and off year District Conventions (delegates residing in the appropriate region) will be determined by the Board of Directors and selected based on the number of votes received in this election.
1          Cathy Repola, National Executive Director
2          Alan Heim, President
3          Dody Dorn, Board Member
4          Molly Shock, Board Member
5          Shiran Carolyn Amir, Board Member
7          Maysie Hoy, Board Member
8          Sharon Smith Holley, Secretary
8          F. Hudson Miller, Vice President
9          Stephen Rivkin, Board Member
10        Nancy Richardson, Board Member
11        Jessica Pratt, Sr. Field Representative
12        A.J. Catoline, Board Member
13        Holly Sklar, Board Member
14        Stephanie Lowry, Board Member
15        Stephanie Brown, Board Member
16        Tom Fleischman, Board Member
17        Aziza Ngozi, Board Member
18        Lisa Zeno Churgin, Board Member
19        Dorian Harris, Board Member
20        Amy E. Duddleston, Board Member
21        Ron Kutak, National Executive Director Emeritus
22        Scott A. Jacobs, Board Member
23        Nancy Morrison, Board Member
24        Shannon Baker Davis
25        Louis Bertini, 2nd Vice President
26        William (Bill) Elias, Sergeant At Arms
27        Jason Brotman, Board Member
28        Rob Kraut, Board Member
29        Scott M. George, Western Executive Director
30        Carrie Puchkoff, Board Member
31        Paul G. Moore, Eastern Executive Director
32        Erik C. Andersen, Board Member
33        Alyson Dee Moore, Board Member
34        Rachel Igel, Treasurer
35        Sean Thompson, Board Member
36        Halima K. Gilliam
37        Lillian E. Benson
38        Nena Erb
39        Frank  Delgado, Jr., Board Member
40        Bobbi Banks
41        Emma DuPell
42        Cecilia (Ceci) Hyoun
43        Michael Zurer, Board Member
44        Tricia Rodrigo
45        Meaghan Wilbur
46        Nancy Frazen
47        Elisa R. Cohen
48        Michael Jones
49        Jesse Dodd
50        Kevin D. Ross
51        Ashley McKinney
52        Isabel Yanes
53        James D. Wilcox
54        Paul Overacker, Board Member
55        Ri-Karlo Handy
56        Pete Tackaberry
57        Leah Gunter
58        Justin Bourret
59        Jeremy Cohen
60        Lauren Hecht
61        John Venzon
62        David Ian Salter
63        Noah Diamond
64        Tom Costantino
65        David L. White
66        Martin Nicholson
67        Shira Ingram
68        Michael Lynn Deis
69        Aric Lewis
70        Joelle Kristy
71        Avi Winkler
72        K. Nicole Rola
73        Joshua Kirchmer
74        Stephen L. Meek
75        Tim Quackenbush
76        Brandon Balin
77        Erik Lutsch
78        Ryan S. Westphal
79        Sam Casas
80        Richard Gould
81        Brian  George
82        Jesse Harbold
83        Kody Davidson
83        Tony Ostyn
84        Joseph Matoske
85        Shawn J. Arteaga
87        William W. Rubenstein