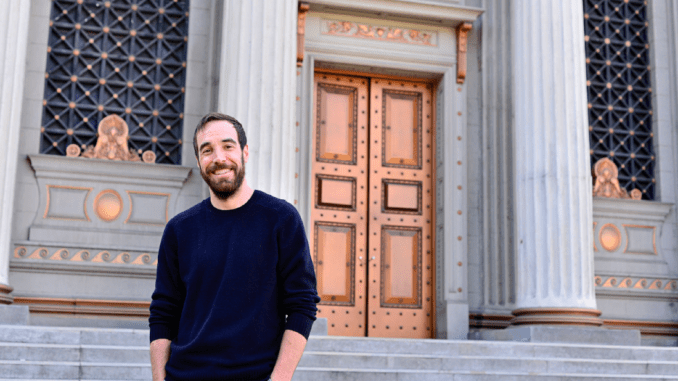 By Laura Flores
For Nat Sanders, ACE, the story's the thing.
It was the veteran picture editor's desire to tell stories that inspired him to enter Florida State University's film school to study screenwriting. It was what motivated him to take a chance, quit his job editing reality television in L.A., and move to San Francisco to edit college classmate Barry Jenkins' first independent film, "Medicine for Melancholy" (2008).
And, most recently, it was the power of a story that drove Sanders to put his honeymoon with his wife on hold for nine months until he and writer-director Destin Daniel Cretton completed the final cut of "Just Mercy," a powerful legal drama based on the best-selling memoir of criminal justice reform activist and defense attorney Bryan Stevenson.
"I read the book and was blown away by it," Sanders said during a recent interview near the Warners lot. "There were parts of it that were so emotional and raw and sad that tears weren't just falling down my face, they fell straight out of my eyes and down to the ground. … The book was so powerful that there was no question that I desperately wanted to be a part of it."
"My wife was very patient and understanding," he said. "She was so great and so supportive."
Starring Michael B. Jordan, Jamie Foxx and Brie Larson, "Just Mercy" depicts Stevenson's early years working for the release of wrongfully convicted men on Death Row in Alabama with the help of criminal justice reform advocate Eva Ansley (Larson).
Written by Cretton and Andrew Lanham, the screen adaptation focuses on Stevenson (Jordan) as he fights to exonerate Walter McMillian (Foxx), a family man unjustly convicted and sentenced to be executed for the murder of a young white woman. It's an intimate story about racial injustice and the cruelty of capital punishment, brought to life through the subtle, nuanced performances of its stars and a strong supporting cast.
A Deep Sense of Responsibility
In a recent telephone interview, Cretton said he asked Sanders to edit "Just Mercy" because of Sanders' connection to the heart of Stevenson's story and his commitment to creating something that Stevenson would be proud of. Sanders has edited two of Cretton's previous feature films: "Short-Term 12" (2013) and "The Glass Castle" (2017). The pair have developed a strong working relationship built on trust and an appreciation for each other's skills and insight, Cretton said.
"Nat is a thoughtful, emotional, caring person, and I think that plays a part in the way he chooses performances and crafts a scene with sensitivity," Cretton said.
"He's meticulous and a perfectionist, and he has an array of attributes that have helped me with the types of movies I like to make about people who operate from a place of love and are trying to be better people," the director added.
Both Cretton and Sanders said everyone on the "Just Mercy" cast and crew felt a deep sense of responsibility to tell Stevenson's story to the very best of their abilities.
"I think I lost the most sleep and had the most revelations in the shower while working on this film," Sanders said. "My brain never turned off because I wanted to make sure I was telling the absolute best version of the story."
"Editing really is about storytelling," he said. "You're really creating the last draft of the script. Rather than working with a blank page or what was shot on set, it's really you and the director being co-writers in that process."
One Wedding and a Film Shoot
Sanders said he worked on the film from September 2018 to July 2019 —11 months from start to finish, and the longest he's ever worked on a feature. With his wedding day set for October 20, 2018, in the middle of production, he worked on his editor's cut in Los Angeles while cast and crew were shooting in Atlanta, Georgia and Montgomery, Alabama for two months. He said he only took a few days off for his wedding.
"At the end of each shoot day, we would talk about what he [Cretton] had seen on set, and he would ask for my impressions of the footage and performances," Sanders said.
"Editors are so instrumental in finding and crafting an actor's performance," Cretton said. "Nat is fresh eyes on all of the takes we are getting, and he is the first one to find the performances that are real and authentic.
"He has a gift for finding those moments that have a surprise or unexpectedness to them," Cretton added. "This movie would not be where it is if it were not for Nat."
Sanders credits the actors in the film with providing a wide range of takes. With input from Cretton, Sanders was then able to select the performances best suited to each scene and the film's overall story arc.
"They were all giving us such great shades of performance," Sanders said. "They gave us the tools to work with to really make the film what it needed to be."
For example, Sanders said there were five different takes of Karan Kendrick, who portrays Walter McMillian's wife Minnie, as she meets Stevenson for the first time and tells him about Walter's personal failings. The camera moves in close as she confesses that she doesn't know what to tell her children about their father. The first take was very passionate and with each subsequent take she became progressively more subtle and restrained, Sanders said.
"She gave us such a great range to choose from and we went back and forth on which take to use," Sanders said. "In the end we chose a take that popped a little bit more."
Mild Spoilers Ahead
There were a few challenging scenes that Sanders said he postponed working on until the end of his first pass, such as one scene that takes place on Death Row.
"I knew [the] execution scene was going to be a really powerful and emotional scene, so I kept putting it aside because I knew it was going to be a big undertaking," Sanders said. "It was the last scene I cut."
The camera follows one of McMillian's friends on Death Row (Rob Gordon) as he prepares for his execution, is strapped into the electric chair and faces his death. McMillian and his fellow inmates do what they can to let their friend know he is not alone. At the end of the scene, there is a tight close-up of Gordon's face, and all the audience hears is the sound of Gordon taking slow, deep breaths.
There was so much footage shot for the scene that Sanders said he and Cretton elected to utilize a more stylized approach than what is used in most of the film. Cretton said Sanders captured the spirit of the scene in his first pass and then the two worked together to refine it.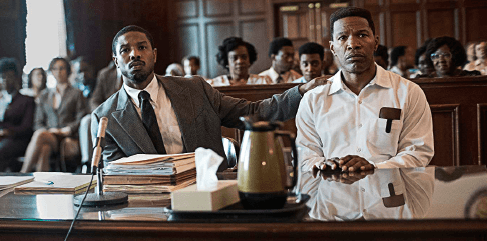 "We wanted to really show the process so there was no gray area about what happens in an execution, but we weren't looking to sensationalize anything," Sanders said. "It was about trying to keep the emotion and intensity building and create the most impact with that scene that we could.
"In that last moment, the shot was so beautiful that it became really clear that we wanted to stay there with [Gordon]," he said. "So, we decided to go into more subjective filmmaking and faded down all of [the] elements in order to make it feel like you were going inside [Gordon's] head."
The Final Cut
Sanders and Cretton spent months perfecting the film before showing it to the film's producers and then to Stevenson himself.
"Bryan was incredibly busy, so when he did come out to L.A. to watch the rough cut for the first time, we were obviously really nervous to show it to him." Sanders recalled. "I remember sitting in our bungalow waiting for his feedback on the cut and he did have incredible insights into the film that we really valued."
Audience test screenings were also invaluable to the editing process, Sanders said.
"Because it was a legal drama, I was looking for people shifting in their chairs to find where the film was dragging, where it was too long or asking too much," he said. "We focused on two areas to trim and found a 15-minute run without score; so we found places to add score. When we showed it again, the shifting stopped."
After editing "Just Mercy" and an intense series of films beginning with Barry Jenkins' Academy Award-winning "Moonlight" (2016), Cretton's "The Glass Castle" (2017) and Jenkins' "If Beale Street Could Talk" (2018), Sanders said he was ready to shift gears. So, when Cretton asked him to join him on his current project, "Shang-Chi and the Legend of the Ten Rings," it was an easy "yes."
It's Marvel Studio's first Asian-led superhero movie, and Sanders said he's looking forward to taking on a fun, action-packed genre. He is co-editing the film with Elísabet Ronaldsdóttir ("John Wick") with production scheduled to begin early this year.
"I have been happy working on the projects I've been a part of the last several years," Sanders said. "Working with people like Barry and Destin and working on films that are really important.
"This will be a real change from the serious dramas I've been doing," Sanders said. ■
Laura Flores is a freelance writer in Los Angeles.